BlackBerry's (NASDAQ:BBRY) shares dropped significantly after Apple (NASDAQ:AAPL) and International Business Machines (NYSE:IBM) announced a partnership to address the enterprise solutions market. The initiative lays emphasis on mobile device management, a key industry for BlackBerry. But despite this "apparent setback," Blackberry is still on course to become the best tech performer this year. Let me tell you why.
BlackBerry can survive Apple-IBM alliance
The deal basically aims to bring more iPhones, iPads and Macs into the workplace. Until now, Apple has largely been viewed as a consumer brand, but this deal unveils its plans to make serious inroads into the enterprise space alongside an experienced industry player, IBM. The allure of Apple combined with enterprise connections of IBM spells trouble for competitors or so they say. As a result, the deal triggered an immediate market reaction that saw BlackBerry shares tumble over 12 percent in less than a week.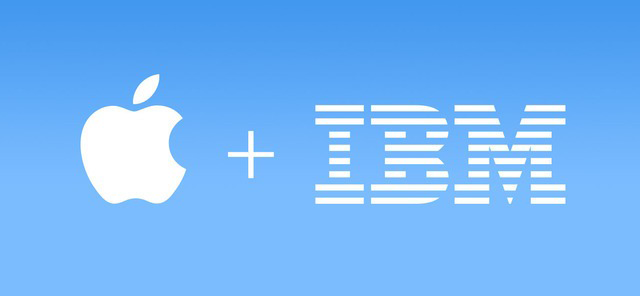 The market commentary amusingly points out how Apple took BlackBerry to the cleaners in the smartphone space a few years ago and some assume the former will once again have the better of the latter. Although it's true that Apple's iPhone played a massive role in rapidly diminishing BlackBerry's share of the smartphone market, the same cannot be assumed about enterprise solutions. Back then, Apple had a fabulous product ready to revolutionize the smartphone industry, however, here's an alliance that looks vulnerable from the start, not to mention, Apple and IBM have a history of failed ventures in the past too.
Although Apple is known for its consumer platforms, it has shown unwillingness to build an enterprise platform over the years, perhaps due to the continuing presence and dominance of Microsoft (NASDAQ:MSFT). But when extremely finicky and exclusivity-favoring tech giants like Apple have to consider partnership before taking a plunge, it tells you something about the nature of the industry. It tells you that very few companies truly understand what modern business platforms are about or how to create a suitable strategy, technology and services mix. This means creating platforms that embrace usability, reliability, and attraction for businesses in various industries. However, there is no reason or evidence to believe that IBM has the capability or goodwill to create such platforms.
In spite of being one of the most innovative companies in the world, IBM strikingly disregarded mobility management until CEO Ginni Rometty took charge back in 2011. The company launched its first mobility management product in 2013 known as MobileFirst. The product was purposed to assist clients deliver mobile solutions, take advantage of more commercial opportunities and provide better customer experience. But that only partially coincided with BlackBerry Enterprise Server's (BES) interests. It was only after IBM acquired Fiberlink last November that it became a direct competitor of BlackBerry. However, with just nine months of experience under its belt, it is pretty much reliant on Fiberlink's capabilities, and there isn't much to say about that either.
According to IBM's 2013 annual report, it had helped a little over 1,000 clients become "more mobile enterprises." Compare that with over 80,000 existing BES customers or 6,000 MobileIron customers, and you will find IBM is far behind and has a miniscule market share. What's more, the company's revenues have seen a steep decline in recent years.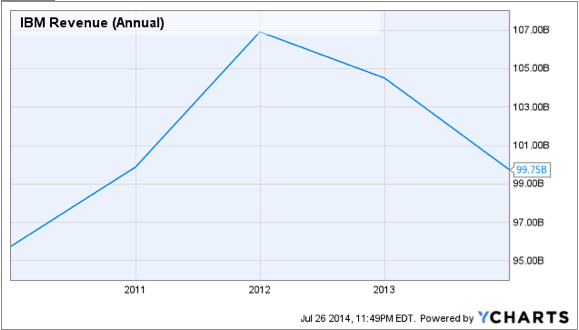 Additionally, most businesses these days want multiple device support - Windows, Android, iOS and BlackBerry, but the Apple-IBM deal covers iOS only. So the alliance should not worry BlackBerry investors as much. This is a fairly normal industry evolution where addition of new competitors cannot be discounted.
Known for security (leader in enterprise security)
BlackBerry is known for its encryption technology and security features, which provides the company a significant edge over the competition. In today's world where hacking and spying are common occurrences, BlackBerry has a lot to offer. Its smartphones and messaging services are still among the most secure in the industry. It also plans to launch a secure QNX Cloud platform sometime next year. Of course, let's not forget that Blackberry is the sole Mobile Device Management provider to receive Authority to Operate and Full Operational Capability status from the U.S. Department of Defense. On the other hand, security is not something Apple could boast about. Its devices are vulnerable to security flaws and despite repeated attempts the company has failed to suitably address such breaches. So, in view of Apple's current security concerns, corporate buyers are likely to be less enthusiastic for its devices just yet.
Passport to strengthen its grip on corporate world
BlackBerry's Passport smartphone has gained a lot of attention of late. The striking feature is the square-ish shape instead of the typical rectangular design, which the company says will help professionals with their day-to-day productivity as it provides better viewing dimensions for various types of documents. Besides the security edge, BlackBerry attracts a lot of devoted users for its continued efforts to combine modern smartphone features with a physical keyboard. The Passport looks to take the best of both worlds in combining a 3-row (not full) physical QWERTY keyboard with touch capabilities for scrolling and cursor control. The smartphone will be launched in September and will go on sale in the fourth quarter of this year.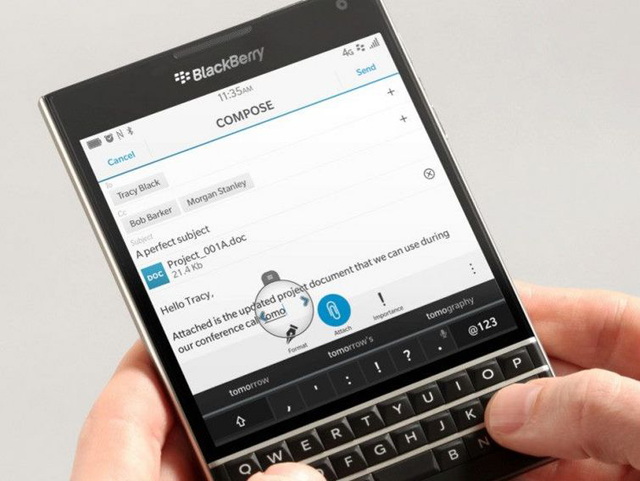 Needless to say BlackBerry is in a class of its own when it comes to handling sound. The Passport will come with "BlackBerry Natural Sound" technology, a long battery life, and 4 microphones capable of adapting the audio level to the environment. Moreover, recent information indicates that the company is aiming to become a unified communication solutions provider. With the conferencing industry expected to grow rapidly in upcoming years, BlackBerry is noticeably pursuing this avenue of growth more aggressively than ever.
In the past, businesses had good reason to keep landlines and purchase conferencing equipment, however, with the launch of Passport, Blackberry will attempt to put an end to all that. It will try to convince businesses to do away with expensive and bulky teleconferencing hardware and just upgrade their people to Passport. The device enables excellent voice conferencing at users' fingertips, not to mention, anytime and anywhere. Passport is already creating a buzz and if it gets a warm reception from the corporate world, there's a strong possibility that it could become the standard.
Growth in sight
Not only does CEO John Chen know his way around enterprises, but he is also a seasoned survivor. He was able to weather a storm and rescue Sybase, a mobile and enterprise software company, several years ago. Under his leadership, BlackBerry reported a narrower loss in the fiscal first quarter than analysts had estimated. Asset sales, cost cuts and cash preservation helped drive the company's turnaround as it further aims to reach break-even cash flow by the end of this fiscal year. Although it may be too soon to say if Chen has successfully stabilized his sinking ship, there are some signs of progress. The company is still suffering in North America, but the other parts of the world are doing quite well.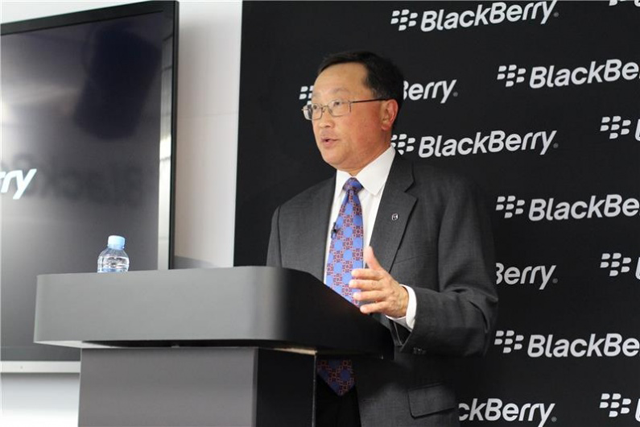 Chen, who took the reins of the company after a failed attempt to sell the company, has focused on improving efficiency in all aspects of operations to drive cost reduction and margin improvement. In doing so, he sold most of the company's property in Canada, eliminated jobs and moved phone production to Foxconn. The company also sold some real estate and received a tax refund that helped it to add $429 million to its coffers, bringing the total reserves to $3.1 billion. That's significant, considering its current market cap is only $5.18 billion.
Apart from revenue stabilization in the latest earnings report, the company also saw a greater contribution from hardware over the past quarter, which is a good sign. Recently, the company launched its new Z3 model in over a dozen Asian and African markets. The device has been competitively priced, supports Android apps and has received positive reviews, which should only lead to decent handset revenue in the current quarter.
Technically speaking
Analyzing the daily chart, the stock has a strong resistance around $11-$11.5 price levels. So, some pullback could have been expected, even if the news of Apple-IBM's partnership hadn't surfaced. The news possibly just expedited the event.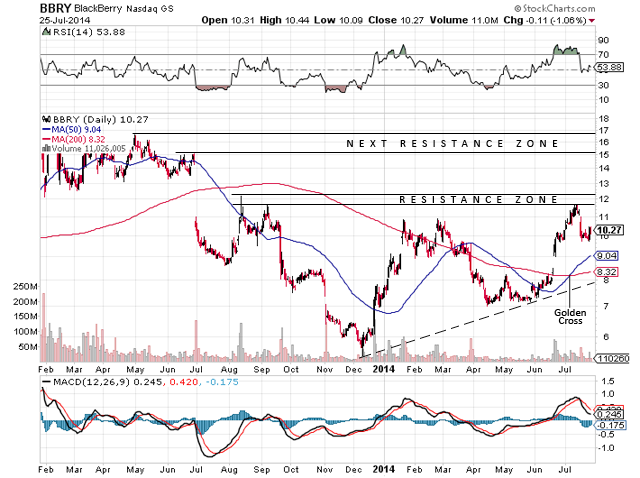 As illustrated in the chart above, the price moved above the 200-day moving average last month and, more importantly, a golden-cross (i.e. when 50-period moving average crosses 200-period moving average) occurred earlier this month, which is considered as an extremely bullish event.
Final thoughts
BlackBerry faces intense competition from Apple in the smartphone market, but enterprise solutions and mobility management is a whole new ball game for Apple. From the smartphone debacle BlackBerry has done well in moving on and setting its sights on a different industry. As a result, a large part of its success is now measured in clients for its secure software instead of cell phones. Also, Apple-IBM entering the enterprise space validates that BlackBerry is on the right operation path - and any comparison, positive or negative, will only help the latter as it is miles ahead in every aspect of the business segment.
BlackBerry's strength lies in its secure devices and solutions. In fact, it is a global leader in enterprise security and, with Passport launching this fall, the company is likely to further tighten its grip on the corporate world. After assuming the office late-last year, CEO John Chen has done well in improving the company thus far and such performances are likely to continue in future as well. In my humble opinion, the stock could easily see price levels of $15 or more in the next six to twelve months. For that reason, I highly recommend buying or adding more of this wonderful company at current price levels.
Disclosure: The author is long BBRY. The author wrote this article themselves, and it expresses their own opinions. The author is not receiving compensation for it. The author has no business relationship with any company whose stock is mentioned in this article.