What a rough year for biotechnology investing! Even stocks that scream "sure bet" and "buy now" are getting reamed. Nektar (NASDAQ:NKTR) is no exception. My biotech portfolio is all paper red and I'm embarrassed. I'm hoping for a big turnaround, but realistically, I know that the sector is reeling from misunderstanding.
Let's be clear though, I haven't lost hope and I'm certain Nektar will reward my faith. While others imagine a sell-off due to insider knowledge of some as yet unheard of revelation, I remain convinced of more logical explanations that have me buying more shares at what I believe to be falsely depressed prices.
Let's begin with a 1-month chart highlighting a rain of depressing news items.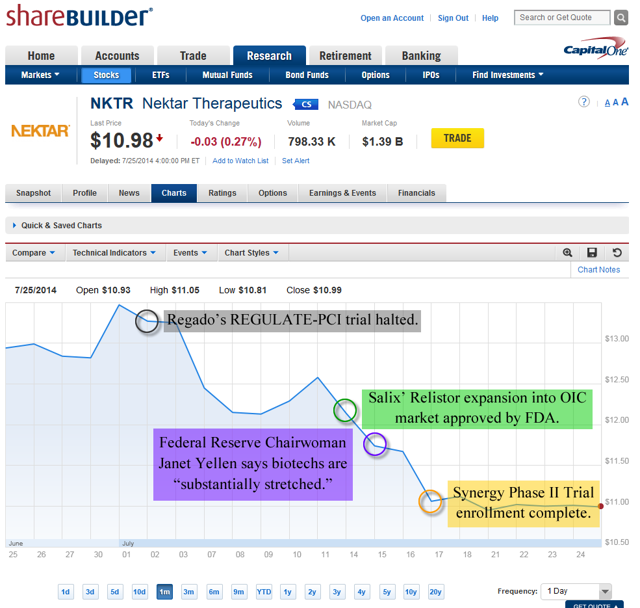 Regado's (RGDO) Revolixys Kit, powered in part by Nektar technology took a tumble when the FDA halted the REGULATE-PCI Phase III Trial due to allergic reactions. Though most investors wouldn't make this connection were it not for the in-depth analysis provided on this website, the link between the two companies is there nonetheless. Whether or not the FDA hits the restart button on that trial remains to be seen but in the interim, Nektar suffers somewhat by association.
Federal Reserve Chairwoman Janet Yellen unexpectedly complained that our sector was "substantially stretched" causing the second macro tumble of the year. The first, involved congressional complaints about the pricing of Gilead's (NASDAQ:GILD) Sovaldi back in March. Who knows where the price of this or any other early commercial stage biotech might be were it not for these power pokes.
Salix Relistor was approved for expansion into the wider chronic pain OIC market place. While this should have been interpreted as extremely good news, as it confirms the adcom panel recommendation that no cardiovascular outcome trials need to be conducted prior to approval, the market seems to have weighted Salix's early entrance into that patient population as more important. It isn't! In fact, it's highly advantageous for two reasons.
It virtually assures Movantik approval in September, which brings Nektar $175M in milestone payments this year and sales royalties and future milestones starting in 2015. Having said this, always recognize that PDUFA dates are binary events that require risk adjustment of your position.
Relistor is approved as a subcutaneous injection. By comparison, Movantik is an oral medication with milder side effects. Any advantage that Salix has leaving the sales gate early will be lost quickly to the AstraZeneca (NYSE:AZN) marketing machine and Movantik's ease of delivery. Who would choose to inject their OIC medication when they can simply swallow another pill? An oral version of Relistor is on the way - timeline unknown. The graphic below depicts the Relistor pipeline.

Synergy's (NASDAQ:SGYP) SP-333 is their next generation uroguanylin analog made specifically to treat patients with chronic pain suffering from opioid induced constipation, or OIC. This is a promising and completely different approach that looks to stimulate the gastrointestinal tract with a naturally occurring hormone that's both powerful and resilient.
However, this is a compound that may, or may not, prove to be effective, and may, or may not be proven safe. Movantik is both safe and effective. Additionally, SP-333 is far away from commercialization. Meanwhile, Movantik will have years of market entrenchment before SP-333, or for that matter, oral Relistor come to fruition.
A Bit Of Good News That Was Under-Appreciated
On June 18th, Nektar received a $19.75M milestone payment from Ophthotech for the use of its Pegylation technology in the development of Fovista - an additive therapy for the treatment of neovascular age-related macular degeneration, or wet-AMD.
With a positive PDUFA outcome for Movantik in September, Nektar's coffers will be bulging with cash heading towards a slew of important news items to close out the year.
The most significant of these will be the reporting of BAX-855 Phase III PROLONG-ATE trial results with an expected NDA filing by year's end. This study completed enrollment in November of 2013 and is a priority for Baxter (NYSE:BAX) as it seeks to extend the reign of the Advate franchise in the treatment of patients with severe hemophilia-A. Milestone and royalty payments for use of Nektar's Pegylation technology are in the offing.
Nektar will also report the results of the BEACON trial of NKTR-102 in metastatic breast cancer in early 2015. This pivotal trial enrolled far ahead of schedule and is a significant driver of value for the company as it could well become the first proprietary, revenue generating asset.
And finally, there's the initiation of a Phase III trial for NKTR-181 that has been noticeably delayed, but is a high priority nonetheless as it represents yet another wholly owned asset for the company worth potentially billions of dollars, this time in the chronic pain treatment market. The company has been deliberate in their approach to the structure of this study not only because of what's at stake, but because of the vexing missed primary endpoint of the Phase II study.
It's my hope that Nektar continues to approach the structuring and execution of this trial cautiously as there is so much to gain and to lose. Investors should pay close attention to the words of President and CEO Howard Robin at the next quarterly webcast on July 31, 2014 at 2:00 PM Pacific Time for an indication of what to expect.
Moving Forward
I'm undeterred by the market downturn in biotechnology, especially where Nektar is concerned. I continue to add more shares and focus on what's next. And where Nektar is concerned, three powerful catalysts on the near-term horizon would be the envy of any company in the sector.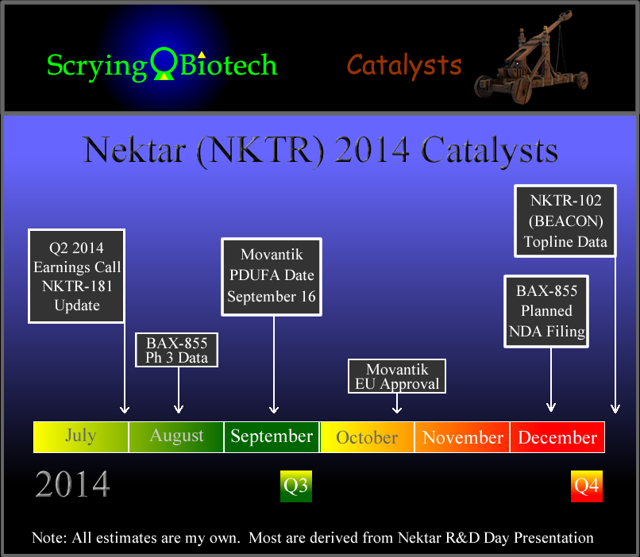 Always be well...
Disclosure: The author is long NKTR, RGDO. The author wrote this article themselves, and it expresses their own opinions. The author is not receiving compensation for it (other than from Seeking Alpha). The author has no business relationship with any company whose stock is mentioned in this article.
Additional disclosure: Any information or opinion expressed herein may not be true, accurate or correct and it does not constitute any suggestion to buy, sell, hold or adopt any investment strategy for this stock or any stock that may be mentioned. Reliance upon information in this article is at the sole discretion of the reader. The sole purpose of my article is to entertain by providing information, the accuracy of which is as good as the public sources it was derived from. Do not act on anything I have written. Rather, do your own due diligence and consult an investment professional before making any investment decision. Acting on what any one writer, including me has imparted to you is foolish at best. I have no better access to resources or gift of opinion formulation than you do. I sometimes make mistakes. There are a myriad of things, which can happen in lieu of any forward-looking statement I have made. Any stock featured or mentioned in an article I compose is subject to all manner of influences, which can change its value in dramatic fashion upwards or downwards. These events can be of a wide variety not limited to news-related occurrences, managerial decisions, trial failures, stock manipulations and so on. I make every effort to declare positions I have in stocks I cover or mention in an article but reserve the right to move in and out of said investments at my own discretion based upon the wisdom of doing so. I implore you to do your own due diligence, invest at your own considerable risk attaining the just reward your efforts have wrought.
Editor's Note: This article covers one or more stocks trading at less than $1 per share and/or with less than a $100 million market cap. Please be aware of the risks associated with these stocks.