On June 19, 2014, Exxon (NYSE: XOM) employees answered the call to immediately evacuate out of Iraq. In response, the financial commentariat mobilized quickly to detail images of total anarchy in a nation that is, yet again, at war with itself. For their part, oil traders bid up Brent Crude prices to a $115.19 a barrel, a 2014 peak, on that very same date, amid the ongoing strife in Iraq. With the smoke clearing, Exxon shareholders should take solace in the idea that sectarian violence in Iraq will have little to no bearing upon fossil fuel production. Exxon Mobil is still a solid, long-term investment.
Exxon in Iraq
The most recent reports out of Iraq have cited estimates that the country is home to 141 billion barrels of proven oil reserves and 112 trillion cubic feet of natural gas reserves. The U.S. Energy Information Administration now lists out Iraq as fifth, in terms of proven petroleum reserves, behind Saudi Arabia, Venezuela, Canada and Iran. Production potential in Iraq, of course, has remained largely shut in, after years of regional warfare, ethnic strife, and a lack of capital spending to build out infrastructure. In late 2002, Iraqi oil production had collapsed to 1.5 million barrels per day (bbl/d), immediately prior to U.S. occupation and war. By 2012, petroleum liquids production in Iraq had rebounded sharply above 3 million bbl/d, which ranked the republic as second most prolific in OPEC, behind only Saudi Arabia.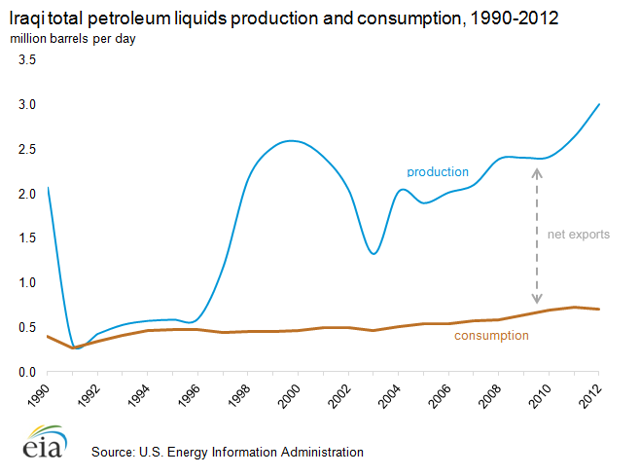 Click to enlarge
In late 2009, The Iraqi Oil Ministry announced that it had awarded rights to a consortium led by Exxon Mobil Iraq Limited, a subsidiary of Exxon Mobil and Royal Dutch Shell (NYSE: RDS.A) (NYSE:RDS.B) to rehabilitate and redevelop the West Qurna I oil field in southern Iraq - 40 miles away from Basra. The deal was historically significant as it represented the first foray of an American-led group into Iraqi oil. Original terms of the $50 billion deal called for a $25 billion up-front investment and $25 billion in ongoing operating fees. In exchange the Iraqi government would ultimately pay $1.90 per barrel in licensing fees.
The initial negotiations divided West Qurna I accordingly: 60% for Exxon, 15% for Royal Dutch Shell, and 25% for South Oil Company, a government-controlled entity. By November 2013, however, Exxon had sold off oil rights to Pertamina, of Indonesia, and PetroChina (NYSE:PTR). These series of transactions left Exxon Mobil with a 25% stake in West Qurna I - as lead operator of the field. Last November, Financial Times speculated upon contentious relations between Exxon and the Iraqi government after the American oil company signed bilateral agreements to explore Kurdistan, in northern Iraq. The Iraqi government typically limits oil companies to exclusively doing business in either the north or the south.
West Qurna I Production
Successive reports out of Iraq have indicated that drilling at West Qurna I has continued on schedule despite the aforementioned evacuations of Exxon personnel. Be advised further that Shell employees did remain on site, amid Exxon security measures. In Iraq, the violence has historically pitted Sunni Arabs, Shiite Arabs and Sunni Kurds against each other. This latest theater of war pits the Islamic State of Iraq and the Levant (ISIS) against the centralized Iraqi government. ISIS is an extremist group that aims to establish its own caliphate above Sunni - Arab majority lands between Syria and Iraq.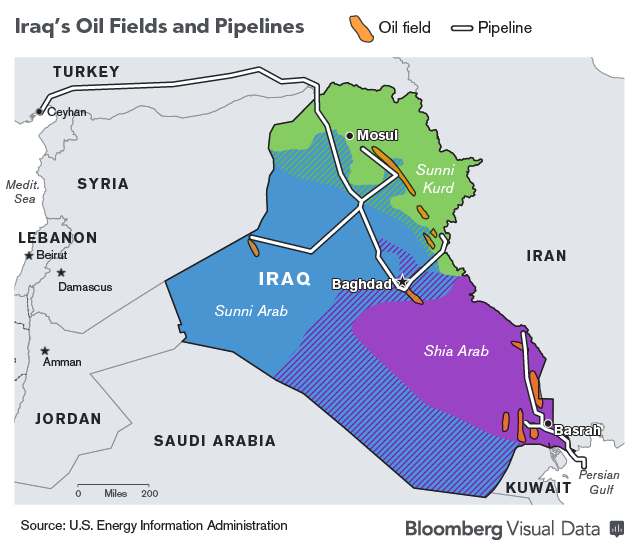 Fighting between ISIS and established government forces has been limited to North Central Iraq and the outskirts of Baghdad - far and away from the working oil infrastructure of the country. Exxon West Qurna I development interests near Basrah will remain untouched by the violence, as will the Texas oil company's exploration acreage in Kurdistan, or the Iraqi highlands of the far north.
West Qurna I, which may be home to 9 billion barrels of recoverable oil, is a smaller partition of the giant West Qurna oil field. In all, geologists have estimated that West Qurna sits above 43 billion barrels of recoverable oil. For the sake of comparison, Ghawar, the world's largest oil field, is largely thought to carry more than 100 billion barrels of recoverable oil. The Saudi Arabian Oil Company, or Aramco, now produces 4.5 million barrels per day out of Ghawar. For its efforts, Exxon has pledged to take West Qurna production from 244,000 to 2.25 million barrels of oil per day by 2016. In 2011, Exxon issued a press release stating that West Qurna I production had risen to 285,000 barrels per day, which was then ahead of the production timetable detailed within the service contract.
The Bottom Line
As lead contractor, Exxon does not own the West Qurna I acreage and cannot book the oil as company reserves. Exxon has agreed to accept a relatively measly $1.90 per barrel payment in exchange for gaining entry into oil-rich Iraq. In any event, Exxon has already sold off sizeable chunks of its West Qurna I claim to Pertamina and PetroChina. Prior to this latest outbreak of war, Exxon managers may have already retreated, financially. Exxon has historically prioritized return on equity, which is a strategy difficult to maintain when competing against state-backed oil companies that willingly accept razor thin margins.
Again, long-term Exxon Mobil shareholders should take solace in the idea that violence in Iraq will have little to no adverse effect upon West Qurna I production and aggregate investment returns. If anything, an unstable Middle East would drive oil and natural gas prices higher, which would directly benefit the Exxon bottom line. In recent years, Exxon has aggressively shifted its focus back to North America, as epitomized by the 2009 XTO Energy buyout - for $41 billion. XTO Energy, as an Exxon subsidiary, proclaims itself as the largest owner of natural gas reserves in the United States.
Last May, Exxon filed its first quarter 2014 results with the Securities and Exchange Commission. As usual, the financial results out of the world's largest publicly-traded oil corporation appeared gargantuan. For Q1 2014, Exxon rang up $9.1 billion, or $2.10 per share, in profits, off $106.8 billion in revenue. The results were slightly down from the year-over-year period, when Exxon posted $108.4 billion in revenue and $9.5 billion in Q1 2013 net income. In any event, Exxon recently blew past analyst expectations calling for $1.88 in Q1 2014 EPS. Going forward, the inevitable recovery in natural gas prices off historic lows will continue to drive real bottom line growth at Exxon.
Disclosure: The author is long XOM. The author wrote this article themselves, and it expresses their own opinions. The author is not receiving compensation for it (other than from Seeking Alpha). The author has no business relationship with any company whose stock is mentioned in this article.