The following is a list of high growth stocks reaching an inflection point, based on moving average trends. For this article, we define an inflection point as the convergence between the 50-day and 200-day moving averages.

When these two moving averages cross, it often represents a shift in investor sentiment. If the 50-day MA moves above the 200-day MA (bullish), it's called a "Golden Cross" signal. If, on the other hand, the 50-day MA crosses below the 200-day MA (bearish), it's called the "Death Cross".

To compile this list, we started with a universe of stocks that have seen the SMA50 move above the SMA200 (i.e. bullish signal). We then narrowed down the list by only focusing on high growth stocks, defined by EPS growth projections above 20% over the next 5 years.

Growth projections sourced from Finviz. Full details below.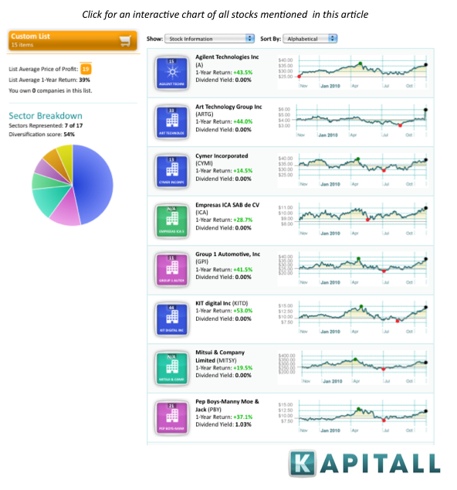 The list has been sorted by performance over the last year.

1. Sonic Solutions (SNIC): Business Software & Services Industry. Market cap of $359.32M. EPS projected to grow at 22.5% over the next five years. SMA50 at $10.02 vs. SMA200 at $9.64 (current price at $11.69). Short float at 45.06%, which implies a short ratio of 19.9 days. The stock has gained 90.38% over the last year.

2. Southwest Airlines Co. (NYSE:LUV): Airlines Industry. Market cap of $10.54B. EPS projected to grow at 28.5% over the next five years. SMA50 at $12.52 vs. SMA200 at $12.34 (current price at $14.25). Short float at 2.59%, which implies a short ratio of 3.24 days. The stock has gained 70.62% over the last year.

3. Protalix BioTherapeutics, Inc. (NYSEMKT:PLX): Biotechnology Industry. Market cap of $798.86M. EPS projected to grow at 25.% over the next five years. SMA50 at $7.59 vs. SMA200 at $7.43 (current price at $9.96). Short float at 11.63%, which implies a short ratio of 12.54 days. The stock has gained 64.88% over the last year.

4. KIT digital, Inc. (OTC:KITD): Entertainment Industry. Market cap of $325.45M. EPS projected to grow at 35.67% over the next five years. SMA50 at $11.44 vs. SMA200 at $11.04 (current price at $14.38). Short float at 28.82%, which implies a short ratio of 19.34 days. The stock has gained 48.88% over the last year.

5. Virtusa Corp. (NASDAQ:VRTU): Information Technology Services Industry. Market cap of $322.26M. EPS projected to grow at 23.75% over the next five years. SMA50 at $10.16 vs. SMA200 at $9.7 (current price at $13.63). Short float at 2.23%, which implies a short ratio of 3.45 days. The stock has gained 46.8% over the last year.

6. Art Technology Group Inc. (ARTG): Internet Software & Services Industry. Market cap of $945.5M. EPS projected to grow at 23.42% over the next five years. SMA50 at $4.07 vs. SMA200 at $3.98 (current price at $5.97). Short float at 4.13%, which implies a short ratio of 2.16 days. The stock has gained 44.1% over the last year.

7. Worthington Industries, Inc. (NYSE:WOR): Steel & Iron Industry. Market cap of $1.18B. EPS projected to grow at 28.% over the next five years. SMA50 at $15.12 vs. SMA200 at $14.93 (current price at $16.27). Short float at 8.39%, which implies a short ratio of 8.07 days. The stock has gained 43.55% over the last year.

8. Agilent Technologies Inc. (NYSE:A): Scientific & Technical Instruments Industry. Market cap of $12.16B. EPS projected to grow at 31.7% over the next five years. SMA50 at $31.92 vs. SMA200 at $31.57 (current price at $35.88). Short float at 1.59%, which implies a short ratio of 1.72 days. The stock has gained 40.27% over the last year.

9. Group 1 Automotive Inc. (NYSE:GPI): Auto Dealerships Industry. Market cap of $862.29M. EPS projected to grow at 21.4% over the next five years. SMA50 at $29.92 vs. SMA200 at $29.23 (current price at $37.38). Short float at 22.5%, which implies a short ratio of 12.17 days. The stock has gained 37.22% over the last year.

10. Pep Boys (NYSE:PBY): Auto Parts Stores Industry. Market cap of $629.88M. EPS projected to grow at 20.6% over the next five years. SMA50 at $10.41 vs. SMA200 at $10.14 (current price at $12.23). Short float at 7.56%, which implies a short ratio of 10 days. The stock has gained 36.21% over the last year.

11. Rex Energy Corporation (NASDAQ:REXX): Oil & Gas Drilling & Exploration Industry. Market cap of $493.36M. EPS projected to grow at 50.% over the next five years. SMA50 at $12.04 vs. SMA200 at $11.9 (current price at $12.). Short float at 19.18%, which implies a short ratio of 12.78 days. The stock has gained 30.08% over the last year.

12. Empresas ICA, S.A.B. de C.V. (NYSE:ICA): Heavy Construction Industry. Market cap of $1.75B. EPS projected to grow at 38.7% over the next five years. SMA50 at $9.95 vs. SMA200 at $9.86 (current price at $10.98). Short float at 0.52%, which implies a short ratio of 4.29 days. The stock has gained 27.32% over the last year.

13. Mitsui & Co. Ltd. (OTCPK:MITSY): Conglomerates Industry. Market cap of $28.45B. EPS projected to grow at 40.% over the next five years. SMA50 at $296.95 vs. SMA200 at $293.92 (current price at $319.96). Short float at 0.01%, which implies a short ratio of 1.44 days. The stock has gained 16.83% over the last year.

14. Vivo Participacoes S.A. (NYSE:VIV): Wireless Communications Industry. Market cap of $11.76B. EPS projected to grow at 24.5% over the next five years. SMA50 at $27.45 vs. SMA200 at $26.93 (current price at $29.43). Short float at 0.51%, which implies a short ratio of 1.09 days. The stock has gained 16.65% over the last year.

15. Cymer Inc. (NASDAQ:CYMI): Semiconductor Equipment & Materials Industry. Market cap of $1.12B. EPS projected to grow at 20.37% over the next five years. SMA50 at $34.72 vs. SMA200 at $33.73 (current price at $38.91). Short float at 10.46%, which implies a short ratio of 9.49 days. The stock has gained 11.25% over the last year.

Disclosure: No positions