A number of deals are moving from the rumor phase into the announcement phase and this is good news. Although we do not speculate on M&A activity directly, we do like to purchase stock in really good companies that could be attractive takeover targets. With deal demand rising, many of the companies which activist investors are putting into play are finding bidders; sometimes multiple bidders are emerging and creating bidding wars. This is a great environment to see developing and further fuel for the market.
We have seen a lack of deals in the banking sector as new regulations have essentially frozen the M&A space. Obviously the largest institutions will be unable to partake in any buying, but 2015 could be the year where we see deal flow pick up among the regionals and community banks.
Chart of the Day:
Volatility is picking up as tensions continue to rise in hot spots around the world. Headlines play a role in this, but in our experience ongoing stories can have an even larger impact upon investor sentiment. The ongoing events in Ukraine and Israel/Gaza fit the category of an ongoing story, and the news is troublesome in both areas as the world pushes for ceasefires.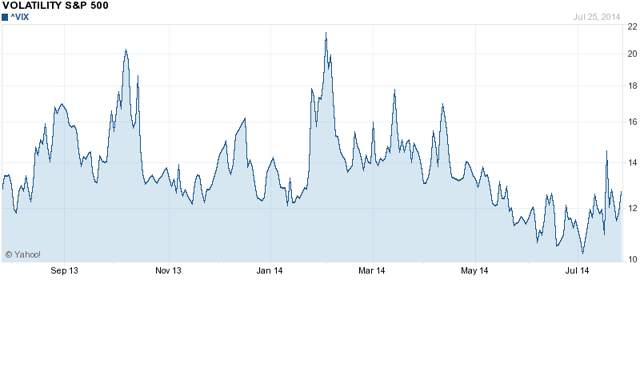 Source: Yahoo Finance
We have economic news today, and it is as follows:
Pending Home Sales (10:00 a.m. EST): Est: -0.8% Act: -1.1%
The Asian markets are mostly higher today:
All Ordinaries -- down 0.11%
Shanghai Composite -- up 2.41%
Nikkei 225 -- up 0.46%
NZSE 50 -- down 0.14%
Seoul Composite -- up 0.74%
In Europe, the markets are mixed this morning:
CAC 40 -- up 0.23%
DAX -- down 0.15%
FTSE 100 -- up 0.05%
OSE -- down 0.21%
Icahn Wins Again
There are a lot of winners in the latest retail merger as investors cheer the $8.5 billion deal between Dollar Tree (NASDAQ:DLTR) and Family Dollar (NYSE:FDO). Right now it is hard to pick a clear cut winner, but with his 9.4% stake in Family Dollar, Carl Icahn is near the top of the list. The big loser has to be Dollar General (NYSE:DG), the company that Mr. Icahn hoped would buy Family Dollar when he initially took his stake.
Many are commenting that the price Dollar Tree is paying for Family Dollar is too low, as the share prices for both companies are rising since the deal was announced. With the issues that Family Dollar is facing, along with the uncertainties that would be attached to any offer from Dollar General, one has to believe that the Dollar Tree offer is indeed fair. The only question now is whether Dollar General feels that they can launch a bid that can pass regulatory scrutiny while also not rocking the boat as they transition in a new CEO.
There are in fact greater cost savings in a Family Dollar/Dollar General tie up than the Dollar Tree/Family Dollar combination, but there are far too many questions concerning a move where the largest dollar retailer gobbles up Family Dollar. One also has to be aware that just because Family Dollar is trading above the offer price does not mean that the market is expecting another company to enter the bidding or for a raised bid; the current offer has increased in value because shares of Dollar Tree have risen on news of the deal and equity makes up a portion of their bid.
Dollar Tree was a buyer of opportunity. Family Dollar was in play and the 'Icahn Boost' had disappeared, Dollar Tree saw this and was able to step in and purchase the company for a price below its 52-week high.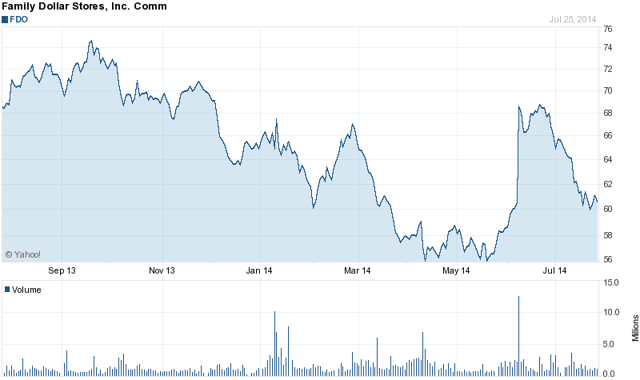 source: Yahoo Finance
Although Carl Icahn has not stated how he will vote his shares, fellow activist investor Nelson Peltz and current CEO Howard Levine have agreed to vote their stakes, around 16% of the shares outstanding, in favor of the deal.
Real Estate Companies Ink Deal
The rumored deal between Zillow (NASDAQ:Z) and Trulia (TRLA) became a reality this morning as the two companies announced a $3.5 billion all stock deal. Under the terms of the deal, each share of Trulia will be exchanged for 0.444 shares of Zillow's Class A shares. Both companies' shares rose sharply when the news broke last week that there could be a deal announced as soon as this week, but after today's announcement Zillow's shares are pulling back slightly as Trulia's shares rise over 8%.
The combination will create a powerhouse for online listings and should allow the two companies to cut back on spending while also raising advertising rates charged to real estate professionals. Although it will take time to grow the combined company's market share, many are touting that there is plenty of room to grow the current 4% of the real estate advertising market that Trulia and Zillow control.
Disclosure: The author has no positions in any stocks mentioned, and no plans to initiate any positions within the next 72 hours. The author wrote this article themselves, and it expresses their own opinions. The author is not receiving compensation for it (other than from Seeking Alpha). The author has no business relationship with any company whose stock is mentioned in this article.