At the beginning of July, I published an article, "The Vapor Trail To Profits: Who's Winning, Who's Losing?" where I identified several companies in the ECig and Vapor market that could be ready to lead are who may already be lagging in the space. So after 1 month down in Q3, how does this sector look, especially after the Lorillard (NYSE:LO) and Reynolds American (NYSE:RAI) acquisition announcement, and furthermore, who are some new players in the space that didn't previously hit the radar? Seemingly, the "smoke has cleared" and many of these companies are sitting at all time lows, which could offer investors a discount opportunity in a growing industry.
Vapor Corp (NASDAQ:VPCO) CEO Jeffrey Hollman rang the opening bell nearly 2 months ago to signal VPCO's entry onto the NASDAQ. This was once an OTC stock that made the move up to establish itself as a market leader in the ECig and vaporizer space but up until this point, the real story has been on its "fall from greatness." Almost immediately after uplisting, this once OTC company has tumbled more than 40% after hitting lows of $3. 81 on July 18th.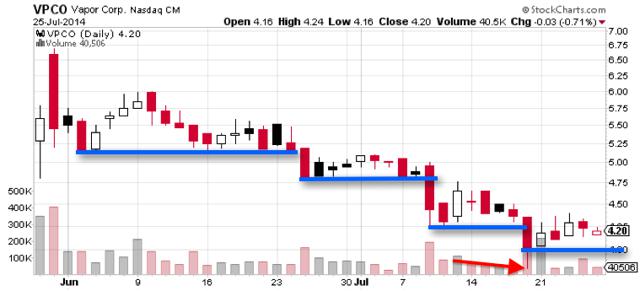 Click to enlarge
Contrary to CEO Jeff Holman's original statement, "We believe that trading on The NASDAQ Capital Market will provide us increased visibility in the market place, greater access to capital, a broader investor base and ultimately help us implement our growth initiatives and enhance shareholder value," VPCO has revealed very little information on its "growth initiatives" since uplisting. For this reason, I'm incredibly cautious with any type of investment decision pertaining to VPCO, which seems to cyclically trade sideways for roughly a week before continuing its descent.
Coined as "not just an alternative to traditional smoking, but a lifestyle," Vaporin Inc.'s (OTCQB:VAPO) suite of E-cigarettes, vaporizers, and even E-hookah's has begun to take on new distribution, most recently through one of the marijuana indexes largest companies (based on market cap), Terra Tech Corp (OTCQB:TRTC). In a June release, VAPO announced the distribution agreement with TRTC stating that Terra Tech will purchase the Company's proprietary vaporizer products for resale throughout their cannabis dispensary network in California, Colorado, Washington and Oregon. Furthermore, the release states that Vaporin "anticipates generating revenue from this distribution agreement during the third quarter of 2014." On July 16, VAPO filed a Pre14C for the purposes of initiating a 1-for-50 reverse stock split whereby the company's goal is not only to achieve a higher stock price but also to become more attractive to institutional investors as well as analysts and broker/dealers. This may be a good thing for the company, especially after the week it has had recently and ending the week at a closing low it hasn't seen since May.
However, there are obvious risks involved with such a split. These include effective impact on the company's market cap, and could even negatively effect its value based on total shares outstanding and the effective price following the split. Compounding this, another risk would be an overall decrease in share value following the reverse and pending the effective share price, which could leave current shareholders holding the bag so to speak. Despite these risks, it appears that management firmly believes this move to be a benefit to the company and as identified in the PRE 14C, should make it appealing for more sophisticated investors.
As of the company's most recent 10-Q, VAPO's financials look to be in line with an expansionary goal. Assets have increased by more than 150% due mostly to a jump in accounts receivable and inventories. Revenues for the same quarter also show that the company was able to generate roughly $180k, however, due to increased financing activities and higher cost of sales, the company reported a net loss for the quarter. The company has identified that the approximate $778,000 increase in operating expenses for the three months ended March 31, 2014 is primarily attributable to an increase in roughly $215,000 of advertising and promotion expense, an increase of about $529,000 in general and administrative costs, which includes an increase in stock based consulting of $255,000, and an increase in professional fees of approximately $31,000. As in many small cap companies, the net loss was realized as a direct result of top-heavy efforts to grow and develop operations. Personally, I've put VAPO on the list simply because the company has recently invested a good amount of it stock into financing activities for progress in addition to pushing forward with a 1-for-50 Reverse split to hedge against increased dilution, especially at the current trading levels.
Electronic Cigarettes International Group, Ltd (OTCQB:ECIG) makes its way onto this list for several reasons. It was not only identified by readers in response to my original industry article earlier in July, but the company itself has also begun to ramp things up. Mid July marked the company's expansionary focus in my opinion. ECIG brought on a funding partner and strategic partner all in one by bringing on the Mansour Group. The Man FinCo will be able to provide the company with up to $60M in equity financing while the Mansour Group itself has established relationships in the tobacco industry overseas within areas such as Egypt, the Middle East, and Africa.
Mohamed Mansour, Chairman of the Mansour Group, said:
"We are very excited to have made this strategic investment into ECIG. We have a long history in the tobacco business building up leading international brands over the past 20 years. We are convinced that electronic cigarettes will be a very significant business, and believe that ECIG will emerge as one of the global leaders. We know Mr. Willis' track record in helping to create InBev, and are confident that together with our support he will lead a similar effort in this category."
Following the July 16 announcement, ECIG reported that the company has also launched its new corporate website under the new corporate domain name ECIG.co. Included in the new website are consumer friendly links to the Group's brand specific and subsidiary company websites enabling consumers easy access to important brand and product information, and guidance on how to buy online or at major retailer partner sales locations. Keep in mind that ECIG previously announced that it had filed with the SEC to raise up to $150M with the goal of uplisting to the NASDAQ so this could be an effort to continue this pursuit.
Despite these developments, ECIG has continued to decline in price since late May which could suggest that these funding agreements could have had a more negative effect on the company than anything else. Assuming the proceeds would be used to help with future developments for the company, ECIG has still received attention from many speculators who favor the growth of smaller companies over larger ones like Phillip Morris (NYSE:PM). The company's second quarter profit fell by 13% and has been attributed to less interest in tobacco, which could be a direct result of more attention on the electronic cigarette and vaporizer markets. After having the financial backing and international distribution opportunity given by Mansour, in addition to the company's already established distribution channels, ECIG is a company that I will follow at least through the remainder of the year.
Vapor Group Inc (OTCQB:VPOR) has also been making headlines throughout the months of June and July and is also featured as one of the 44 MJX companies. With a $20.4M market cap, this company takes roughly 0.5% of the total index and is working to create its own footprint in the market. Recently VPOR announced that it not only has launched its new retail website, but the company has also begun opening storefronts in the South Florida market.
According to that release, this will serve as the company's "flagship" store and is the first of five stores planned to open by early August under the "Total Vapor" brand. Vapor Group's President and CEO, Dror Svorai said:
"…by year-end we plan to have opened ten retail locations in metropolitan Florida. And based on the stores' performance by year-end, we may decide to further invest in retail expansion in or out of our home State, either by direct ownership, or the offering of a 'business opportunity' or 'franchise' for our products."
VPOR like many companies in this industry has seen its part in the market consolidation and hit a summer low in June of $0.0495. Since these announcements, VPOR has begun to rebound a bit and as of Friday's close, the increase equates to roughly 21%.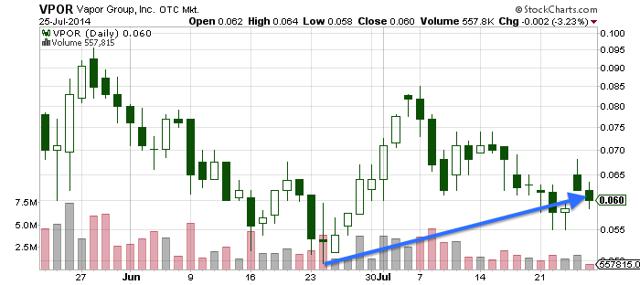 Click to enlarge
Vapor Group has received some flack however, for the current overall decline in stock price, even being criticized by editors of The Street. The main argument has been with regard to the company's funding strategy coupled with its revenue numbers from last year. Despite the arguments, the company has not only expressed its growth since reverse merging with the former Avworks Aviation (previous symbol SPLI) but recent increases in revenues have garnered the attention of some of Vapor Group's critics to change their stance on the company, and in turn, the investment potential.
Seeking Alpha contributor, Matthew Finston, was a previous opponent to the idea of an investment in VPOR, but as he notes in a late May article, Marijuana Stocks Half A Year In Review, Part 2: Vapor Group Inc., due to several key points he has decided to reevaluate the company and even take a long position. Of note, Mr. Finston identified that Vapor Group has been able to move product effectively despite the fact that it's still in the early stages of development. Additionally, through the company's "secure base of vendors that are purchasing products" he notes that VPOR has a steady stream of revenues. Furthermore, I will agree with his statement that Vapor Group's major growth opportunity rests in its Acquisition of American Vaporizor and that the company has already demonstrated growth by generating half the value of 2013's revenues, within the first quarter of 2014; a key detail investors will look at.
In researching the actual numbers from VPOR's most recent quarterly filing, investors will notice net revenues of $966k with a balance sheet showing $61k in cash and total current assets of over $1.27 million. The Company expressed that it plans to meet its financial obligations and commitments for the next 12 months by increasing its revenues and gross margin and "simultaneously raising additional capital in the form of debt or equity instruments in order to continue to increase inventories and accelerate its turn on inventory."
Furthermore, preliminary results from the first quarter also reveal that VPOR's percentage of gross profit was driven to over 60% of revenues. The company attributes this to the "immense effort invested in building supplier relationships and will attempt to repeatedly repeat or beat this percentage quarter-by-quarter."
The obvious risks involved with an investment in VPOR include its volatility and lower stock price. Additionally, FDA regulations have come to light regarding electronic cigarettes in their entirety, which also poses a risk to the industry (and the companies within it). In an article published in a June issue of Science News, the author cites several key risk factors in the use of a vape product. Even the FDA's Priscilla Callahan-Lyon writes that the Agency has seen no data establishing anything that reflects the safety of ECig Products. Additionally, VPOR as a company is still in its early stages and has yet to put a full year in business under its belt. Therefore market or systematic risk is an obvious contributor in this case.
A few other companies I'm going to watch in this space (who aren't the "Big Tobacco" companies) include mCig, Inc. (OTCQB:MCIG) and Vape Holdings (OTCQB:VAPE). mCig announced earlier in July that it will be continuing its national media campaign for the company's VitaCig product. In the company's most recent published investor deck, mCig emphasized the point that Peter Lynch made in that during the Gold Rush, most gold miners lost money, but people who sold them picks, shovels, tents, and blue-jeans made a nice profit. Alluding to vaporizer products in the newest "gold rush" with marijuana, management identified key strategies and business developments that were highlighted by increased inventory fulfillment, quick turnaround of shipped orders (90% within 24 hours or less), and a milestone for the company obtaining more than 20,000 individual customers from over 25 countries around the world.
Adding to the company's increased exposure efforts also includes bringing on 2 high profile brand ambassadors, Bam Margera and Rick Ross based on Margera's success in quitting smoking by using the VitaCig product, as well as Ross's known support of cannabis. Of additional note, the company also expressed its goal to uplist to a higher exchange (as with several others mentioned in this article), which could offer added benefits of better reporting standards and access to additional capital. Since making these announcements, MCIG has seen an increase in share price from earlier lows of $0.342 in May to a closing share price of $0.46 on Friday representing an increase in price of 35% in less than 3 months.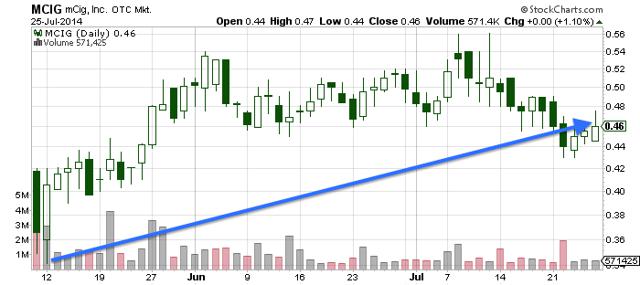 Click to enlarge
Vape Holdings, on the other hand has maintained a consistent sideways trend sine my last industry update. Having come back as much as 232% since June lows, VAPE hasn't really had much to offer by way of company announcements or corporate filings besides adding to the C level management team and adopting a stock option plan. In line with the previous analysis of the company, its still meant to be seen where this company is truly headed as so much attention has been placed on the industry due in part to the latest M&A announcements.
Since studying the industry over the last month or so, I can safely say that I think there's still much more ground to cover for these companies. As Big Tobacco still pursues an active presence within the market and the marijuana industry cries for products that deliver a smokeless delivery system, opportunity knocks. Having seen a noticeable consolidation within the space as a whole, there is of course the option to invest at lows but for investors, the real hurdle will be identifying those lows. For companies like VPCO, VAPE, and ECIG, I feel that the public is going to be looking for more by way of announcements and corporate updates. For the others mentioned, this may be a time to look closer where several of these stocks have seemingly leveled out over the recent weeks.
Disclosure: The author has no positions in any stocks mentioned, and no plans to initiate any positions within the next 72 hours. The author wrote this article themselves, and it expresses their own opinions. The author is not receiving compensation for it. The author has no business relationship with any company whose stock is mentioned in this article.
Editor's Note: This article covers one or more stocks trading at less than $1 per share and/or with less than a $100 million market cap. Please be aware of the risks associated with these stocks.