In mid-June, we shared the several indicators (Six Indicators To Confirm The Bear Market) that we are monitoring to move out of equities, which we review below. While we have been forced by our models to remain fully invested, we do remain very uneasy due to the extraordinary disequilibria in financial markets and the artificial nature of this equity rally. Moreover, we see more signs of investors reaching for yield. Consider that:
Bulgaria, the EU's poorest member state, recently raised €1.5bn in a new government bond that attracted orders of €4bn against a backdrop of political and financial uncertainty. The strong appetite for Bulgaria's first eurobond issue in two years, helped price the 10-year bond with a yield at 3.055%. Yes, 3.05% for a Bulgarian catastrophe waiting to happen, while safe U.S. 10-year debt is priced at 2.6%. Remember Greece?
More and more companies without earnings (especially in technology, such as Twitter), are being attributed unreasonably high valuations. Paying high prices for the hope of future earnings… remember the Tech Bubble?
Collateralized loan obligation (CLO) issuance climbed to $58 billion in the first 6-months of 2014. To recall, CLOs are securitized vehicles that invest in bank loans made to junk-rated companies. We are on pace to top $100 billion in 2014 and break the previous single-year issuance record set in 2007. Remember how everyone was so bullish in 2007?
Portfolio allocations of life insurance companies have shifted dramatically in the last 3 years. To recall, in 2013 nearly 95% of all life insurance policies contained a minimum interest rate guarantee of at least 3%. According to the Center for Insurance Policy and Research, in 2010 the majority of insurance industry investments were in bonds (69.7% of total cash and invested assets) followed by investments in common stock (10.3%, compared to a 35-year historical average of 9.3%). To attain at least a 3% return, life insurance common stock holdings were up to 18.6% by the end of 2013.
Pension funds are similarly forced to move up the risk scale. We gathered data from 20 large U.S. pension funds and compiled the results in the table below. Relative to historic medians, pension funds are extremely skewed towards U.S. equities and away from bonds.

NYSE Member Firm margin debt balances stand at $438.5 million as of May 2014, just off the all-time record $465.7 million in February. By comparison, the 15-year average is $242.0 million while the 30-year average is only $151.0 million.
High beta / high risk stocks have never been so much in vogue, despite the recent selling of the small caps. Looking back 30-years, the ratio of the Russell 2000 small cap index to the S&P 100 blue chip index stands near its historic high. The Nasdaq - S&P 100 ratio is getting back to the Tech Bubble highs.
Our WMA Risk Indicator (below) has spent 116 consecutive weeks in the Risk-On mode. Such a long stint in "Risk-On" has not occurred since at least 1982.
We cannot think of a time in history when investor greed ended well.
That said, turning to our six indicators, all have remained subdued as we enter the seasonally difficult August-October period. Due to the role of the Fed in financial markets, we have added a seventh indicator, the level of Federal Reserve holdings of Treasuries, Agency debt and MBS, which we explain below.
1.) Stock / Bond Ratio
The ratio of the S&P 500 to the U.S. Long Government Bond captures very well the interest rate induced distortions in financial markets. We set a break below the 200-day moving average (dashed blue line) as a warning of more serious sell-off. The ratio has not yet attempted to test the 200-day MA, and has even made a new historic high.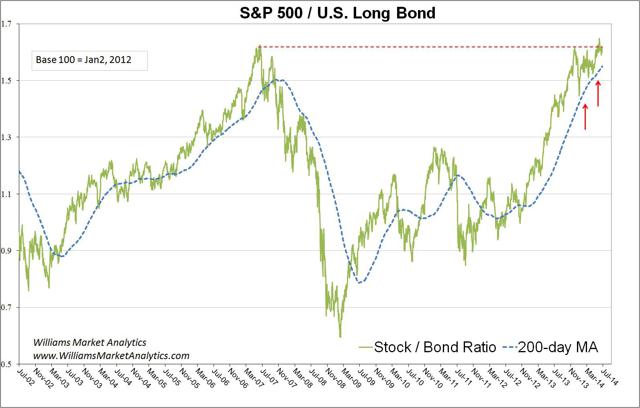 2.) Deterioration of Advance/Decline Line
The advance/decline (A/D) line is a breadth indicator, which measure the number of individual stocks participating in a market rise or fall. With the broad market rally, the A/D line on the S&P 500 has recently accelerated above its 2013 rising trend. This increased rate of acceleration is quite unusual looking back at the data since 2000 and we can't determine if this is just another sign of the bubble in equities or a warning of a blow-off top.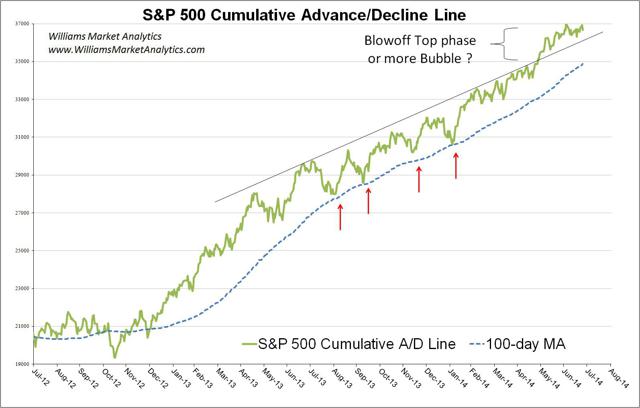 3.) Confirmation of Risk-Off
We have re-worked our U.S. market risk indicator to give greater weight to our risk variables that display leading tendencies relative to equities indexes. A description of the indicator can be found here. As mentioned, the 116 weeks in the Risk-On mode is a record. We'd need to see this uptrend line broken before we think of raising cash. Back testing has demonstrated that breaks below 65 (upper line) have generated excellent signals for short sales on the S&P 500 (NYSEARCA:SPY).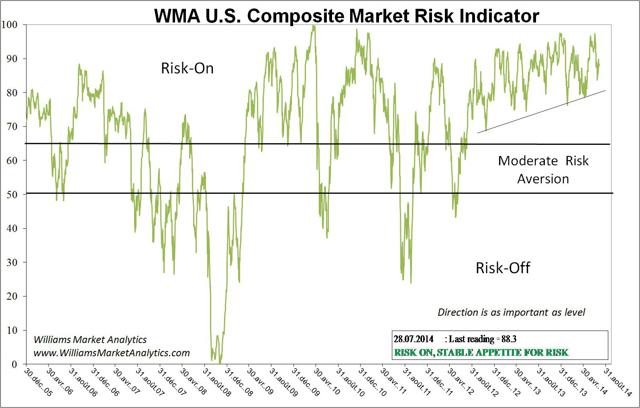 Interestingly, our European Market Risk Indicator is less sanguine.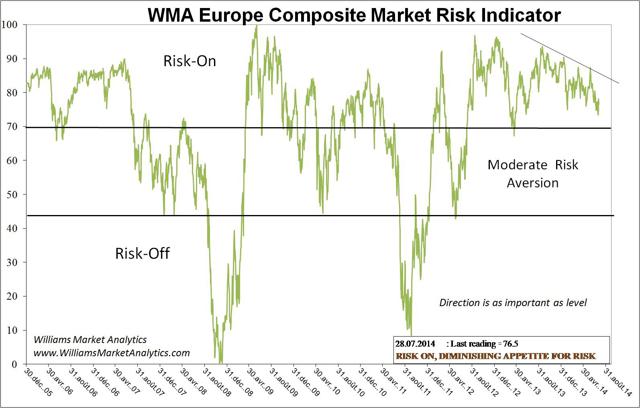 4.) Move towards Pessimism
The unloved equity rally must be loved by someone, because our Sentiment Indicator is having a hard time leaving the Extreme Optimism zone. For a description of our indicator, click here. To recall, sentiment is typically used as a contrarian indicator, as one should sell when investors are collectively euphoric.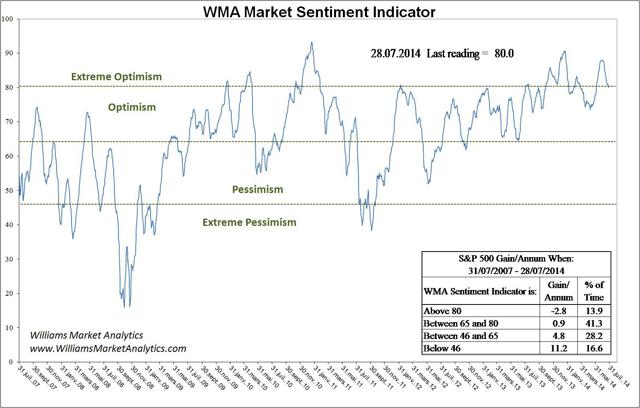 5.) Spike Up in Volatility
The low volatility market continues. In fact, the VIX (volatility on S&P 500 options) hit a multi-year low of 10.3 in July. We believe the current complacency of investors would take a serious hit if the "Fear Index" climbs above 22.0 (dashed red line). We have set an alert above this key level, which has marked the apogee of volatility since 2012.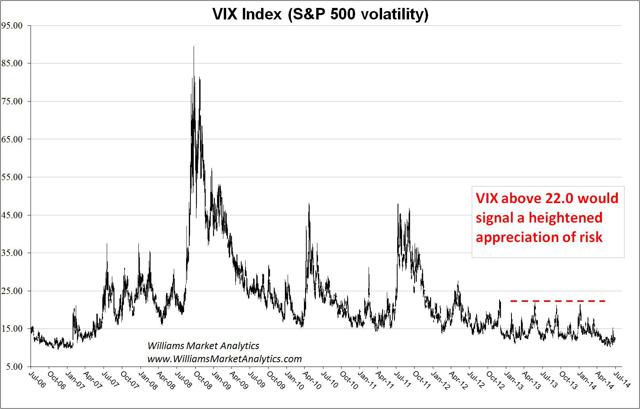 6.) Upward Pressure on Rates
We have argued that the next severe correction will be fueled by capitulation of long-term bulls and forced selling by highly leveraged margin speculators. This will only occur when the true source of the equity bull market is threatened… easy money.
We are therefore monitoring inflation pressures on both short term and long-term interest rates. We use breakeven spreads on U.S. Treasuries to give us a timely, market-based read on inflation. By taking the difference between a nominal T-Note yield and the real yield on an equivalent maturity Treasury Inflation Protected Security, one arrives at the bond market's outlook for inflation. The 5-year breakeven spread shown on the chart below has drifted upwards, but remains far from levels that would force the Fed's hand on rate tightening.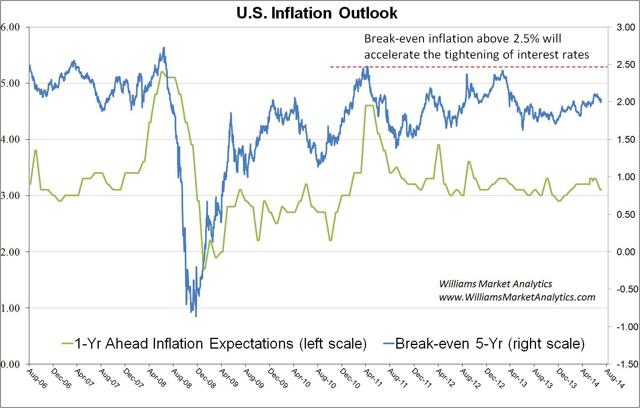 Similarly, the long end of the curve has not budged.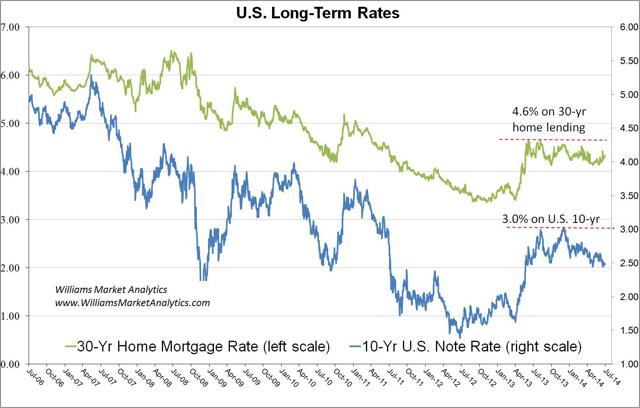 7.) Falling Levels of Official Bond Holdings at the Federal Reserve
We added this weekly data on Fed bond purchases to our hit list since the Fed QE program is the root cause of this equity bull market. Moreover, we see in the chart below that each time the Fed lets up on the accelerator, the U.S. equities market goes into a spasm. Like a cyclist on EPO, this market needs its fix of Fed asset purchases to keep climbing the mountain.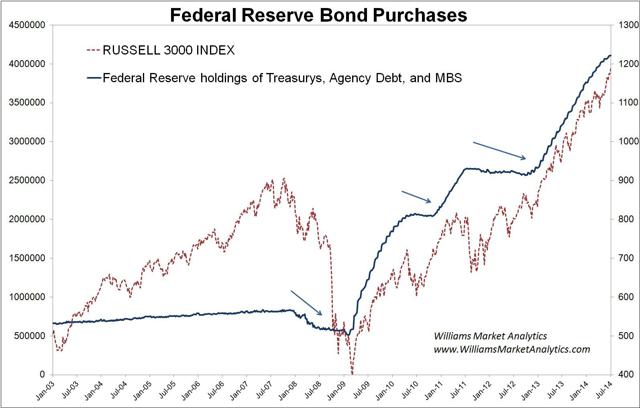 Conclusion
Until our seven indicators begin to confirm, we cannot declare that the equity market has finally topped. While the Fed keeps repeating that its policy is "data-dependant," equity investors are unfortunately required to remain "Fed-dependant." Nevertheless, at this point, we feel the equity market is far less for investors and more for gamblers. Readers can follow these indicators on our site, which we update regularly with our real-time Bloomberg feed.
Disclosure: The author has no positions in any stocks mentioned, and no plans to initiate any positions within the next 72 hours. The author wrote this article themselves, and it expresses their own opinions. The author is not receiving compensation for it (other than from Seeking Alpha). The author has no business relationship with any company whose stock is mentioned in this article.