For Q2 '14, United Airlines (NYSE:UAL) reported that earnings surged 51% above the prior year period. The much maligned legacy airline might finally produce the returns that competitor Delta Air Lines (NYSE:DAL) has produced for the last couple of years. United Airlines' stock could soar on the back of improving operations with it only trading at roughly 8.4x forward earnings.
For the quarter, the company earned $2.34, compared to analyst estimates of $2.19. The gains were mostly attributable to increased passenger revenue per available seat mile (PRASM) of 3.7% and cost controls that saw cost per available seat mile (NASDAQ:CASM) excluding special charges, fuel, and profit sharing decline 0.2%. My previous article detailed how United Airlines would improve profits by reducing costs from a variety of measures including fuel efficiency improvements, lower maintenance costs, and improved productivity.
United Airlines remains an attractive stock based on the outline of the original article where improving operations combined with a low earnings multiple made the stock appealing. At the current valuation, American Airlines (NASDAQ:AAL) remains the favorite airline stock of Stone Fox Capital with it trading at only a little over 6x 2015 earnings estimates. If that stock were to see substantial gains from this point, United Airlines would immediately start factoring into the investment discussion. Ultimately though, the slide back from the Investor Day Presentation in November from United Airlines included in the original article still stands.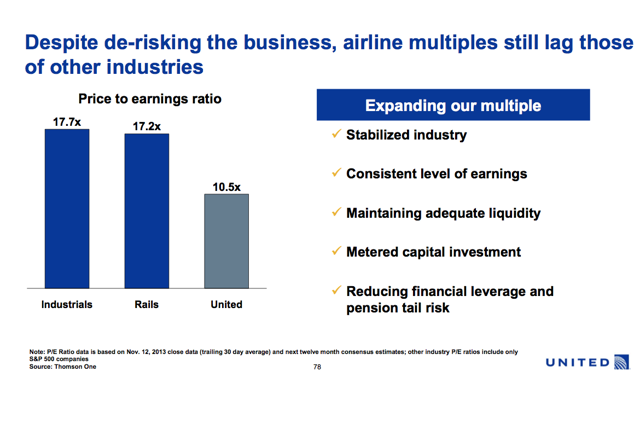 Click to enlarge
Disclosure: The author is long AAL. The author wrote this article themselves, and it expresses their own opinions. The author is not receiving compensation for it (other than from Seeking Alpha). The author has no business relationship with any company whose stock is mentioned in this article. The information contained herein is for informational purposes only. Nothing in this article should be taken as a solicitation to purchase or sell securities. Before buying or selling any stock you should do your own research and reach your own conclusion or consult a financial advisor. Investing includes risks, including loss of principal.