Since announcing its split into two entities, shareholders are having a tough time holding Theravance (THRX). Conversely, its spinoff company, Theravance Biopharma (NASDAQ:TBPH), is up. Hurt by an increase in bearish bets and a lack of interest in royalty income, Theravance shares are down 23 percent on the month. When will the sell-off end?
GlaxoSmithKline disappoints
GlaxoSmithKline (NYSE:GSK) kicked off concerns for Theravance after issuing weak guidance following its second quarter results. Guilty by association, Theravance shares fell steadily in parallel to GSK's stock price decline. GSK is closely aligned to the strategic goals of Theravance, and is a major partner and owner in shares of Theravance. GSK owned around 26.9 percent of Theravance shares. Theravance had $520 million in cash and cash equivalents as of December 31, 2013. When it received $434.3 million from the private placement for 9% non-recourse PhaRMA notes, Theravance owed $32 million to GSK.
GSK spooked investors after GSK forecast for zero growth. Investors previously thought the firm would grow earnings by 4 - 8 percent for 2014. Investors may infer that the outlook for Theravance might get lowered.
There is no indication yet that the eventual approval for the triple combination of FF (fluticasone furoate/UMEC (umeclidinium)/VI (vilanterol) used to treat chronic obstructive pulmonary disease ("COPD") will be delayed. The treatment, called IMPACT, is in phase 3. 10,000 patients will enroll in the study.
Royalty revenue questioned
Theravance aimed to distribute a dividend yielding 5 percent for investors holding the royalty company. With the selloff, investors are expressing their doubt this rate is achievable. Yet the firm could earn up to $125 million if Theravance commercializes bifunctional muscarinic antagonist-beta agonist ("MABA") as a single-agent medicine. The milestone payment from GSK doubles to $250 million if a combination medicine and single-agent one is commercialized.
Theravance downgraded
A downgrade from Bank of America/Merrill (NYSE:BAC) and from Barron's helped accelerate a decline in Theravance in the last week: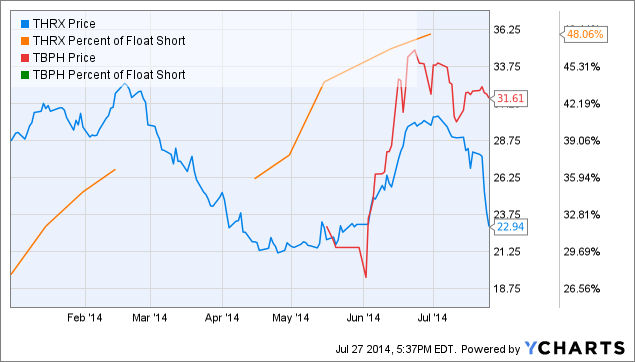 Bank of America/Merrill cited pressure in the COPD market was indicated from GSK's Q2 report. Higher discounting for COPD drugs and caution for Anoro, a drug for treating COPD, will mean lower peak revenue for Theravance.
Barron's was also bearish on the stock, citing overvaluation as a concern.
Bottom line
Theravance's spectacular drop in the last week is unwarranted. The stock fell 18 percent last week alone, but represents an entry point for investors who missed the Theravance Biopharma distribution. Management estimated dividends would be 5 percent at the $28 level. At a closing price of $22.94, Theravance has an implied yield of 6.1 percent. Demand for COPD did not change materially to warrant a selloff in Theravance. Investors will soon realize that the stock is trading at below fair value. Those looking for income and for long-term growth, with a time frame of at least 3 - 4 years, should start buying Theravance at current levels.
Disclosure: The author is long THRX. The author wrote this article themselves, and it expresses their own opinions. The author is not receiving compensation for it (other than from Seeking Alpha). The author has no business relationship with any company whose stock is mentioned in this article.