It was just a couple of months ago that I was lambasted for suggesting that investors might find MannKind's (NASDAQ:MNKD) FDA approval as a good time to short the stock. MannKind bulls didn't seem to think that an FDA approval would go through without a partnership or buy out deal imminent immediately afterwards.
Since the drug's approval, however, MannKind has failed to announce a partnership and the once $4 billion market cap the company harnessed has now fallen to about $3.3 billion.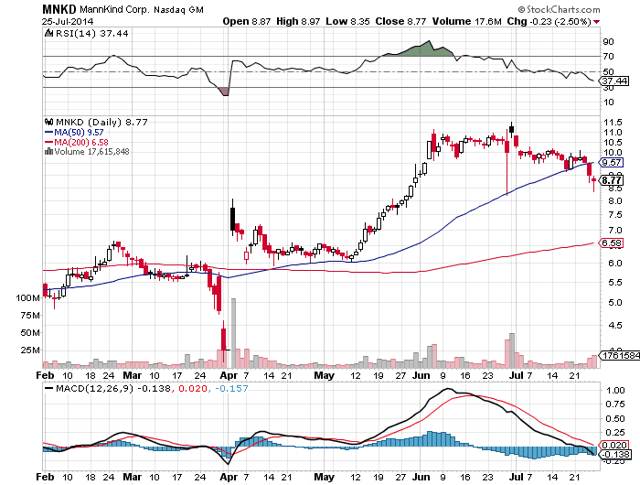 You can read my original article here. In it, I lay out the strategy for waiting until the drug's approval and then considering going short. I cite numerous other biotech companies, like Amarin (NASDAQ:AMRN), who have failed to find success immediately after their drug's FDA approval. I also made the point that a $4 billion market cap was a risky valuation for a company that has yet to monetize any of its sole drug.
I noted the risk of a partnership coming at the same time as approval, but then cited management comments that seemed to point to the fact that it would be weeks after approval before the company would be solidifying a partnership. The day management came out and made those comments, the stock temporarily dipped before recovering.
However, it was just a couple of days ago that CNBC released a report on Tourbillon Capital Partners, who came out and said that the stock could fall as much as 90%. The article stated:
A rising hedge fund star thinks that MannKind Corp. is so over-hyped that the health-care company's stock will fall 90 percent.

"Only in a frothy, retail-driven (and now Tweet-driven) market can a stock like MannKind exist with a $4.3 BILLION valuation and in our view no clear prospects of revenue," Tourbillon Capital Partners wrote in a letter to investors obtained by CNBC.com. Tourbillon manages $1.2 billion and is led by former SAC Capital Advisors portfolio manager Jason Karp.

Karp's thesis relies on his negative assessment of Afrezza, MannKind's main diabetes treatment product that was recently approved by the U.S.Food and Drug Administration. Afrezza's innovation is the ability to inhale insulin as opposed to injecting it, the most common treatment practice.
You can read the full piece here.
I also mentioned in several of my previous article that I'm bullish on the company and the drug for the long run. I do think Afrezza is going to be a long-term game changer, unlike Mr. Karp. However, I think there are a lot of risk factors that could cause the stock to continue to fall until robust sales are achieved.
Namely, you have the lack of a partnership.
Then, you have this style of security as a de facto "first to exit" in the scenario of a macro market pullback. Companies with high multiples and no sales are likely the first to get roped in when volatility and uncertainty hit the markets.
In terms of timing the trade, I would be considering holding short for a couple more weeks, before covering and getting out of the trade. The stock has done exactly what I expected it to, and those that shorted at the highs near $11 have produced nearly 20% on their short.
Management had laid out the expectation previously for announcing a partnership 6-8 weeks after Afrezza's approval.
Without a partnership and while still just starting to generate sales, the stock should be adequately valued near $5-6/share. I'd contend MNKD is now at levels where you should consider your target for covering.
Disclosure: The author has no positions in any stocks mentioned, and no plans to initiate any positions within the next 72 hours. The author wrote this article themselves, and it expresses their own opinions. The author is not receiving compensation for it (other than from Seeking Alpha). The author has no business relationship with any company whose stock is mentioned in this article.