LifePoint Hospitals (NASDAQ:LPNT) released earnings that blew through consensus, beating by over 50%. This comes as operating income and net income were both up over 40% year over year. Since we covered LifePoint back in July of last year, shares are up nearly 50%, having blown through our $54 fair value estimate.
The big news driving the stock higher was increased 2014 guidance. The company expects to bring in $4.25 billion to $4.35 billion in revenue, and generate $2.99 to $3.19 a share in earnings. Previous 2014 EPS consensus was $2.76.
We noted in July that the company's impressive balance sheet and commitment to M&A. It's stuck true to this strategy and still has opportunities to expand in the Northeast. It's managed to outperform all its major peers over the last year.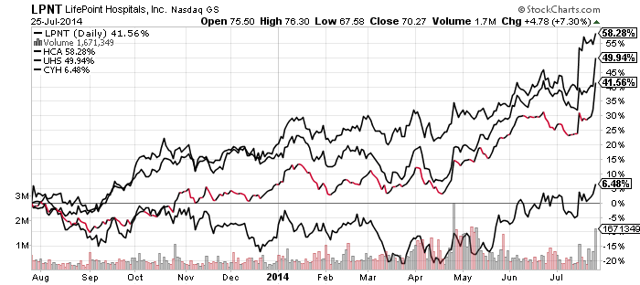 Click to enlarge
As the company noted in its press release, driving the Q2 performance and Q3 increased guidance was the strength from its recent acquisitions and ability to benefits from the expanded coverage thanks to healthcare reform.
Disclosure: The author has no positions in any stocks mentioned, and no plans to initiate any positions within the next 72 hours. The author wrote this article themselves, and it expresses their own opinions. The author is not receiving compensation for it (other than from Seeking Alpha). The author has no business relationship with any company whose stock is mentioned in this article.