MGM Resorts International (NYSE:MGM) reported its third-quarter 2010 adjusted loss of 21 cents per share versus the Zacks Consensus Estimate of 23 cents loss per share and the year-earlier income of 2 cents.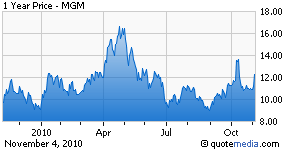 On a GAAP basis, net loss per share was 72 cents compared with a loss of $1.70 in the comparable quarter last year. The loss included pre-tax impairment charges of $357 million or 51 cents per share associated with the CityCenter, and its residential real-estate inventory as well as the Borgata investment.
Net revenue excluding reimbursement costs related mainly to the company's management of CityCenter declined 3% year over year to $1,558 million but surpassed the Zacks Consensus Estimate of $1,546 million.
Inside the Headline Numbers
Total casino revenue tumbled 9% year over year due to lower revenues from both slots and table games. Revenues from slots fell 3% during the quarter. MGM Resorts' table games volume, excluding baccarat, dropped 7% with baccarat volumes dipping 6% from the year-earlier quarter.
The overall table games hold, as a percentage of turnover in the quarter, was above the midpoint of the company's normal range of 18% to 22%. The percentage was lower on a year-over-year basis.
Revenues from rooms fell 3% primarily on account of Las Vegas Strip where RevPAR (revenue per available room) dropped 2%. Both Bellagio and Mandalay Bay posted increases in RevPAR. CityCenter and Aria reported revenues of $413 million and $219 million, respectively.
MGM Resorts recorded an operating loss of $206 million compared with an operating loss of $963 million in the year-earlier quarter. The operating loss in the quarter included the CityCenter investment impairment, the Borgata impairment, and the company's share of the CityCenter residential impairment charge.
The operating loss related to CityCenter was partially offset by MGM Macau, which posted an operating income of $61 million, up 22% year over year. However, Aria was positively affected by high table games hold percentage and reported an adjusted property EBITDA of $41 million.
Financial Position
At quarter-end, MGM Resorts' total cash balance was $552.8 million. Total debt outstanding was $12.6 billion.
Our Take
We believe MGM Resorts is ideally positioned to take advantage of both domestic and international opportunities, and is executing well on its business strategy. The Las Vegas operation has begun to stabilize with a slow economic recovery. MGM Macau registered robust growth this quarter with Aria ramping up its operating performance. However, we remain cautious on CityCenter, which will likely continue to struggle.
MGM Resorts' close competitors Las Vegas Sands Corp. (NYSE:LVS) and Wynn Resorts Ltd. (NASDAQ:WYNN) recently reported their third-quarter 2010 earnings. Las Vegas' adjusted earnings of 34 cents were ahead of the Zacks Consensus Estimate of 23 cents while Wynn Resorts' earnings of 39 centsmissed the Zacks Consensus Estimate of 41 cents.
All the three company's results reflect strong performance at Macau both in terms of gaming and non-gaming revenues. Macau, the only Chinese city where gambling is legal, has survived the economic downturn relatively well. We expect Asian operations to significantly support the earnings of gaming companies in the coming quarters.