By Chris McKhann
The iShares MSCI Emerging Markets Index Fund (NYSEARCA:EEM) has jumped to its highest price since June 2008 amid heavy option trading.
The EEM exchange-traded fund has gained 2 percent today to trade at $48.58, gapping up on the positive response to US stimulus. The ETF has been screaming higher from $40 just two months ago and from its 52-week low near $35 in late May.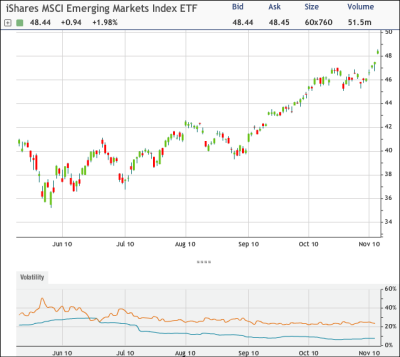 The options volume is 372,000 contracts, which is more than twice the average. Puts outnumber calls by 2 to 1 as traders apparently look to protect gains. Topping off this volume is the action in the December 47 and 43 puts, where more than 63,000 have traded at each strike.
One trader bought 60,000 of the December 43 puts for $0.30 at less than the open interest at that strike. At the same time, the trader sold 60,000 of the December 47 puts for $0.98 in a new opening position that exceeded the open interest by almost 15 times.
The trade reflects one of two strategies. It could be a trader closing the lower puts -- if short and buying them back -- and rolling the position to the higher strike as the stock runs higher. That would leave a short put position at the $47 strike.
It could also be a credit spread, with the trader selling the higher-strike puts and using the lower strike to offset some of the downside risk. That trade would take in a credit of $0.68, which would be kept if the EEM remains above $47 through expiration.
Disclosure: No position