David Einhorn is an extremely successful investor.
It's likely because of his ability to invest based on tangible evidence and fundamentals. Things that are as close to certainties in the market as you can get - without actually being certainties.
When QTR goes long or short, he looks for something that the market may have missed. Evidence that is out that would support a view of an equity that isn't commonplace on the street. In the case of longs, he looks for value that hasn't been noticed by the market - huge cashflow, no debt, big margins and small multiples. In the case of shorts, he looks for clear cut evidence of any type of substantial evidence based short thesis that the market may have missed.
It's worth a reminder that every position - no matter how much of a "slam dunk" it may seem - carries risk with it. Going long Coca-Cola (NYSE:KO) - one of the most reliable dividend payers and growth stocks in our history - carries risk. Albeit, just much smaller risk than most other securities. There are no such thing as "definites" in the market.
Which brings us onto Questcor Pharmaceuticals (QCOR).
Questcor is a pharmaceutical company based on one drug, H.P. Acthar Gel, which was purchased from Aventis in the early 2000's for $100,000. Since then, the company has increased the amount of indications the drug has been approved for and has turned it into a multi-billion dollar company. Shareholders have made exorbitant amounts of cash - insiders have become filthy rich. It seems like one of the greatest success stories in the pharmaceutical industry.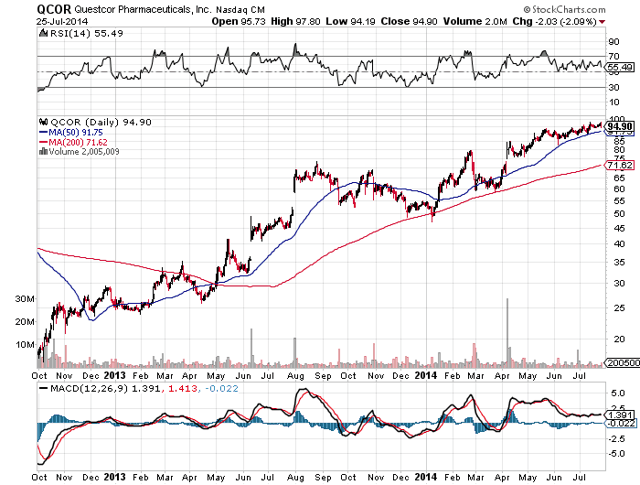 The long case behind Questcor has been that the company continues to grow its patient population for its biologic, Acthar Gel. A drug that was once used just for a small number of cases of infantile spasms is now prominent in nephrology, rhumatology and for use in acute exacerbations of MS.
The short thesis on Questcor has stemmed from the old adage of "if it's too good to be true, it likely is". The company is currently being investigated by several regulators for the way in which it has been promoting the sale of its sole product. More recently, independent lab reports seem to have shown that the drug the company is shipping may not be what's on the label. In science, the technical term for that would be a "major no-no."
I've been extremely critical of Questcor , dating back to Citron's piece on the company that proved that what the company is selling is different from what's on the label. I've written a series of pieces that continue to suggest that the FDA is, one way or another, going to owe us some type of explanation with what's going on here.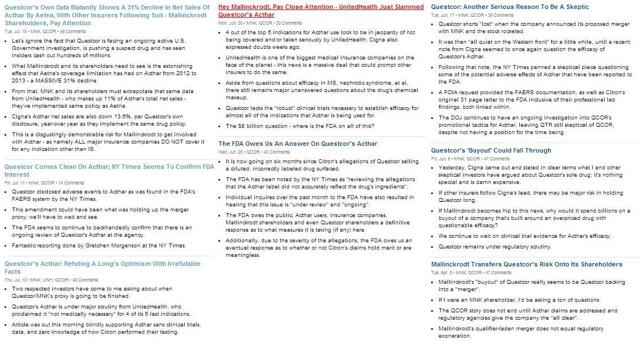 Questcor is shipping deamidated porcine corticotropin, which studies have shown does not have the same efficacy as pure ACTH. This is no longer up for discussion, this is a fact. This brings me back to the short thesis - honing in on facts that no one seems to notice and care about.
In their piece, Citron claims that the company isn't selling pure ACTH - that instead it's selling deamidated porcine corticotropin (entirely different on a molecular and efficacy level).
Then, the company actually confirmed this in an 8-K, in an interesting case of either bravado or misunderstanding on their part. You read the whole filing here.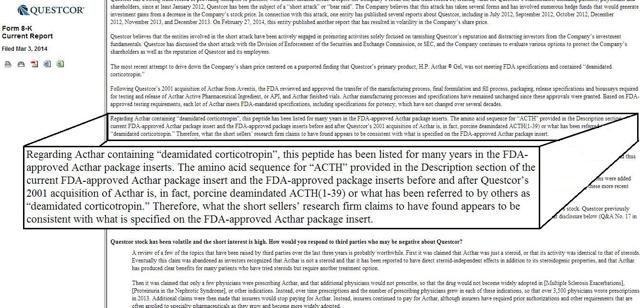 Except there are people that have noticed: insurers. My last two pieces focused on the fact that major insurers like UnitedHealth, Aetna, and Cigna have all found that Acthar is "not medically necessary" for 4 of its top 5 indications.
And, when we remove those indications from Quesctor's revenue stream, there's the potential for major regression on the EPS front.
Luckily, this isn't going to be Quesctor's problem much longer. As the company completes its acquisition/merger with Mallinckrodt, much of the risk that Questcor carries is going to shift over to Mallinckrodt (NYSE:MNK). Why is Mallinckrodt going along with this? No idea - perhaps their mind is cloudy from the bottom line potential of the deal, perhaps they think they've done their due diligence.
An e-mail to Mallinckrodt investor relations sent weeks ago by a close friend of QTR's came back with this response:
As we have said publicly, the Citron Research report conclusions are flawed so there is no need to respond to the report.
Does this IR representative know that Questcor has come out and publicly acknowledged that Citron's lab findings were correct? Is this simply one IR representative that's uninformed?
What is the company line over at Mallinckrodt regarding the independent lab results?
Having that in mind, we had two things happen over this past week of note in the world of Questcor.
1) Oppenheimer took the lead in downgrading QCOR stock from outperform to perform.
Kudos to Oppenheimer for taking the lead and not following the insane hysteria surrounding Questcor. However, there's still plenty of work and plenty of critical thinking for them, and other analysts to perform.

2) We found out today that David Einhorn is critical of Questcor for the very same reasons as Mr. Left over at Citron Research and as QTR here on your very own Seeking Alpha. Namely, the company has admitted they're selling a different drug than what's on the label - in addition to the fact that there are "ongoing criminal investigations", "a large number of adverse patient experiences" and "large commercial payers" limiting reimbursement for the drug.
It was reported by ValueWalk. You can read Einhorn's full letter here.
Here is what he noted about Questcor: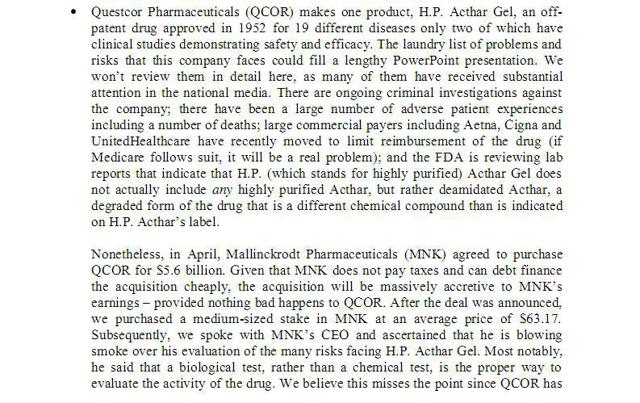 I agree with Mr. Einhorn that MNK could be a potential attractive short once the merger takes place.
But, this letter from Mr. Einhorn should really speak volumes about critical thinkers, and what their stance on Questcor are. Mr. Einhorn is no doubt a critical thinker whose reputation surely proves that he has a knack for finding in the evidence's favor.
Yes, there is a lot of long hysteria about this stock. Lots of sentiment that Acthar sales are going to go through the roof from now until kingdom come.
But, I assure you, all great stories must come to an end.
What we know from Mr. Einhorn's letter is a couple of things. Clearly, the lab work that was done was good enough for:
1. Questcor to admit that it was correct.
2. David Einhorn to base his short thesis on it.
That, in turn, continues to validate QTR's short thesis on the company. I continue to suggest that there is real risk here, and that if this merger goes through that Mallinckrodt may be a good short heading into the 2nd half of 2014.
The companies have their special meeting in mid-August. It'll be interesting to see how MNK shareholders vote here. Questcor shareholders and insiders seem to have already "eaten the steak" - is there a chance that Mallinckrodt could be left "footing the bill?"
Disclosure: The author has no positions in any stocks mentioned, and no plans to initiate any positions within the next 72 hours. The author wrote this article themselves, and it expresses their own opinions. The author is not receiving compensation for it (other than from Seeking Alpha). The author has no business relationship with any company whose stock is mentioned in this article.