We very much dislike fear mongering and those who try to drum up fear in order to profit from it. Most of the stories we read about diseases and war seem to fall in that category, however the last few weeks we have been following the ebola outbreak in Western Africa. This story has been absent many of the headlines as hotspots such as Iraq, Israel/Gaza and Russia/Ukraine have dominated the news cycle. Now that Americans are contracting the virus while working for international aid groups we are seeing reports creep up into news snippets but nothing in the mainstream media discussing the largest ebola outbreak ever.
Although countries have put many procedures in place to keep those infected with the virus from infecting others, an individual did board a plane and arrive in Lagos, Nigeria where he died. He got sick on the plane and the other individuals on that commercial flight were allowed to leave rather than being quarantined. This story could get bigger soon, especially if Lagos, the largest city in Africa, has an outbreak.
This could have an impact upon the energy market, with a big potential impact upon oil prices if parts of Nigeria are shut down in order to prevent the spread of the disease. This is what has been happening in other countries, but those areas were mostly rural. With this in mind we think that the pullback in oil prices might need to be purchased right now, with the United States Oil Fund (NYUSO) being a good way to play oil.
Chart of the Day:
We are not fans of natural gas in the current market and it now appears that many of the bulls who were in the trade are quickly moving out. Prices have fallen below $4/MMbtu and power plant usage just fell to a low not seen in more than a decade. The chart of United States Natural Gas Fund (NYUNG) pretty much tells the story of the past few months in the natural gas market.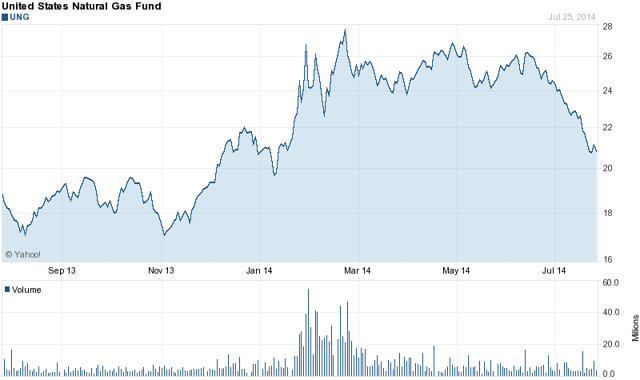 Source: Yahoo Finance
Commodity prices are as follows (at time of submission):
Gold: $1,304.10/ounce, up by $0.80/ounce
Silver: $20.61/ounce, down by $0.026/ounce
Oil: $101.64/barrel, down by $0.45/barrel
RBOB Gas: $2.8558/gallon, down by $0.0095/gallon
Natural Gas: $3.751/MMbtu, down by $0.03/MMbtu
Copper: $3.243/pound, up by $0.0025/pound
Platinum: $1,492.10/ounce, up by $13.50/ounce
Bad Heading?
Compass Minerals (NYSE:CMP) is taking a big hit today as shares in the company are trading lower by roughly 9% on today's session. The reason behind the fall? Well, it appears that the salt segment dragged down the company's results for the latest quarter, impacting the bottom line and causing a $0.14/share earnings miss. The plant nutrition segment did well, but could not offset the weakness elsewhere. Although investors are punishing the company's shares, there may be reason to take a second look at the company if one believes the outlook the company provided for the salt segment. It was a harsh winter in North America last year and based off of what the company discussed, it appears that a lot of stockpiles were depleted and will be rebuilt this year.
It took almost a year to get back to the old highs, but execution will be key moving forward. This might be worth a look for investors looking for a long-term play.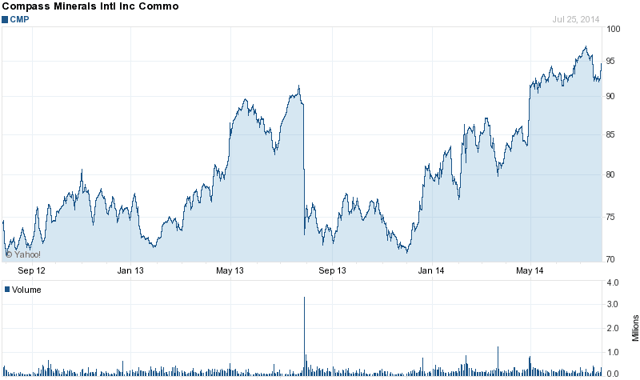 Source: Yahoo Finance
Delays At Nuke Plants
We ran across an article which we thought would be of interest for our readers who are invested in the uranium producers. The article (located here) discusses some of the issues facing Southern Company (NYSE:SO) and SCANA (NYSE:SCG) as they build the first two new nuclear reactors commissioned in the United States in a generation. As it has been nearly two decades since the actual building of a reactor, both companies spent a lot of time figuring out how to drive down costs and the time it takes to build out the necessary infrastructure. While there have been many successes with these two projects, it now appears that bottlenecks are appearing in the supply chain that provides the off-site prefabrication work for certain parts of the plants being built.
The longer these plants are delayed, the longer it is until they require nuclear fuel. Many in the industry are looking at these plants as being the potential template for future plants so long as the cost overruns and delays are not excessive. Investors in the uranium producers need to pay attention to this story because if technology has not made it easier to construct these massive plants then a nuclear renaissance in the US might be further off than anticipated.
Disclosure: The author has no positions in any stocks mentioned, and no plans to initiate any positions within the next 72 hours. The author wrote this article themselves, and it expresses their own opinions. The author is not receiving compensation for it (other than from Seeking Alpha). The author has no business relationship with any company whose stock is mentioned in this article.
Additional disclosure: SCG & SO have previously been recommended.