Shares of Family Dollar (NYSE:FDO) are up more than 8% since my initial piece, "Family Dollar: Let The Bidding War Begin". FDO shares have moved higher following news that Dollar Tree (NASDAQ:DLTR) is buying FDO. Dollar Tree's deal is an $8.5 billion offer, which includes a combination of cash and stock. Specifically, Dollar Tree is offering FDO shareholders $59.60 in cash and about $14.90 in Dollar Tree shares. The total value of the offer is roughly $74.50.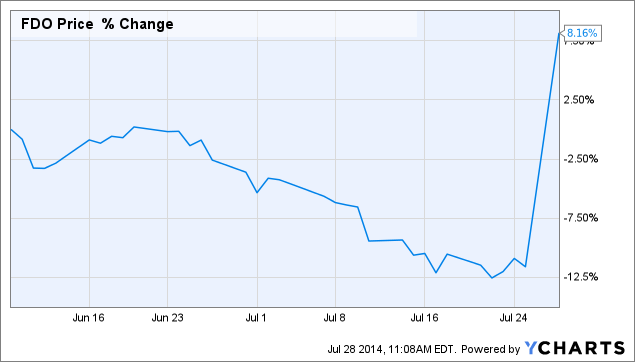 FDO data by YCharts
High Offer Unlikely But Not Impossible
At this point, I believe a higher offer is unlikely. Activist Nelson Peltz, a major FDO shareholder, has already spoken out in favor of the deal. As of the writing of this article, Carl Icahn has yet to make a public statement concerning the deal. If a higher bid were to emerge, I believe the most likely suitor would be Dollar General (NYSE:DG). Dollar General has previously been rumored to be the most likely to buy FDO. However, the departure of Dollar General CEO Rick Dreiling has made a deal less likely. That being said, with Dollar Tree making an aggressive move to become the leaning dollar store company, Dollar General may reconsider and decide it needs to make a play for FDO. I believe an offer from a financial buyer such as a private equity firm is extremely unlikely because Dollar Tree was able to rationalize a relatively high price for FDO based on potential cost savings resulting from the combination of operations.
Consider Buying Dollar General
This deal will be good for the entire sector due to consolidation, which means that Dollar General, despite the fact that it is not involved in the consolidation itself, is poised to benefit. Dollar Tree shares have already moved higher on news of the deal. However, it should be noted that large mergers are often difficult and can take years to execute. Some examples of large mergers that have proved difficult include the merger between Bank of New York and Mellon Financial as well as the merger between United Airlines and Continental Airlines. For this reason, I believe Dollar General is the long-term way to play the consolidation in the dollar store industry.
Disclosure: The author has no positions in any stocks mentioned, and no plans to initiate any positions within the next 72 hours. The author wrote this article themselves, and it expresses their own opinions. The author is not receiving compensation for it (other than from Seeking Alpha). The author has no business relationship with any company whose stock is mentioned in this article.