Vascular Biogenics Ltd. (Pending:VBLX), a clinical-stage biopharmaceutical firm seeking to develop and commercialize treatments for cancers and immune-inflammatory diseases, plans to raise $75.6 million in its upcoming IPO.
The Or Yehuda, Israel-based firm will offer 5.4 million shares at an expected price range of $13-$15 per share. If the IPO can hit the midpoint of that range at $14 per share, VBLX will command a market value of $282 million.
Filing, Underwriting
VBLX filed on June 6, 2014.
Lead Underwriters: Deutsche Bank Securities Inc; Wells Fargo Securities, LLC
Underwriters: JMP Securities LLC; Needham & Company, LLC; Oppenheimer and Co., Inc
Summary: Development of treatments for cancer and immune-inflammatory diseases
VBLX is a clinical-stage biopharmaceutical firm seeking to develop treatments for cancer and immune-inflammatory diseases based on a pair of proprietary platforms, which it calls the Vascular Targeting System (VTS) and the Lecinoxoid platform.
The VTS platform uses genetically targeted therapy to destroy newly formed blood vessels, and is the core of the firm's oncology program. The Lecinoxoid platform underlies the firm's anti-inflammatory program, and is used to produce lecinoxoids, a novel class of small molecules developed by VBLX to replicate the effects of natural molecules that modulate inflammation.
VBLX has product candidates in development based on both platforms. The firm's lead oncology candidate, VB-111, is designed for the treatment of solid tumor indications, and is in trials for rGBM, ovarian cancer, and thyroid cancer. VBLX expects clinical data from a Phase 3 pivotal trial in rGBM in the second half of 2017.
VBLX's lead anti-inflammatory product, known as VB-201, is designed to modify immune-mediated inflammatory responses. The firm recently completed a Phase 2 trial for VB-201 in psoriasis and is currently conducting a second Phase 2 trial for the treatment in psoriasis as well as a Phase 2 trial in ulcerative colitis.
A depiction of both the cancer and inflammatory pipelines are shown below, respectively.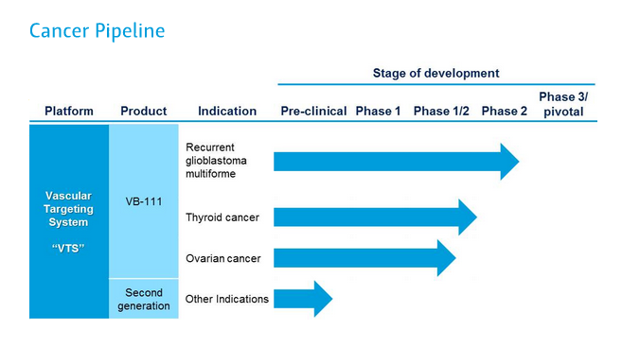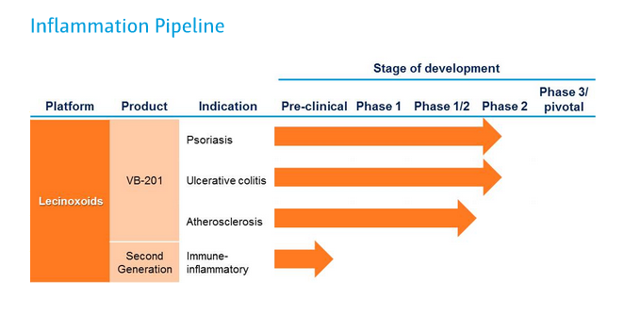 (Source)
Valuation
VBLX offers the following figures in its F-1 balance sheet for the year ended December 31, 2013:
Revenue: $0.00
Net Loss: ($17,370,000.00)
Total Assets: $11,827,000.00
Total Liabilities: $35,410,000.00
Stockholders' Equity: ($23,583,000.00)
VBLX's current lack of revenues is typical of a pre-commercial biopharmaceutical firm and should not be understood as an indicator of the firm's potential for future success. VBLX will not be able to generate significant revenues until it has commercialized one or more of its product candidates.
Competition From Major Firms
If approved, VBLX's product candidates would likely face competition both from currently available treatments and from treatments in the late stages of clinical development for similar indications.
Some of these treatments are marketed or are being developed by companies with access to significantly greater financial and technical resources than VBLX.
Major potential competitors include Genentech, GlaxoSmithKline (NYSE:GSK), Boehringer Ingelheim, and Amgen (NASDAQ:AMGN).
Management
Founder Dror Harats has served as the CEO of VBLX since the firm's inception and has served on the board of directors since January 2001.
Prof. Harats is the director of the Bert W. Strassburger Lipid Center at the Chaim Sheba Medical Center at Tel Hashomer and chairman of its Institute Review Board.
Prof. Harats holds his M.D. from Hadassah Medical School at the Hebrew University of Jerusalem, Israel and conducted post-doctoral work at the University of California, San Francisco.
Prof. Harats is also a professor of Medicine in the Departments of Internal Medicine and Biochemistry at the Sackler Faculty of Medicine of Tel-Aviv University, Israel.
Conclusion
We plan to avoid this IPO.
Though VBLX's product candidates do have potential in the long term, they are nowhere near receiving approval at this time, and the firm's anti-inflammatory program in particular has yet clinically verify the efficacy of any product.
Even if the firm was to receive approval for its candidates, its products would likely face heavy competition from much larger firms with far more marketing muscle at their disposal.
We are also concerned that the current conflict in Palestine may discourage some investors from buying into an Israeli firm.
We invite readers wishing to join the discussion on IPOs to click the +FOLLOW button above the title of this article -- and those looking for the latest developments to click +Get real-time alerts.
Note: As a large sample of information sources does not yet exist for VBLX, we have taken much of the information for this article directly from VBLX's S-1 filing.
Disclosure: The author has no positions in any stocks mentioned, and no plans to initiate any positions within the next 72 hours. The author wrote this article themselves, and it expresses their own opinions. The author is not receiving compensation for it (other than from Seeking Alpha). The author has no business relationship with any company whose stock is mentioned in this article.