Insignia Systems (NASDAQ:ISIG) markets in-store advertising products and services, primarily shelf-edge advertising programs. These are small signs one might find in the aisles of grocery stores that attach to shelves and extend into the aisle and typically feature an advertisement for a specific product and its price. Insignia Systems' key customers are food and drug companies interested in advertising in grocery stores using its POPS (Point-of-Purchase Sign) program. Although these signs may seem rather insignificant, according to Point-Of-Purchase Advertising International, 76% of purchasing decisions at grocery stores are made in the store. The importance of in-store advertising in the grocery business has led to an average increase of 30.8% in sales of products marketed with Insignia's POPS Program. The results are even more impressive among its private label customers who benefit from an average sales increase of 64.1%. These sales increases are higher than any of Insignia's competitors and the POPS program is very inexpensive, especially considering its significant impact on sales.

(Source: Insigniasystems.com)
Insignia's clients are primarily producers and retailers of packaged food and drug products. Some of its most notable clients include General Mills, Kellogg Company, Kraft Foods, Nestle, and Sara Lee. Insignia works with clients to design and produce in-store advertisements using laser media printing. It is then able to use its network of over 22,000 stores to get these advertisements to the shelves where the corresponding products are sold. Insignia helps its customers tailor their advertising message regionally and also helps customers easily vary their target market by altering advertisements. In addition, Insignia offers services to help companies connect their in-store marketing with their digital marketing.
Lawsuit
Insignia's two largest competitors are Valassis Communications (NYSE:VCI) and News America Marketing, a subsidiary of News Corporation. Together, these three companies account for the vast majority of the in-store promotions industry. In 2011, Insignia won $125 million in its third lawsuit against News America Marketing for violating antitrust laws and the Lanham Act. This came a year after News America Marketing paid $500 million to Valassis to settle a similar lawsuit. In 2013, Valassis sued News America Marketing again for $500 million for the same monopolistic practices outlined in the first lawsuit. In 2009, News America Marketing paid $30 million in a lawsuit with a fourth competitor, Floorgraphics Inc. News America Marketing bought Floorgraphics shortly afterwards. In addition to the 2011 $125 million settlement paid to Insignia, News America Marketing had to agree to sign a 10-year exclusive agreement with Insignia for which Insignia had to pay $4 million. After lawyer fees, the $4 million for the agreement, and taxes, Insignia gained $51 million from the suit.
After winning the lawsuit in 2011, Insignia announced a $2 per share special dividend and authorized share buybacks up to $20 million. These are very substantial amounts considering the company now trades around $3 per share and has a market cap of $40 million. Insignia spent most of the authorized $20 million on share repurchases and its board has since authorized that another $5 million can be spent on repurchases.
Financials
Despite high spending on the special dividend and share buybacks, Insignia still had $20 million in cash at the end of the first quarter of 2014. It has managed to keep its cash around this level for the last 10 quarters. The company also has no-debt, $5 million in total liabilities, and $5 million in accounts receivable. This leaves Insignia with about $1.55 per share in cash, roughly 50% of its current share price.
In 2013, Insignia's POPS program accounted for 95% of its $27.7 million in sales, up 41% from the year before. In the first quarter of 2014, Insignia reported sales 13.4% below the first quarter of last year. Insignia's management attributed part of this decrease to Easter falling three weeks into the second quarter instead of at the end of the first quarter as it did last year. Insignia usually receives a boost in sales shortly before Easter which will be realized in the second quarter this year.
Insignia has relied on a Retail Access and Distribution Agreement with its competitor, Valassis, for part of its revenue. In February 2014, the two companies amended the agreement to allow Insignia to sell its POPS Program directly to additional consumer packaged goods companies outside of its agreement with Valassis. In March, the company announced that the agreement with Valassis will be terminated on August 11, 2014. Although this termination will lead to an initial drop in sales, the company's CEO, Glen Dall, thinks Insignia will be able to regain these sales through individual efforts which are more lucrative than its sales through its partnership.
Growth
Since Insignia's agreement with Valassis was altered in February, the company has become able to freely and independently grow its customer base. Based on customer sales data, Insignia claims to have increases above what its competitors achieve in sales of the products it markets. It also has highly competitive lead times of 3-5 weeks. Through providing a high-value product and expanding its retail network, Insignia will be able to bring in new customers and offer more services to its existing customers.
In the first quarter of 2014, CEO Dall announced that Insignia is looking for ways to expand its retail network to include more types of mass retailers thereby expanding Insignia's potential market to companies outside of the packaged food and drug industry. Although shelf-edge advertising is primarily found in grocery stores, it seems that the POPS Program could easily be adapted to serve companies in any industry with products sold on shelves. Low product differentiation contributes to the high rate of in-store purchase decisions in the grocery industry. Although in-store promotion may not be as effective in other industries, there is still likely to be a benefit, especially in industries where there is little product differentiation or the product being advertised is a private label good. Even at a much lower rate of sales growth than the 30.8% that Insignia currently achieves, using the POPS program is still a good marketing investment because of its low cost. In order for Insignia to attract customers in other retail markets, it must first establish a network of retail stores in the new industry. Although it probably will not be necessary, Insignia is holding a lot of cash which is available to be spent on such an expansion.
Valuation
Despite its small size and the cyclical nature of its business, Insignia has managed to achieve positive earnings for the last seven quarters ranging from $0.01-$0.03 per share. Insignia currently has a price/earnings ratio of 38.3, a one year forward price/earnings ratio of 20.9, and a price/sales ratio of 1.5. These ratios alone do not suggest the company is undervalued. However, Insignia's accounts receivable and total liabilities are equal and can effectively cancel each other out; then, its $20 million in cash can be factored out of its market capitalization (See Table). This provides a better assessment because it focuses on Insignia's operations and not its cash holdings. Factoring out the cash reduces Insignia's market cap to around $20 million which would equate to a price/earnings ratio of 19.1, a forward price/earnings ratio of 10.5, and a price/sales ratio of 0.75. These ratios are all below industry averages and especially impressive for such a small company.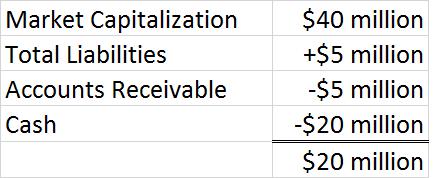 Risks
The loss of its contract with Valassis may hurt Insignia's sales more than expected.
Insignia is reliant on a few companies for a large portion of its sales which adds risks if Insignia is unable to maintain relationships with these companies.
Insignia is considered a nano cap stock (Market Cap < $50 million) and is very lightly traded (average volume around 29,000 shares). Investors should understand the high risks associated with nano cap stocks before investing.
Conclusion
Currently, at $3.10, shares of Insignia Systems are trading significantly below their $7.50 high in 2011. In May 2011, Insignia did pay a $2 per share special dividend which most likely accounted for roughly $2 of this drop. However, during this same period of time, Insignia repurchased about 3 million of its 16 million outstanding shares (See Graph). Typically stock buybacks of this size drive up the price of a stock but in the case of Insignia it seemed to have little effect. The combination of a drop in Insignia's price and the reduction of the number of outstanding shares has led the market cap of Insignia to drop from over $110 million to under $40 million since early 2011.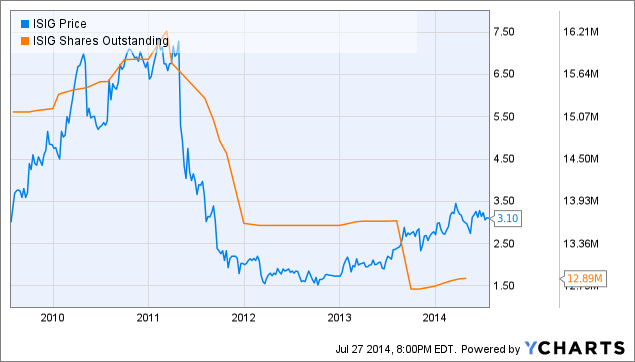 Insignia's 10-year contract with News America Marketing will help eliminate concerns of competition between the two companies through 2021. The high legal fees that Insignia incurred over the long trial are behind it. Insignia's agreement with Valassis is only effective for another month but Insignia is well positioned to independently gain new customers. Its marketing services deliver much higher increases in sales than its competitors, and it has managed to expand its network of retailers significantly.
Insignia Systems is a very small company with a lot of room to expand, not only in the food and drug industry but also by reaching new markets. It provides companies with a simple and inexpensive, yet highly effective service. Insignia has no debt, half its market cap in cash, and it is already profitable, unlike many other nano cap companies, eliminating some of the risks associated with companies this small. Insignia still has many opportunities to grow and it currently appears to be undervalued making it a potential buy with a substantial upside.
Disclosure: The author has no positions in any stocks mentioned, and no plans to initiate any positions within the next 72 hours. The author wrote this article themselves, and it expresses their own opinions. The author is not receiving compensation for it (other than from Seeking Alpha). The author has no business relationship with any company whose stock is mentioned in this article.
Editor's Note: This article covers one or more stocks trading at less than $1 per share and/or with less than a $100 million market cap. Please be aware of the risks associated with these stocks.