Target Price
The author sets a target price for Gilead Sciences (NASDAQ:GILD) common stock at $125.
Target Price Explanation
Based on comparable valuations for the industry, the stock is considerably undervalued. Looking at companies like GlaxoSmithKline (NYSE:GSK) and Eli Lilly a (NYSE:LLY) for forward price to earnings ratios, one might compute a target range of $113 to $180.
Additionally, the company's earnings are rising at a significant pace, which should be considered when determining valuation. Increases in earnings from the blockbuster Hepatitis C drug Sovaldi should drive further increases in the target price in future periods.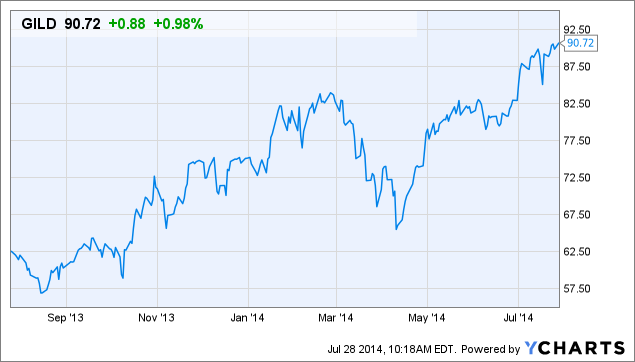 Short Narrative on Stock
In short, this stock is driven by the sales growth of the Sovaldi drug, which is a cure for Hepatitis C (HCV).
This company is widely held by institutions (nearly 90% of the shares), which means there is lower turnover in the shares. Additionally, the company has share repurchase authorizations of $1.7 billion and $5 billion yet to be completed. At the current price, this means approximately 70 million shares could be repurchased over the next several months. If 90% of the shares are tightly held, this leaves approximately 150 million shares being traded by retail. So, buy back plans could eliminate a substantial portion of the available float.
Downsides
Politics. The hefty price of Sovaldi at $84,000 per treatment is bringing criticism of the company by the media and politicians regarding the high costs of a cure. Given the Obama Administration's track record of regulatory overreach with Obamacare, it is possible that they may attempt to act in bringing down costs. (It should be noted that the Administration has lost approximately 70% of cases brought before the Supreme Court.)
Other companies are rushing to create a competing drug in this sector.
Recent comments by regulators, regarding bio tech valuations could put pressure on the sector, in the event of a market correction.
Upsides
The Sovaldi drug is a miracle cure for the Hepatitis C virus (HCV). The severity of HCV ranges from mild symptoms to severe liver damage and death. Sovaldi currently has cure rates over 90%, while previous treatments were extremely invasive and cure rates were closer to 50%.
Competition has a long road to bring a drug to market. Any competing drug will need to clear regulatory hurdles. This could take months to years.
Gilead's Zydelig drug was recently approved for the treatment of chronic Lymphocytic Leukemia and Follicular Lymphoma. It is not expected to have major impact to results. So, any addition to earnings will improve results.
The company has other drugs in the pipeline, but the economic impact of these drugs pales in comparison to the current potential of Sovaldi. The United States has more than 3 million cases of Hepatitis C currently. An even greater concern is the world-wide instance of this disease with 3% of the world's population infected, nearly 200 million people. To date, approximately 80,000 patients worldwide have received treatment with Sovaldi and about 9,000 have been declared cured by physicians.
Author's Position
At this time, holding call options with expirations in February 2015, August 2014, and September 2014.
Disclosure: The author is long GILD. The author wrote this article themselves, and it expresses their own opinions. The author is not receiving compensation for it (other than from Seeking Alpha). The author has no business relationship with any company whose stock is mentioned in this article.