Last week, Under Armour (NYSE:UA) released its 2014 Q2 financial statements, and they impressed investors. Net revenue grew 34% to $610 million and the company raised both their net revenue and operating income outlook for 2014. Under Armour has proven to have a strong financial foundation, by continuing to increase their revenue and gross profit, and it doesn't seem they will slow down anytime soon.
Under Armour's stock rose roughly 15% after Q2 earnings were released after the market closed on July 24th, but that doesn't mean the time to buy has passed. Under Armour is the current market leader in the performance apparel market with over 70% market share; other revenue streams include footwear and accessories, while Direct-to-consumer net revenues increased 38% from 2013.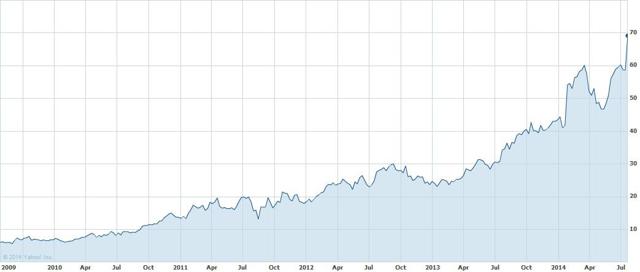 Source: Yahoo Finance
The company continues to improve on previous years' numbers, and the many opportunities they have to grow make this stock incredibly attractive for those who currently don't hold a position. Under Armour has many different strategies designed to achieve their long-term goals and objectives, but three main target areas include: gaining market share and increasing sales in international markets, expanding their women's apparel line, and increasing brand awareness through high-exposure athletic sponsorships.
Like every company founded in the United States, growing internationally is a huge component to expanding and growing future revenues. Under Armour products are not limited to a certain regional demographic; their product lines appeal to every different market around the world. International sales currently contribute only 6-8% of their net sales, but the company plans to increase this figure to 12% by 2016. If Under Armour can double international revenue in the next 2 years, they will increase international sales by $138 million. They plan on increasing the number of stores in China by more than 100%, and also increasing the number of stores in both Chile and Mexico. Under Armour's core apparel business is strong in North America, which allows them the firepower to invest and expand into new geographical markets around the globe.

Source: Under Armour Annual Report
Obviously, Under Armour's products are tailored to men, but they are expanding their marketing to focus on women's products in an effort to enhance revenue. They are attempting to elevate their brand image among women by changing the shopping experience for them. In 2013, women's apparel sales topped $500 million, but the company is looking to hit $1 billion by 2016. A main Under Armour product line targeted for women is their Studio line, which includes a wide selection of tight fitting athletic apparel, mainly used for running or yoga.
Part of Under Armour's marketing game plan is to establish sponsorships of athletes and athletic teams with high global exposure. They currently sponsor a handful of college football programs, English Premier League soccer teams, and individual athletes in a wide array of sports. Under Armour recently made a big splash in the golf world, by sponsoring high caliber PGA golfers, including Hunter Mahan, Jordan Spieth, and Gary Woodland. They are trying to expand their market share in the golf industry, and sponsoring high quality golfers will bring television exposure and brand awareness in a highly competitive industry.
Another major Under Armour partnership is the company's sponsorship of the USA Gymnastics team -- the company will manufacture all uniforms for the upcoming 2016 Olympic Games. Under Armour continues to grow their sponsorships in all different sports, looking for alternative ways to grow their brand, tap into different markets, and increase future revenue.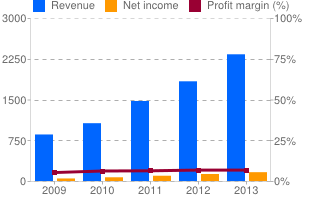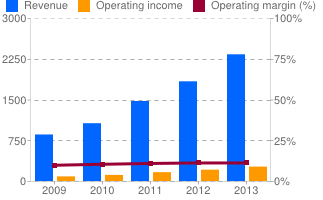 Source: Google Finance
The main reason Under Armour appeals to me is, that not only are they able to meet expectations, but they generally blow them out of the water. They continue to beat analyst projections and update their outlook, and the graphs tracking their growth rate look phenomenal. They have a great reputation of manufacturing high quality apparel that is both reliable and stylish. There are so many different areas of growth for Under Armour, and based on their current outlook, they expect to double their output in the next two years. If they can achieve their short-term goals in areas where they are looking to expand, watch out Nike and Adidas, there will be a new sheriff in town.
Disclosure: The author has no positions in any stocks mentioned, and no plans to initiate any positions within the next 72 hours. The author wrote this article themselves, and it expresses their own opinions. The author is not receiving compensation for it (other than from Seeking Alpha). The author has no business relationship with any company whose stock is mentioned in this article.