Volatility outlook for August 2014
In my previous volatility outlook, which you can read here, I warned that even though the VIX historically rises in July, iPath S&P 500 VIX Short Term Futures ETN (NYVXX) did not.
As we head into August and September, historically speaking, the VIX has risen.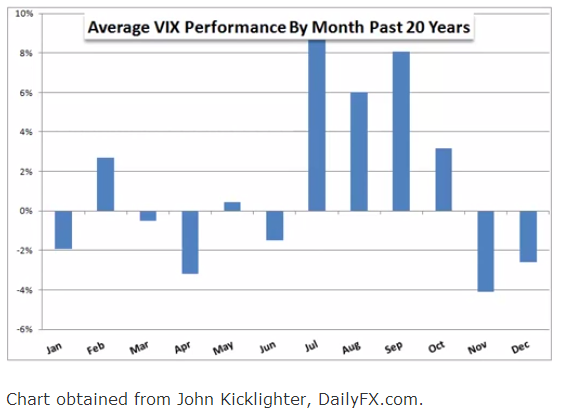 I like to focus on historical analyses of the products that follow the VIX futures. It gives you a small piece of the much larger puzzle. By looking to the past we should be able to determine how these products will react if similar situations, events, and market conditions take place in the future.
During last month's update, we determined that over the past ten years, VXX would have lost 78.25% of its value if you had purchased it on July 1st and held it to the end of that month. Let's review the historical performance of VXX in August.
| | | | | |
| --- | --- | --- | --- | --- |
| | Start (August 1st or equivalent) | Finish (August 31st or equivalent) | Result | Value of a $10,000 investment |
| 2004 | 16,455 | 14,079 | -14.44% | $8,556 |
| 2005 | 6,152 | 6,134 | -0.29% | $8,531 |
| 2006 | 3,995 | 3,322 | -16.85% | $7,094 |
| 2007 | 2,634 | 2,995 | 13.70% | $8,066 |
| 2008 | 2,387 | 2,201 | -7.79% | $7,438 |
| 2009 | 3,904 | 3,821 | -2.13% | $7,280 |
| 2010 | 1,367 | 1,399 | 2.34% | $7,450 |
| 2011 | 368.75 | 626.31 | 69.85% | $12,654 |
| 2012 | 216.76 | 184.84 | -14.72% | $10,791 |
| 2013 | 58.57 | 67.84 | 15.83% | $12,499 |
Chart created by Nathan Buehler using historical back testing data from The Intelligent Investor Blog.
Historically, during the last ten years, you would have come out ahead holding VXX through the month of August. Mainly due to the double dip recession fears of 2011.
Let's forget about history and talk about what's going on right now and into the month of August.
August will wrap up most of the major earnings announcements for the 2nd quarter of 2014.
Israel and Gaza have signed a 24-hour peace truce, for now.
Russia continues to face harsh criticism from the world over the downing of a civilian aircraft by rebels in Ukrainian territory.
On July 31st, we will get our first look at US Quarter 2 GDP numbers, followed by the FOMC rate decision.
Home sales data will reinforce whether the housing market is recovering or hurting.
Retail sales data will reinforce whether the consumer has begun to thaw out or is still holding back on discretionary spending.
Jobs numbers will either continue to show this recovery has been built on part-time low wage jobs or we are turning the corner on full-time employment.
Moving averages have proved an important measure for purchasing and shorting volatility.
Here is where VXX stands: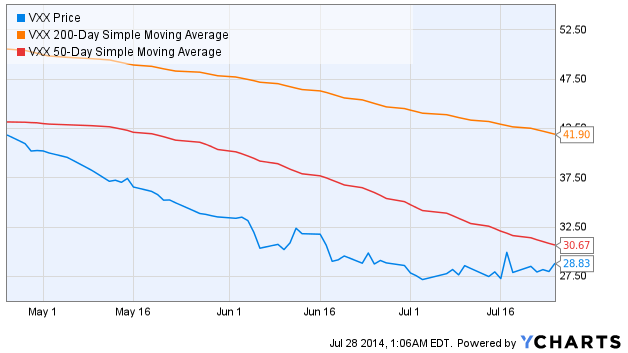 Here is where ProShares Short VIX Short-Term Futures (NYSVXY) stands on moving averages.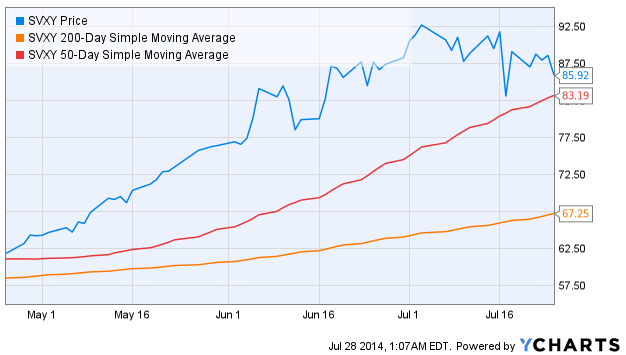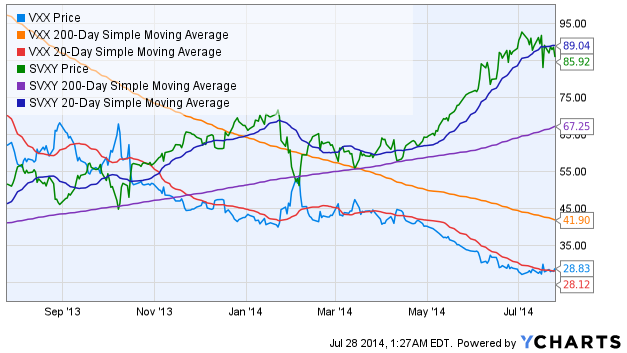 Both have shown a late move toward the 50-day moving average. Over the past year SVXY has crossed its 200-day moving average twice and VXX has not crossed its once.
Contango and Backwardation
If contango and backwardation are your sole indicators here is a chart for you: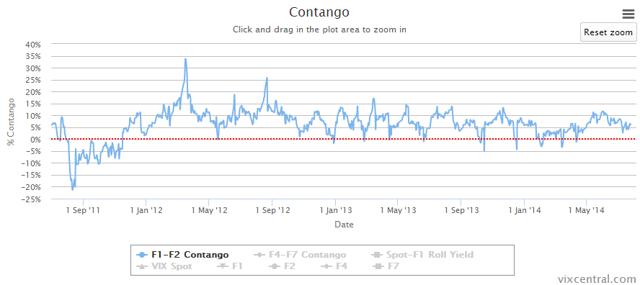 Futures are still showing moderate levels of contango. We are currently in a backwardation drought that has lasted since April 2014. Given the VIX's natural history, it is only a matter of time before you get your chance.
I have just published two articles on contango and backwardation for volatility ETFs if you would like to know more about this strategy.
Conclusion
August will be an important month for the market to decide which way it wants to head. Daily I am seeing more and more talk about a market top, people selling everything, and bubble speak. I advise you to avoid all of the hype and focus on the facts. Volatility is one of the easiest trades in the market. Pay attention to the contango/backwardation levels for your opportunity to short VXX or purchase SVXY.
I, like many others, feel this recovery has been built on false growth. I think we are beginning to see the effects of massive monetary policy, not yet to include rate increases. I am concerned about the level of stock buybacks over the past two years. Most of which has occurred on the back of cheap money. What will happen when the watering hole dries up? More monetary stimulus? Janet Yellen says the Federal Reserve will remain highly accommodative. Yet she also says that parts of the stock market are over-priced and complacency has lead to higher risk taking.
I encourage you to keep track of current economic conditions and data. This is the one and only true driver of volatility.
Strategy
For more on VIX futures strategies please check out my Instablog and all of my other articles on VIX ETPs.
Please follow me on Seeking Alpha and as always, I sincerely appreciate all of my readers!
Disclosure: The author has no positions in any stocks mentioned, and no plans to initiate any positions within the next 72 hours. The author wrote this article themselves, and it expresses their own opinions. The author is not receiving compensation for it (other than from Seeking Alpha). The author has no business relationship with any company whose stock is mentioned in this article.
Additional disclosure: I may initiate new positions in the above mentioned ETPs at any time.