Deception of SBAC
SBA Communications' (NASDAQ:SBAC) recent quarterly report suggests the company is improving dramatically, but is it enough to justify current valuation? Although revenue has increased 18% YoY, revenue per share has in fact merely increased 9%. That's because there has been an 8% dilution of the current outstanding common stock. Revenue per share last year was $2.54. This year it's $2.77. The recent earnings report obfuscates the dilution and hypes growth thereby misleading the investor.
The 12-Year Run
Currently, the company is valued at $13.46 billion at $104 a share. However, the company has yet to net a profit in the last ten years. In fact, net losses for the past 10 years add up to $1.251 billion. However, during that same time the share price has jumped from $9.28 per share to $104.48 or a 1,026% increase.
If we go back further, losses have accumulated to $2.527 billion to date. Yet the stock price has skyrocketed.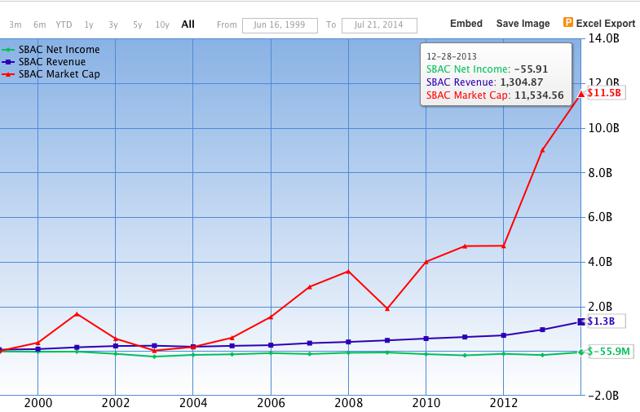 Since October 7, 2002, SBAC's stock price has rose from $.22 a share to its current price of $104 a share. That's a 47,173% increase. It is my estimate that the stock should have risen no more than 4,445% to date, or to a maximum of $10 per share.
10 Years of "Relative" Growth
A reason investors may have been bullish is the relative growth it has had for the past 10 years.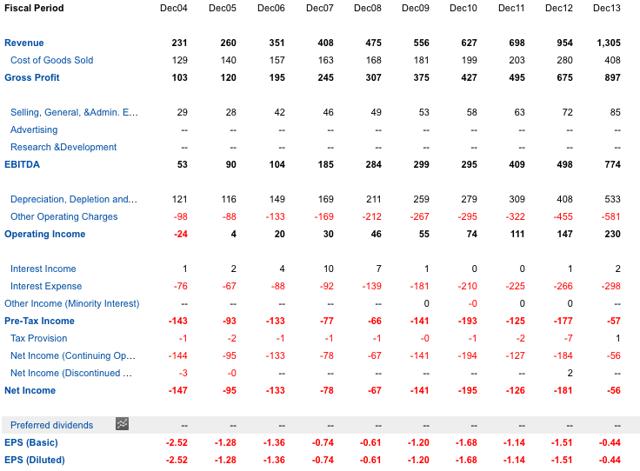 In 10 years, revenues have improved steadily at a rate of 11.60% and EBIDTA growth has increased at a rate of 22.1% per year. This steady growth seems impressive at first, but when you factor in that annual revenues were $3.96 per share and now are $10.52, this growth seems less impressive relative to the stock's current valuation.

SBAC owns and operates wireless communications towers in the United States, Puerto Rico and the U.S. Virgin Islands. Currently, 90% of its revenues come from its site leasing business. It leases antenna space mainly to wireless service providers on towers and other structures that it owns, manages or leases from others. The other 10% comes from site development, which includes marketing and antenna installation.
Growth of Cellular Towers
Current competition for SBAC includes regional and national independent tower owners like American Tower Corporation (NYSE:AMT), and Crown Castle International Corp. (NYSE:CCI).
Cellular tower companies have grown tremendously in the last few years due to the increased interest in wireless communication. Companies like AMT, CCI, and SBAC have expanded to meet demand. However, realistically investors should not expect these individual companies to continue to grow at their current rate.
Companies like CCI, AMT, and SBAC are at the mercy of their tenants, Verizon (NYSE:VZ), AT&T (NYSE:T), Sprint (NYSE:S), T-Mobile (NASDAQ:TMUS), who have long-term tenant leases that are only allowed to increase annually by approximately 3.0%-3.5% per year in the United States. Then there are the high costs of acquiring assets, high costs of operations, and low returns, which means these companies have to take on a lot of debt to maintain growth.
The market demand in the U.S. has only increased $26 billion to over $30 billion over the last three years. That's a CAGR of 4.87%. The real growth opportunities for these companies are in the international markets. However, international markets are subject to a lot more uncertainty. Furthermore, investors should be concerned about the possibility of emergence and growth of new technologies that could make it possible for wireless carriers to increase the capacity and efficiency of their existing networks without the need for incremental cell sites. If new technology were to make wireless devices or carriers more efficient, that would hamper growth for these companies.
It is my estimate that investors have valued companies like SBAC, AMT, and CCI without regard of whether growth was sustainable in light of the possibility of more efficient technology.
And that technology exists.
New Technology To Hamper Growth
Wireless carriers like AT&T and Verizon have been in a buzz over small cells, a technology that may cause the cellular tower industry to come to screeching halt. According to CNET, A small cell is
"A box that can broadcast licensed cellular radio frequencies, boosting the coverage and capacity in the immediate surrounding area. A carrier-grade small cell, which can be placed inside office buildings, hung on lampposts, or installed on top of low rooftops, can affect users within a radius of 100 to 500 meters, or roughly 200 users."
In fact, CCI has already begun making an investment into this technology. In a recent transcript, CCI CEO Ben Moreland discussed how his company has added "13,000 small cell nodes" to the company's portfolio. Small cells made up 6% of CCI's revenues this past quarter. That CCI has been getting a jump on this new technology should be no surprise. In December 2011, Crown Castle paid $1 billion to acquire distributed antennas systems (DAS) and small cell provider NextG Networks.
AT&T plans to deploy over 40,000 low-power small cells by the end of 2015. VZ has already deployed small cells from Alcatel-Lucent (ALU) and Ericsson (NASDAQ:ERIC).
Small cells are also cost efficient. Small cells cost around $5,000 to $10,000, with low maintenance costs to operate. In contrast, a tower costs an average $150,000 to build and charges carriers an yearly average of $45,000 to lease. SBAC's costs are higher. I estimate that SBAC charges carriers on average of $61,000 to lease on tower, $75,000 domestically and $30,000 internationally.
Some towers cost as much as $300,000 to build and lease rates in places like New York and Massachusetts are as high as $535,000 a year. Small cells will essentially limit the need for the expansion of cellular towers and will reduce the need for carriers to add more equipment at communications sites. As more small cells are placed in metropolitan areas, companies like SBAC and AMT are vulnerable to seeing large cuts in revenues. It is expected that there will be 2.2 million units by 2016.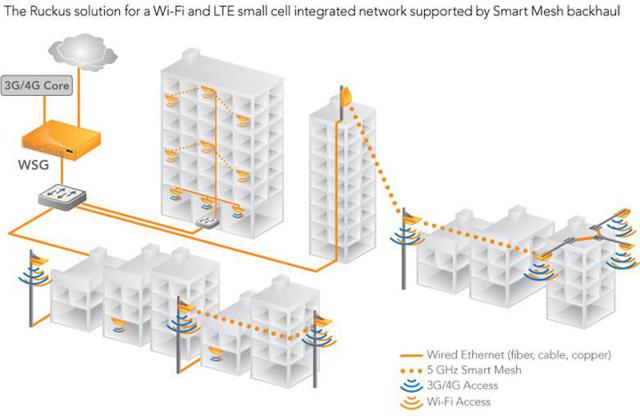 SBAC continues to leverage debt to build new towers and acquire existing assets, which should be enough of a reason why investors need to think twice before putting another dollar into the company. Small cells threaten to reduce the need of wireless towers. As more small cells are placed in large cities, companies like SBAC, CCI, and AMT may not be able to charge premium rates for their towers near metropolitan areas, which could lead to huge cuts in future cash flows.
Cellular Tower Market
CCI has approximately 39,600 in the U.S. and Puerto Rico and 1,700 in Australia. AMT has 67,418 towers in its portfolio, 39,330 internationally and 27,739 in the U.S.
Locations of SBAC's Towers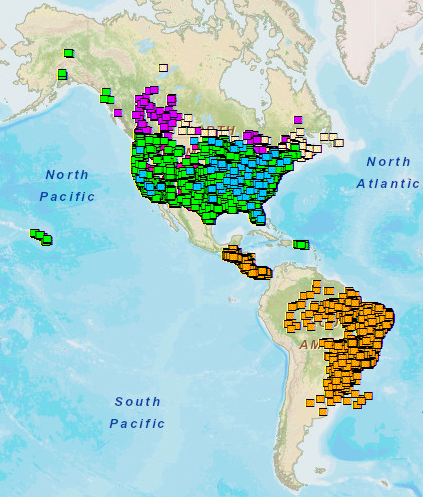 LEGEND:
-Green/Purple: Owned
-Pink/Yellow: Managed
-Blue: In Construction
-Orange: Central/South American
SBAC owns, manages or leases 22,305 communication sites. It has recently expanded operations by adding 1,641 wireless towers in Brazil. Although SBAC also has a significantly large market share, it is the smallest of the three players. This is concerning since the company continues to be unprofitable.
SBAC's own filings may clue us in why it and other cellular tower companies have become overvalued. The company states that the "industry estimates, global mobile data traffic will grow at an approximately 61% compound annual growth rate from 2013 to 2018." As a result, companies like AMT, CCI, and SBAC have astronomically high valuations. However, SBAC plans on only growing "10-15% through tower acquisitions and the construction of new tower structures." This suggests that investors may have mistakenly conflated the future potential of individual cellular tower companies, like SBAC, with the potential of the wireless market as a whole.
Although the 4G market is growing, individual companies may not be able to grow with it due to the high costs and low margins of operating such a business. Companies like CCI and ALU that are investing in cost-efficient small cells, thereby posing a huge threat to the future existence of SBAC and AMT.
Comparative Valuations
SBAC, AMT, and CCI have similar gross margins, SBAC: 70%, AMT: 75%, and CCI: 65%. All three also have similar price to sales ratios, SBAC: 9.88, AMT: 10.38, and CCI: 7.01. Where SBAC is distinct from CCI and AMT is book value, operating margin, and net earnings.
Book Value Comparisons
SBAC currently trades at a Price to Book ratio of 84.29 at $104 a share. In contrast, AMT trades at a 9.34 ratio at $92 a share and CCI trades at a 3.53 ratio at $73 a share. SBAC only has $156 million in equity, which is the equivalent of $1.23 per share. In contrast, CCI has about $6.861 billion in equity the equivalent of $20.55 per share, and AMT has $3.671 billion in equity or $9.28 per share.
If you were to look only at the tangible book value, SBAC valuation is in the negative at -$15.95 per share.
AMT and CCI's debt to equity are low in comparison to SBAC. AMT debt to equity is 3.91 and CCI is 1.69. In contrast, SBAC's debt to equity ratio is an astronomical high of 38.07 which is nearly double from the previous quarter. SBAC's ratio is not stable and unless it can get it under control, I suspect that investors will have a lot more to worry about than just growth.
This becomes more disturbing when investors realize that SBAC's net debt equals $6.9 billion. SBAC is a ticking time bomb.
Operating Margins Comparisons
Even though the three companies have similar gross margins, SBAC's operating margin is only 18% whereas AMT's margin is 36% and CCI is 30%.
(SBAC's Ratios; click to enlarge)

(AMT's ratios; click to enlarge)

(CCI's ratios; click to enlarge)

While all three companies have improved net margins over the last ten years, AMT and CCI's gross margins have been consistently high whereas SBAC's gross margins had to improve in order to improve its net. If SBAC can reduce its operating costs, there's a chance that the company will eventually be profitable for investors. Looking at SBAC's history, it does not appear that they have developed a strategy for doing so.
Both AMT and CCI's operating margin have had a continuous upward trajectory. AMT's operating margin went from 9.87% to 21.55% in three years, resulting in its first year of net income. CCI's operating margin goes from 7.18% to 34.06% in 5 years, resulting in its first year of net income. SBAC's operating margins starts off with a similar trajectory. In 2009, it was 9.89%. The next year it increased to 15.85%, just like AMT's move from 9.87% to 15.16%. However, unlike AMT and CCI, SBAC's has plateaued and seems unable to control costs.
This quarter, SBAC reported operating profit margin of 25.4%, up from 19.8% last quarter. Yet operating expenses were up 9%, interest expenses were also up 13%, and other expenses were up 9%. Yes, operating margins are improving but is the rate fast enough to justify SBAC's increased valuation?
Net Earnings Comparison
But even if SBAC does become profitable, how much improvement does the company need to justify its current share price?
Arguably, AMT's current valuation of 63.30 P/E is high with 1.46 EPS. CCI's valuation is even higher at 146.20 P/E with .39 EPS TTM. But it pales in comparison to SBAC, which has -.262 in losses TTM. Even if SBAC where to manage to pull a profit this year, let's say .01 EPS for 2014, it would still be trading at a P/E ratio of 10284.
AMT's valuation, while high, is at least relatively in line with its net earnings. CCI appears to be also overvalued in terms of net earnings. However, earnings from operations are strong. And as shown above, it has the least debt and trades closer to its book value out of all three companies.
(CCI click to enlarge)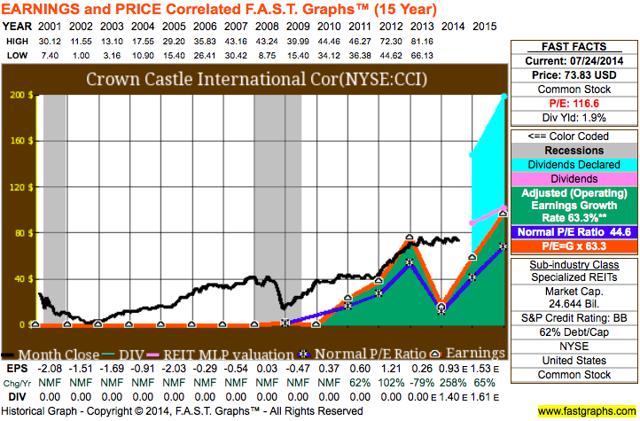 SBAC's valuation is a completely different story.
SBAC's valuation skyrocketed with neither operating nor net earnings to justify bullishness.
Because SBAC is clearly overvalued that does not necessarily mean that either AMT or CCI's current valuation is justifiable, unless you value them solely on FFO metrics as REITS.
(AMT click to enlarge)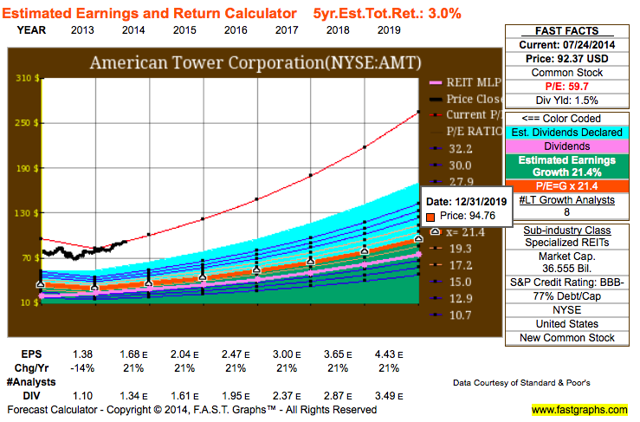 If AMT continues to grow at a rate of 21.4%, it won't be until 2019 that AMT's current share price would be justified. But at least in 5 years time, $94 a share would be rational. Even if SBAC were to grow at an annual rate of 27% (as it did this quarter YoY), then $70 a share would be an optimistic valuation in 2019. The story changes dramatically when you look at AMT as a REIT: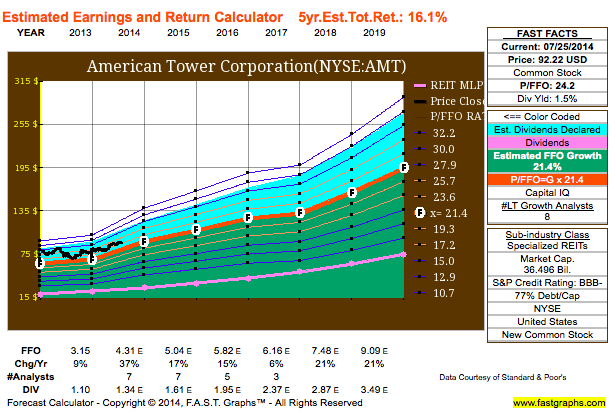 This makes AMT's valuation a bit more rational. The same funky valuation occurs with CCI: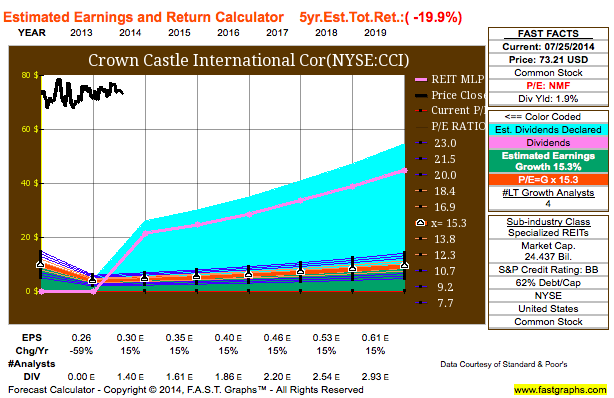 But even from a FFO valuation, CCI also appears to be slightly overvalued.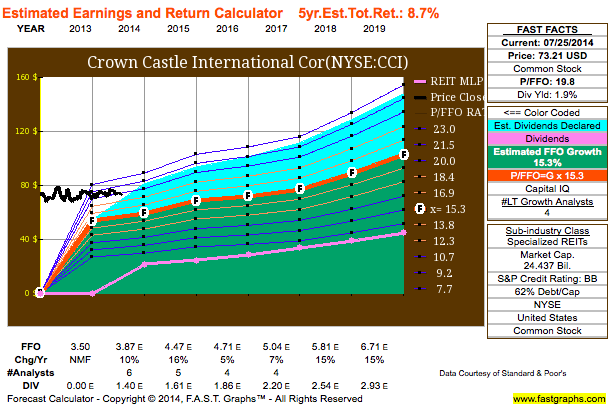 CCI's valuation seems to have gotten a little ahead of itself. But it at least has net earnings. The same cannot be said for SBAC.
Below I put together what I believe are optimistic estimates for SBAC's future growth potential.
I expect SBAC to continue reporting losses. If SBAC were to somehow manage to report net earnings, $38 a share seems like a fair future valuation. However, with the threat of a new technology that will reduce the demand for towers, $38 a share seems hopeful.
The Counterargument: Why People Buy SBAC
The counterargument to the short thesis is that SBAC's valuation is justified if it were to be morphed into a REIT like CCI and AMT were. REITs are valued based on Funds From Operations or (FFO). And SBAC's Adjusted FFO this quarter increased an impressive 31%, from $1.00 per share to $1.31 per share. As the chart below suggests, SBAC's valuation is in line with its CFL growth.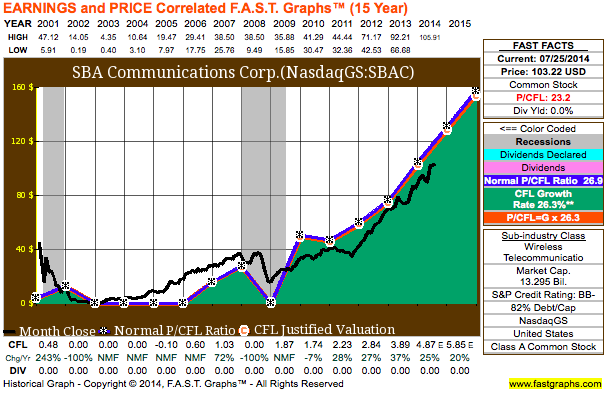 But SBAC is not a REIT. So investors are valuing SBAC based on false metrics. But even if that were to happen, growth would cease and money that was going into operations would have to be paid out in a dividend. As Skip Raschke from the Street.com argues,
once a "growth" stock morphs itself into a REIT the stock quickly trades similar to any stock trading based on its current return. And should interest rates rise, investors will demand to be paid a higher current return on their investment.
The reason SBAC continues to have impressive 26% annual CLF growth is that it is not a REIT.
It should strike investors as odd that the company would tout its 31% AFFO growth in a press release on the quarterly results. The company may be intentionally misleading investors so they would value the company according to REIT metrics. This is a dangerous game as SBAC's valuation continues to defy gravity and won't end well for the retail investor if SBAC does eventually become a REIT. Hanging over all of this is SBAC's $6.9 billion of total debt with only $149.9 million of cash and cash equivalents.
SBAC has leveraged itself to invest in a technology that is costly to maintain and yields little returns. If small cells become the preferred choice for carriers, SBAC could find itself filing bankruptcy in the near future.
How SBAC Became Overvalued: The Short Squeeze That Never Should Have Occurred
Short interest has been relatively high. In December 31, 2012, short interest peaked at 17.17% at $70.98. Since then, the share price has risen 47%. It has since dropped to 8.45% of the float. This suggests the rise in share price has been due in part to a "short squeeze."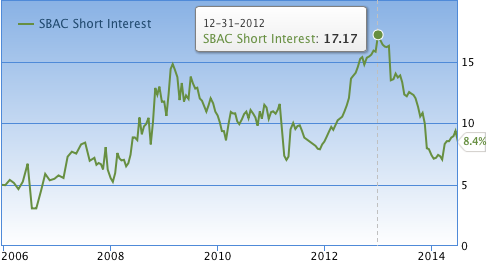 The chart above suggests that investors were also short squeezed from 2009 to the beginning of 2012. February 27, 2009, short interest hit a high of 14.79%. The share price was $20.78. The shorts were squeezed out of their position and the short interest hit a low of 7% in 2011. By that point, the stock was 88% at $39.15.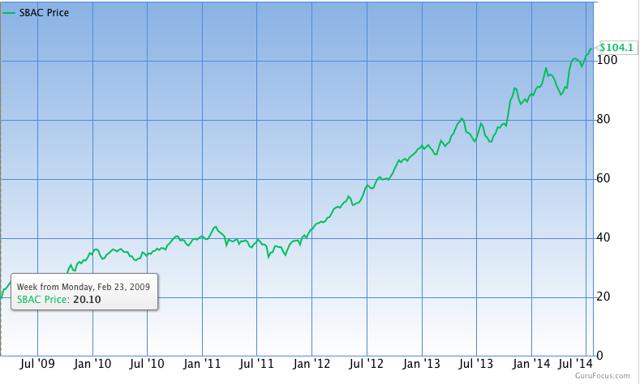 As SBAC rallied from $40 to $70 from 2011 to 2012, the shorts figured that this time the market would wise up and the stock would finally tank. And again, it hasn't. The shorts were once again squeezed and now the share price has it an ultimate high of $104 a share.
Arguably, SBAC's short squeezes over the years might be due to the company's steady improvement. Most noticeably revenues have doubled per share in last five years. I believe the shorts were right in 2009. At $20 a share, SBAC was and still is overvalued. However, the stock's bullish run forced them to cover their short thereby making it seem like they were wrong.
100%+ Institutional Ownership Is A Bad Sign
With the high short interest and the 106% institutional ownership, buying pressure has pushed SBAC's share price to astronomical highs. Some investors find this high institutional ownership comforting. However, The Motley Fool has claimed that when institutional ownership of a security exceeds 100% there's limited upside.
"Peak institutional ownership often coincides with a stock's top: the stock price stops advancing when new institutional buying dries up. Institutions may talk up the stock in the media to push its price up further, but after a long advance the stock's downside potential becomes greater than its upside potential."
Essentially, if a security is making record highs and there's over 100% ownership, retail investors should not expect much more upside of the investment. If anything, the downside has increased.
Are the institutions planning on dumping their holdings? July 28th, 2014 an alert from Seeking Alpha noted:
6 firms have hiked their SBA (SBAC +3.3%) targets following the tower owner's Thursday Q2 beat. 3 of them - Barclays, Pac Crest, and JPMorgan - have lifted their PTs to $125.
This institutional bullishness seems to have overlooked that SBAC did not hit EPS projections of -0.01 but instead -0.07, missing projections by -0.06 or -929.41%.
A good example of this is Athena Healthcare (NASDAQ:ATHN). Earlier this year, the stock hit a record high of 206.70. Institutional ownership was nearly 116% (it is currently 112%). The stock subsequently plunged -52.8% to as low as $97.30. It has recovered somewhat but the security is still trading -34% below its high.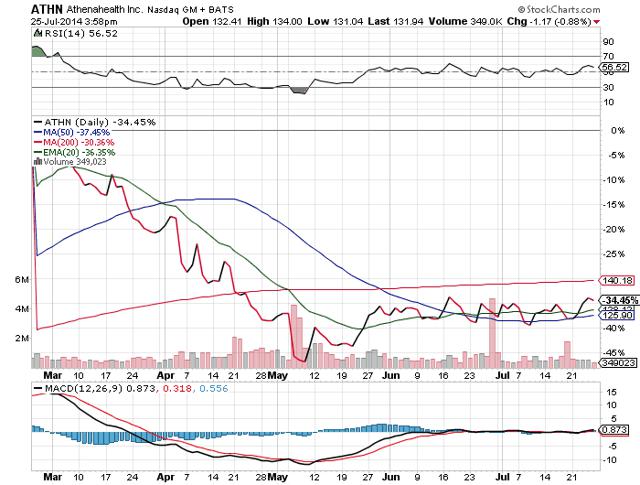 From this perspective, SBAC's share price is looking less and less stable.
Conclusions
SBAC's high valuation appears to be a combination of investor's bullishness for the wireless telecommunications industry, short-squeezing, and high institutional ownership. As the security its record-breaking highs, it has become more and more vulnerable to a deep correction. I estimate a more realistic future valuation of $38 in five years if the company can become profitable. However, at the rate it is currently going, that does not seem likely.
While both CCI and AMT appear to also be overvalued, they are both operating a profitable business and therefore are more likely to grow at a faster rate than SBAC. SBAC's astronomically high debt and continual lackluster operating margins should be enough to concern the retail investor. It seems CCI and AMT are must stronger players in this sector with more reasonable valuations.
Even if SBAC continues to improve performance relative to prior years, it does not mean that its prior valuations were justified. As shown above, price was irrationally pushed higher due to investors covering short positions and not because a higher valuation was justified. Industry analysts projected that the wireless communication market would grow at a compounded annual rate of 61%. But it is my estimate that new technology, like small cells, will absorb that growth. Wireless towers saw tremendous growth over the past decade but with the advent of new technology, they will become a thing of the past.
It is my prediction that SBAC is vulnerable to a deep correction, with a potential downside of -85% or more. I wouldn't be surprised if SBAC was worth less than $10 a share by 2017.
Disclosure: The author is short SBAC, ATHN. The author wrote this article themselves, and it expresses their own opinions. The author is not receiving compensation for it (other than from Seeking Alpha). The author has no business relationship with any company whose stock is mentioned in this article.