Atlas Air Worldwide Holdings, Inc. (NASDAQ:AAWW) is a holding company with 100% ownership in Atlas Air Inc and Titan, a 51% ownership in Polar Air Cargo Worldwide, and a 49% ownership in Global Supply Systems Limited. Through their subsidiaries, AAWW is able to provide outsourced aircraft and aviation services with operations spanning over 120 countries in Africa, Asia, Australia, Europe, the Middle East, North America and South America.
Such impressive global operations are made possible by the fact that Atlas operates the world's largest fleet of Boeing (NYSE:BA) 747 and 767 freighters and passenger aircraft. Additionally, AAWW has introduced BA's new 747-8F Intercontinental aircraft into their fleet. The 747-8F offers potential customers the opportunity to utilize the latest in technology and efficiency by adding additional space for more passengers or cargo, extended range capabilities, and reduced emissions and fuel consumption.

SOURCES OF REVENUE
Atlas' main sources of revenues come from the following four categories:
1. Aircraft, crew, maintenance and insurance (ACMI)
2. Air Mobility Command charter (NYSE:AMC)
3. Commercial charter
4. Dry leasing
ACMI represents Atlas' core business and contributed 45.6% of revenue in 2013. That is an increase of 9% compared to 2012's ACMI revenue of 41.4%.
Furthermore, ACMI provides customers with cargo and passenger aircraft solutions via supplying customers with the proper aircraft, crew, maintenance and insurance. Once a customer is thus supplied, it is up to them to provide their own fuel and demand for services. The advantages of ACMI include predictable earnings and little worry about variables such as fluctuating fuel prices.
CMI, which is similar to ACMI minus the aircraft, is an expanding division of ACMI operations. In 2013, AAWW expanded CMI by adding two 767-300 cargo aircraft and a VIP configured 767-200 passenger aircraft. CMI currently services 14 customer-owned aircraft and has an advantage due to the fact that Atlas doesn't have to finance certain operating expenses such as fuel, landing fees and ground handling fees. Both ACMI and CMI contracts typically last from two to twenty years, but there are a few contracts that are shorter.
Going forward with ACMI
Atlas is focused on improving ACMI by utilizing BA's 747- 8F aircraft. As of AAWW's most recent annual report, they are the only operator to offer the 747- 8F aircraft in the ACMI market.
The unique capabilities of the 747- 8F give Atlas an advantage over peers by offering customers a high quality aircraft that adds to revenues by increasing range capabilities, cargo and passenger counts, and decreasing fuel consumption.
Furthermore, Atlas recently struck a deal with DHL offering to increase their ACMI services. Beginning in June, AAWW will provide DHL with a total ACMI fleet of four 747- 8Fs and six 747- 400Fs.
AMC's contribution to AAWW's revenue is declining. In 2013, AMC represented 21.5% of revenue, while in 2012 it represented 29.7%. AMC is Atlas' cargo and passenger aircraft service for the U.S. Military Air Mobility Command. Under their AMC contract, AAWW is paid a fixed charter fee and is responsible for financing the operating costs such as fuel, insurance and landing fees. That being said, fuel, the most volatile of the expenses, is paid for by the government. If AAWW pays more than expected for fuel then they are given a check to cover the additional costs.
Commercial charter is a growing segment of AAWW's revenue and makes up 29.9% of revenue in 2013. In 2012, commercial charter made up 27.4% of revenue. Commercial charter services provide customers with cargo and passenger aircraft for one or more flights. Customers include cruise-ship operators, freight forwarders and airlines. When signing a contract with AAWW for a commercially chartered flight, the customer assumes all fixed charter fees, which include expenses such as fuel, landing fees, and other operational fees and costs.
Dry leasing allows AAWW to provide customers with aircraft and engine leasing services. For example, leasing an aircraft to Company A, and letting Company A provide their own crew, maintenance and insurance. Moreover, dry leasing is a growing source of revenue, representing 2.1% of AAWW's 2013 revenue in comparison to 0.7% of revenue in 2012. Helping to grow their dry leasing operations, Atlas has acquired six 777-200LRF aircraft since 2013. All six aircraft are Dry Leased to customers on a long-term basis, which means they offer predictable earnings and revenue.
As you can tell, AMC is on the decline but ACMI, commercial charter, and dry leasing are on the rise. This is because AAWW foresaw a decline in cargo services for the government and began to diversify its operations. Atlas' diversification is going well and should continue to add value for shareholders.
CUSTOMERS
Atlas' customers are numerous and diverse, representing industries such as airlines, express delivery providers, the U.S. military, professional sports teams, celebrities and world leaders.
Helping to add value in 2014, Atlas added BST Logistics and TNT as customers, while expanding their relationship with DHL Express.
BULLISH CASE
High Barriers to Entry
AAWW operates in a competitive industry with exceptionally high barriers to entry. Take for example BA's 747 and 777 aircraft. With a price tag starting at over $355 million and $261 million, the planes do not come cheap, and neither does jet fuel, the crew required to operate and maintain planes, and the training that's necessary to have an effective pool of employees.
Additionally, Atlas has 60 aircraft in their fleet. Out of the 60 aircraft, 33 are owned, 13 are held through operating leases, and 14 are customer aircraft that are managed via CMI services. Just purchasing half of Atlas' fleet would cost well into the billions of dollars.
Finally, Atlas is a brand name that offers quality and piece of mind by allowing customers to realize that AAWW's crews are well-trained professionals operating some of the most effective and cutting-edge machinery in the industry.
Adding Value For Shareholders
In 2013, Atlas invested $72 million in order to repurchase over 1.7 million shares of their common stock. That represented 6.5% of AAWW's outstanding shares. Although a share repurchase plan has not been approved, there is $60 million authorized for buybacks. With money authorized to repurchase shares, I feel that it's only a matter of time before an announcement is made declaring a repurchase program.
Fundamentals
Trading at just under 30% of book value, Atlas represents an undervalued stock with its book value per share at $52.64 and a P/B of 0.7. A low PB acts as a margin of safety while a current ratio of 1.42 shows liquidity. Trading at $34.74 as of this writing, Atlas' PE of 10.76 is significantly lower than its industry average of 27.5.
Looking ahead, analysts predict next years EPS to be $3.46. Multiplying this by 13 gives us a price of $44.98. This appreciation represents an increase of 22.5%. I used a graph from fastgraphs.com to illustrate this: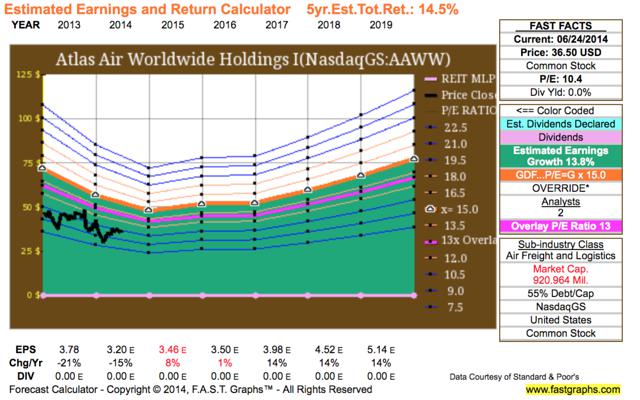 RISKS FACTORS
Lawsuits
Atlas, Polar, Polar LLC, and other cargo carriers have been named defendants in several class actions in the United States and Canada. According to AAWW's most recent annual report
"The consolidated complaint alleges, among other things, that the defendants, including the Company, Polar and Old Polar, manipulated the market price for air cargo services sold domestically and abroad through the use of fuel and other surcharges, in violation of U.S. Federal, state and EU antitrust laws. The suit seeks treble damages and injunctive relief."
Atlas has submitted relevant information and documentation to foreign regulators who are carrying out the investigation.
Furthermore, Atlas is involved with other lawsuits and pending actions in Brazil. Atlas does, however, consider these to be routine and incidental to their business.
Competition and AMC Business
Competition in Atlas' four markets of revenue is fierce. With companies such as Air Atlanta Icelandic; Kalitta Air, LLC; and Southern Air, Inc. providing 747-400F, 747-400, and 777 aircraft to the ACMI market, Atlas faces no shortage of competition. Also a reduction in demand from the U.S. Military can have negative effects for AAWW's AMC business.
Even though Atals' management is doing an impressive job of addressing this, expected deterioration of revenue and profits from the AMC business is another risk. Derived from one-year contracts, AAWW's current contract will expire on September 30, 2014. In order to secure an AMC contract, a carrier must pass a bi-annual audit while also meeting certain on-time performance requirements as a percentage of flights flown.
The Future of the Air Freight industry
The airfreight industry's economic health directly correlates with the global economy's health. With the economic hardships of 2008 coming to a close, the airfreight industry is seeing an improvement in business. More reassuring is the prediction that the industry will continue to improve going forward. The International Air Transport Association's most recent update in March 2014 states that:
Airfreight markets increased by 5.9% in March compared to a year ago. This strong result mostly reflects a rebound in airfreight volumes after weakness in February. Looking at the first 3 months of the year, growth compared to a year ago was a solid 4.4%, but much of that is a result of 2013 year-end acceleration.
Also, Airbus (AIR.PA) predicts that freight traffic will grow by 4.8% CAGR for the next 18 years with Asia seeing the largest growth.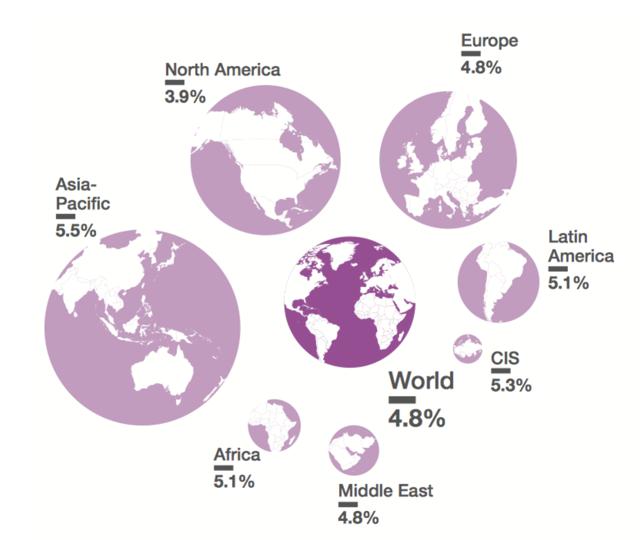 CONCLUSION
Atlas' faces stiff competition, but the freight services market is an industry with growth potential. The utilization of cutting edge technology, shareholder friendly practices, and a low valuation make AAWW very attractive. Furthermore, Atlas' management has proven to be competent by anticipating and properly reacting to a decline in AMC business. Although I recommend AAWW, I would also encourage investors to look deeper into Atlas and determine if it's the right company for them. The lawsuits are a bit troubling, but with earnings coming on the 31st, I'm hoping that management addresses the legal issues.
Disclosure: The author has no positions in any stocks mentioned, but may initiate a long position in AAWW over the next 72 hours. The author wrote this article themselves, and it expresses their own opinions. The author is not receiving compensation for it (other than from Seeking Alpha). The author has no business relationship with any company whose stock is mentioned in this article.