Company Description:
Alaska Air Group (NYSE:ALK) is the holding company for Alaska Airlines and Horizon Air, Seattle-based carriers that collectively serve over 90 destinations in the United States, Canada, and Mexico. Alaska Air Group was organized as a Delaware corporation in 1985.
Alaska Airlines, Inc., an Alaska corporation founded in 1932, is noted for its award-winning customer service. Alaska through its mainline jet service provides scheduled air service for over 16 million passengers annually. In addition to its service to destinations in Alaska and the West Coast, the airline flies to several cities in the Midwest, Texas and the East Coast, as well as the four major Hawaiian Islands. Alaska also provides service to British Columbia in Canada, and to nine destinations in Mexico. Its hubs are Anchorage, Seattle, Portland, and Los Angeles.
Horizon Air Industries, Inc., a Washington corporation organized in 1981, is similarly noted for outstanding customer service. Horizon is a regional carrier and beginning in 2011, Horizon performs all of its flying for Alaska Airlines under a capacity purchase arrangement. Horizon serves nearly 7 million passengers annually. Its hubs are Seattle, Portland and Boise.
Synopsis:
Alaska Air Group is a great opportunity to purchase a quality company with great fundamentals at a steep discount. I will use this article to demonstrate to you why this is a quality brand, excellently run company with commitment to shareholders, and a great value at this time for long-term investors.
Recent Events:
The airline sector, with Alaska Air Group included, recently posted pretty great quarters across the board. In spite of ALK's $0.04 beat against consensus estimates, the company saw a 9% decrease. The other major airlines also saw decreases this day due to jitters and a bearish view around the airline industry as a whole. This has created great value for long term investors to look at airlines with ALK being the standout of the group.
The Company:
ALK is a well-run company with a focus on having a strong balance sheet and shareholder returns not seen with the other airlines.
Since 2008, ALK has been focused on decreasing debt and strengthening their balance sheet. This work is highlighted with:
Fitch ratings initiated coverage with a BBB- rating making ALKand LUV the only airlines rated as investment grade.
ALK owns 73 of their airliners free and clear with no debt.
Management has also shown an interest in returning value to shareholders via dividends and buybacks.
Spent $34 million to pay dividends to shareholders over the last 6 months.
With current share price, dividend sits at 2.18% - substantially higher than the other major airlines; DAL 0.6%, AAL N/A, UAL (just announced) 0.9%.
Committed to distributing $350-400 million to shareholders this year.
Completed $83 million in share buybacks so far this year with another $650 million commitment.
Company advised on their conference call that they have the flexibility to purchase more shares to support the stock while facing short term headwinds.
The Brand:
Management recognized early that customer satisfaction was going to be the key to their expansion plans. ALK won the JD Power's award for highest customer satisfaction among traditional carriers for the 7th year in a row anchored by the highest number of on-time flights among the 8 largest carriers. As you can see in the image below, ALK has a pretty substantial lead in customer satisfaction amongst the other airlines. Delta Air Lines is ALK's closest competitor in the Northwest Region and is still a distant second.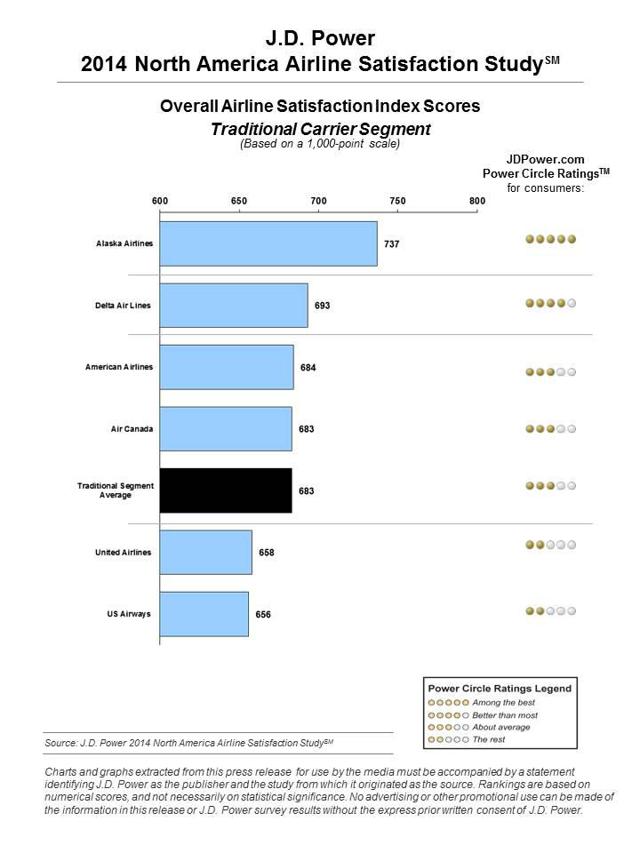 Click to enlarge
It is my belief that over the long term, this commitment to customer satisfaction in addition to the improvements in the customer loyalty program(making mileage plans stronger), improving food and wine offerings, and increasing advertising - Alaska Airlines will be the brand that people in the Northwest and beyond will be choosing for their flights, will strengthen the brand enough to fend off DAL in the region, and have ALK poised to continue its growth story.
Valuation:
With everything outlined above, ALK's track record of increasing EPS through expansion and ancillary revenues, and cost reductions I believe the analyst's growth estimates of 19% over the next 5 years will come to fruition. With a P/E of 5.7, long-term debt/equity ratios at 0.34, a price-to-book ratio of 2.96, P/FCF of 15.31 - ALK is grossly undervalued.
To use Benjamin Graham's formula with a 4.2 AA corporate bond rate, 5 year growth rate of 19% - ALK has a 56% margin of safety with an intrinsic value of $102.96/share.
Using DCF methods with 11% discount rate, 19% growth rate over the next 5 years, and 4% terminal growth rate thereafter, ALK still reflects a 26% margin of safety with an intrinsic value of $61.47. It is my belief that ALK has many more than 5 years left of growth as they will eventually continue to open new markets after securing the Seattle and their new east coast markets.
Summary:
ALK is a great company with a strong brand with great customer focus, is currently undervalued and has room for growth. It has shown strong profit in it's new markets, the ability to offset any losses by Delta, a long-term focus on building its brand and customer loyalty, strong ancillary growth, and strong fundamentals to withstand market swings. It is currently paying a dividend over 2% and is committed to returning value to shareholders. This is a great time to go long on ALK and buy a great company at a low price.
Disclosure: The author is long ALK. The author wrote this article themselves, and it expresses their own opinions. The author is not receiving compensation for it (other than from Seeking Alpha). The author has no business relationship with any company whose stock is mentioned in this article.