When constructing my portfolio, I look for less volatile well established companies to round out the more pro growth oriented names. By balancing out the risk, I hope to negate the volatile swings that the market will inflict on a portfolio. The market is beginning to exhibit some frothy signs in my opinion, with momentum stocks taking the lead once again after their sell-off earlier this year. With money leaving the more defensive names looking to chase the momentum plays in hopes of making a quick return, the long term investor maybe given an opportunity here. The opportunity I am looking for is to establish a position in a high quality defensive company at an attractive price with the expectation of holding the shares for at least ten years. I believe the recent sell-off in Hershey's (NYSE:HSY) is offering such an opportunity.
The food processing industry is a defensive play based on the very nature of the products they produce. The demand for food is inelastic , with the demand staying relatively stable even in the face of price hikes. The companies that operate in this segment tend to carry betas (a measure of volatility) of 0.5 or less with the market average being 1. I decided to examine the sector for a company with an outstanding track record of consistent growth with a high Return on Equity (ROE) and Return on Invested Capital (NASDAQ:ROIC). HSY fared the best with the highest consistent returns on both metrics over the past ten years. As we can see from the table below, HSY key metrics vastly outperform those of the competition.
| | | |
| --- | --- | --- |
| Company Name | 2013 ROIC % | 2013 ROE % |
| Hershey's | 26 | 52.6 |
| General Mills (NYSE:GIS) | 15.5 | 26.8 |
| Kellogg Co. (NYSE:K) | 16.5 | 40 |
| Campbell Soup (NYSE:CPB) | 22.6 | 64.6 |
| Nestle (OTCPK:NSRGY) | 13.8 | 15.6 |
| Hormel (NYSE:HRL) | 15.5 | 16 |
| McCormick (NYSE:MKC) | 15 | 21.5 |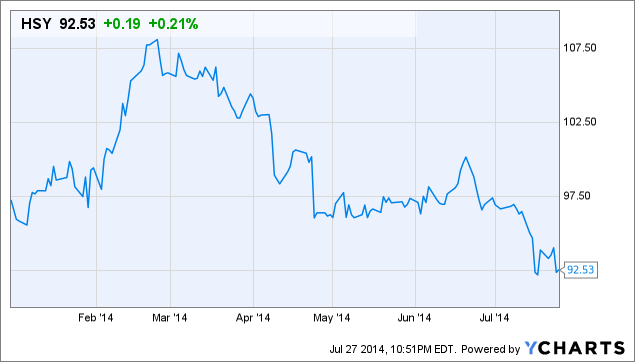 The shares have sold off quite briskly this year due to the rapid increase in cocoa and dairy prices. The price hikes of two of HSY key commodities have caused management to announce an 8% price hike to protect margins. The price hikes will dampen sales a bit this year as the sluggish worldwide economic trends persist. On the recent earnings conference call the following exchange piqued my interest in HSY.
"Jonathan Patrick Feeney - Athlos Research LLC

I wanted to dig in, get another go with this price increase margin elasticity question going into next year. When you took your price increase in 2011, I mean, as bad as things are today, I mean, the unemployment rate was higher then. It was just wasn't a great macro environment in general in 2011. If I remember correctly, gas prices were going up at that time. So I guess -- you've talked a lot about the macro environment, but I guess, what gives you -- what makes you think that the elasticity reaction consumers will have in this really tough macro-environment would be any different than what they had back in 2011, particularly given that your -- it seems your leading competitor is sort of following suit here?

John P. Bilbrey - Chief Executive Officer, President and Director

Yes, I don't think that it will have big differences than what we've seen. As I've said before, the planning that we've always done around these is the one-to-one ratio. I think your point is a good one in terms of how we should expect the category to behave this time versus other times. And the history of the category over many, many decades is it is a pretty inelastic category, and it cycles pricing really effectively, and that's exactly what I would hope this time. I don't want to -- the thing that I want you to take away from this call is, is that we think about their business. There have been a number of different things over the last 6 to 9 months, whether it's been trips, weather, all of these other things. Largely, we don't know if those are one-offs. If there's some weather effect, they were real. But what we know is that we have fundamental execution opportunities, planning opportunities around how we schedule the promotion and merchandising activities we have, and so we really want to kind of put a number of these things aside. We do know in certain parts of classes of trade, there's a consumer that continues to be challenged. But we're also seeing in the snacking categories some items with some pretty significant pricing. They've been doing very, very well. So I think in the end, while there may be some people, unfortunately, who are really impacted, I think the real drivers will be around the things we know how to do best, and that's execution.
What caught my attention during this exchange was the CEO's comment on the price inelasticity of the category. As we can see from the definition below, if the product demonstrates price inelasticity a price hike will result in a small impact in the demand for the product. The inelasticity of the product combined with stellar ROIC and ROE indicates HSY holds significant pricing power. The pricing power along with the power of the brand in my view further demonstrates HSY's wide moat which is very appealing. The wide and durable moat exhibited by HSY along with the very stable nature of the food industry should allow for me to make a fairly accurate prediction of the shares' long term return potential.
A measure of the relationship between a change in the quantity demanded of a particular good and a change in its price. Price elasticity of demand is a term in economics often used when discussing price sensitivity. The formula for calculating price elasticity of demand is:

Price Elasticity of Demand = % Change in Quantity Demanded / % Change in Price

If a small change in price is accompanied by a large change in quantity demanded, the product is said to be elastic (or responsive to price changes). Conversely, a product is inelastic if a large change in price is accompanied by a small amount of change in quantity demanded.

Defintion courtesy of Investopedia.
HSY over the past ten years has exhibited earnings growth of 7.5% along with dividend growth of 9.5% during this period. In the past five years earnings growth has ticked higher to the 9% range with dividend growth coming in at 7%. I have decided to use 8% earnings and dividend growth and project the return over the next ten years. I am using a lower earnings growth number than HSY has produced in the past to project a more conservative case. Using 2013 earnings of $3.72 per share as a starting point, I expect earnings to grow to $8.03 over ten years with a dividend rate of $3.91 per share.
The next question facing investors is what type of multiple to apply to the above mentioned earnings. Many will look at HSY's current P/E ratio and immediately dismiss them as being expensive. I believe most fail to realize the market assigns HSY a premium similar to that seen with Colgate Palmolive (NYSE:CL) due to their ability to consistently grow earnings and revenue in any sort of economic climate. The adage it is better to buy a wonderful business at a fair price certainly applies here. Using the Value Line stats that extend out through 1998, the average P/E for HSY is 22.1 with a low for the period of 16.9. Applying the average multiple to the ten year earnings projection of $8 in earnings nets a share price of 176.8. An investor would have collected a minimum of an additional $30 worth of dividends over this time frame. Using a starting share price of $92 per share the total return works out to 125% return or 8.44% per year compounded over a ten year time frame. I suspect my figures are low as earnings and dividend growth should come in higher than 8% which would skew the total returns number higher.
The question becomes at what price would I feel comfortable in making a purchase of HSY shares. Using the figures above, I would need to see a 9% CAGR over the ten year time frame to invest in these high quality shares. The shares would need to pullback an additional 5% to $82 for me to acquire the shares. There is a reasonable chance this may occur, especially as we enter the seasonably weaker period of the market. I am keeping HSY on my radar screen for now, waiting for my price to come in. I would like to thank you for reading and I look forward to your comments.
Disclosure: The author is long CL. The author wrote this article themselves, and it expresses their own opinions. The author is not receiving compensation for it (other than from Seeking Alpha). The author has no business relationship with any company whose stock is mentioned in this article.
Additional disclosure: Investors are always reminded that before making any investment, you should do your own proper due diligence on any name directly or indirectly mentioned in this article. Investors should also consider seeking advice from a broker or financial adviser before making any investment decisions. Any material in this article should be considered general information, and not relied on as a formal investment recommendation.