Analyzing the Dollar Tree Acquisition of Family Dollar
Dollar Tree (NASDAQ:DLTR) recently announced its planned acquisition of Family Dollar (NYSE:FDO). The deal values Family Dollar at $74.50 or $9.2 billion, a significant premium of more than 22% over the company's most recent closing price of $60.60. The deal is expected to close in early 2015, pending shareholder approval.
Scale of Combined Business
The deal will create the largest US discount retailer by store count. Dollar Tree currently has 4,891 stores in the US and 189 in Canada. Family Dollar has 8,246 stores in the US. Together, the company will have 13,326 stores in the US and Canada and over 100 million square feet of selling area. Overlap of store territory will be minimal, as Family Dollar stores traditionally focus on urban and rural areas, while Dollar Tree focuses on suburban areas.
For a size comparison, Wal-Mart (NYSE:WMT) operates 4,868 stores in the US (including Sam's Club) which take up 747 million square feet. This is not a truly apples-to-apples comparison, as Wal-Mart reports total square feet not selling square feet. With that said, Wal-Mart has less than ½ the amount of stores as the combined business will have, but has about 7x the selling space.
Source: Wal-Mart Unit Count & Square Footage
Dollar Tree's acquisition of Family Dollar will create a business that will have locations convenient for most consumers. In many cases, the nearest Dollar Tree or Family Dollar will be closer than the nearest Wal-Mart, Target (NYSE:TGT), or grocery store. The unique small store size layout of Dollar Tree and Family Dollar allows for a quicker shop and more convenient living-adjacent locations. This convenience combined with a dogged focus on low costs is what has allowed both Dollar Tree and Family Dollar to grow revenue per share at over 10% per year for the last decade.
Transaction Financing
Dollar Tree will finance the transaction with debt and cash on hand. The company has no plans to issue additional shares to acquire Family Dollar. A financing commitment from Chase Bank (NYSE:JPM) has been acquired. The transaction financing is as follows:
Balance sheet cash - $0.5 billion
Revolving credit line - Up to $1.25 billion
Term loan - $5.4 billion
Senior unsecured note - $2.8 billion
The combined business will have a heavy debt burden. Dollar Tree management plans to expediently pay down this debt using the combined businesses' significant cash flows. There is some risk involved in the deal due to over leveraging. If the combined business were to experience a significant downturn just as the deal closed, the company would be unable to finance its debt burden. This seems very unlikely however, as both businesses have a long history of profitability and growth even through recessions. Family Dollar in particular has an excellent long-term history, with 37 consecutive years of increasing dividend payments.
Family Dollar Current Events
Family Dollar is being acquired at a reasonable price for a quickly growing business that generates large free cash flows due to the company's recent weakness. Comparable store sales decreased by 3.8% for Family Dollar in the 2nd quarter of 2014, and then decreased again in the 3rd quarter of 2014 by 1.8%. Further, gross profit margin has fallen every year since 2010, a sign of a slowly eroding competitive advantage.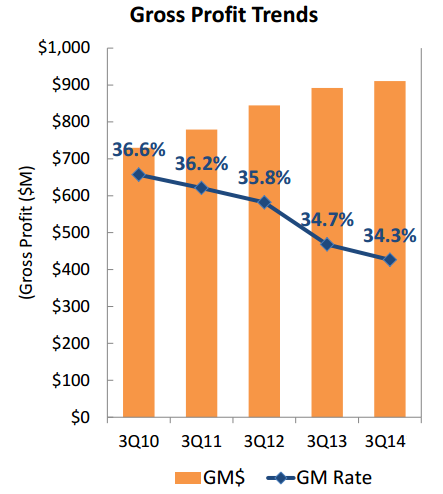 Source: Family Dollar 3rd Quarter Presentation
Dollar Tree Current Events
As Family Dollar's same store sales have been on the decline, Dollar Tree's have risen. The company reported a 2% same store sales increase for the company's most recent quarter. Dollar Tree has increased same store sales for its full fiscal year each year since 2009. The company's strong same store sales growth and store count expansion has fueled growth. The company does not pay a dividend, but has been a strong repurchase of sales, repurchasing about 9% of its total market cap in 2013 alone.
Source: Dollar Tree 1st Quarter Report and Annual Report
End of An Aristocrat
If the proposed merger goes through, Family Dollar's streak of 37 years of consecutive dividend payments will end. Dollar Tree does not pay a dividend. It is unlikely the company will change its policy directly after the acquisition due to the large debt burden the company has announced it plans to quickly pay down.
Family Dollar is among the fastest growing Dividend Aristocrats based on per share revenue growth due to the company's rapid expansion over the last decade and strong share repurchases. The company was the 21st highest ranked stock out of 132 businesses with 25+ years of dividend payments without a reduction based on the 8 Rules of Dividend Investing. The 8 Rules analyze businesses with 25+ years of dividend payments without a reduction over several quantitative measures including yield, volatility, and growth to find high quality businesses trading at fair or better prices.
Change in Competitive Landscape
The acquisition will move Dollar Tree ahead of Dollar General to become the 4th largest discount retailer in the US based on market cap. The only 3 larger discount retailers in North America by market cap are Wal-Mart, Target, and Costco (NASDAQ:COST). Of these, Target and Costco aim for middle and upper class shoppers. Wal-Mart is targeted predominantly to lower income shoppers as are Dollar General (NYSE:DG) and Family Dollar. Dollar Tree targets middle income shoppers. The acquisition of Family Dollar will give it a stronger presence in the lower income segment.
The acquisition should help Dollar Tree to gain market share in the competitive discount retail industry by giving its excellent management team a larger store base with which to operate. In addition, the deal is expected to generate about $300 million in cost savings per year due to efficiency gains in distribution, logistics, and a decrease in the percentage of management overhead to overall revenue.
The combined business will have a larger scale and a somewhat improved position in bargaining with suppliers. If Dollar Tree's management can turn around negative same store sales growth at Family Dollar, the acquisition will be seen as a success. Dollar Tree's success in the industry makes it likely that management will be able to reverse the negative trends that Family Dollar has seen recently, while simultaneously paying down the debt generated in this transaction.
Disclosure: The author has no positions in any stocks mentioned, and no plans to initiate any positions within the next 72 hours. The author wrote this article themselves, and it expresses their own opinions. The author is not receiving compensation for it (other than from Seeking Alpha). The author has no business relationship with any company whose stock is mentioned in this article.