Gilead Sciences (NASDAQ:GILD) has been on a tear of late, rising more than 20% in the past three months on expectations of a stellar earnings report. Fueling the gains is the belief that GILD's revolutionary treatment for Hepatitis C dubbed Sovaldi (sofosbuvir) will come in better than expected. Sovaldi sales growth has been nothing short of outstanding as the compound has broken all first year sales records. In the article below, I will re-examine my price target on GILD for adjustment as it seems I have been a bit to conservative.
 
Three Months Ended
 
 
 
Six Months Ended
 
 
 
 
June 30,
 
 
 
June 30,
 
 
(In thousands, except percentages)
 
2014
 
 
2013
 
 
% Change
 
 
2014
 
 
2013
 
 
% Change
 
Antiviral product sales
 
$
6,012,144
 
 
$
2,313,539
 
 
160
%
 
$
10,520,641
 
 
$
4,374,617
 
 
140
%
Sovaldi
 
3,480,326
 
 
 
 
 
 
%
 
5,754,675
 
 
 
 
 
 
%
Atripla
 
870,708
 
 
938,108
 
 

(7)

%

 
1,650,302
 
 
1,815,181
 
 

(9)

%

Truvada
 
806,610
 
 
807,779
 
 
 
%
 
1,566,310
 
 
1,508,021
 
 
4
%
Complera/Eviplera
 
299,464
 
 
188,683
 
 
59
%
 
550,197
 
 
336,872
 
 
63
%
Stribild
 
269,520
 
 
99,394
 
 
171
%
 
484,791
 
 
191,542
 
 
153
%
Viread
 
260,734
 
 
250,188
 
 
4
%
 
471,359
 
 
460,520
 
 
2
%
Sovaldi's sales accelerated higher for the second quarter coming in at $3.48 billion, a 65% jump over the first quarter numbers as additional patients opted for treatment with this revolutionary product. GILD has treated 80,000 patients worldwide with an estimated 9,000 cured of this dreaded disease. What caught my eye during the conference call is the following blurb attributed to Robin Washington the CFO of GILD.
Turning to Sovaldi, we estimate the vast majority of U.S. sales for the second quarter were related to demand. Inventory across the supply chain for Sovaldi were at levels necessary to support demand during the quarter. And while the provisions for the inventory management agreements for Sovaldi with the big three wholesalers do not start until September; inventory levels were already within the range of those provisions as of the end of the quarter. As anticipated we have started to see some patient warehousing in advance of ledipasvir/sofosbuvir approval. If this warehousing continues it may have a downstream impact to Sovaldi inventory held in the distribution channel.
I started to wonder, if more patients will be "warehoused" awaiting approval if this could have an impact on third quarter numbers. The PDUFA date for the ledipasvir/sofosbuvir combo is expected to occur on October 10, 2014. The PDUFA date is in my opinion, the key to the third quarter as the approval will overshadow sales numbers generated for the third quarter. Luckily, for the GILD bulls the approval should be granted before third quarter numbers are reported which should alleviate some risk here. The FDA granted approval earlier than expected to GILD chronic lymphocytic leukemia (CLL) dubbed Zydelig; perhaps the FDA will approve GILD combo Hepatitis treatment before October 10.
Zydelig is indicated for treatment of chronic lymphocytic leukemia that has unfortunately relapsed. It is to be used in combination with Biogen Idec (NASDAQ:BIIB) Rituxan. I did some research to get a feel for how large the addressable market is for this treatment. According to cancer.org, there are 15,720 new cases of CLL diagnosed per year. I looked for a reputable source to put an estimated dollar amount for this market and found the estimated peak sales of Zydelig to approach $500 million dollars. Certainly not on par with Sovaldi, yet very few compounds ever hit peak sales similar to what Sovaldi has returned for the six months this year.
I mention Zydelig and its sister compounds currently in various forms of clinical trials as important next chapter in the history of GILD. Due to the short course of treatment of Sovaldi there is a fear that sales will drop off rapidly once the initial rush for treatment has been satisfied. If I had to venture a guess, I would say peak sales will happen later than expected, perhaps in 2017 with a gentle plateauing of sales. If my guess is proven accurate, the clinical pipeline will be crucial in moving the company forward.
GILD has a tremendous advantage over its rivals in the pharmaceutical field due to the enormous cash flow that will come their way due to sales of Sovaldi and its next generation combo product. The key for investors is how current management will invest this windfall. I have particular faith in the current team as they have been with the company since 1990. John Martin the current CEO has successfully lead the company since 1990, nurturing GILD along its journey from a promising start-up to the biotech goliath it now is. The team is battle tested and very innovative which augurs well for continued success. I expect them to continue to research promising compounds or if a promising compound is discovered by a smaller outfit to quickly move and acquire the outfit, thus ensuring the commercial rights for GILD and its shareholders.
My original thesis called for a $100 share price by the end of 2014 on the back of an estimate of a minimum of $7.50 in earnings for 2015. At the time of publishing, estimates were all over the place due to the revolutionary nature of the compound. Most new novel compounds take a few years to reach $1 billion in sales, Sovaldi simply shattered all records. It seems reasonable to conclude we will see roughly $10 in earnings for GILD in 2015. I suspect a $120 price per share target is very doable as it would imply a P/E ratio of roughly 12 for 2015 earnings. Keep in mind, the P/E has been held in check due to the expected drop off in sales once a large percentage of the addressable market is treated. Due to the fact Sovaldi basically cures those afflicted with this dreadful disease the normal annuity like returns seen on most therapies doesn't apply here. I expect the shares to perhaps plateau here a bit after its sharp run upwards over the past few months.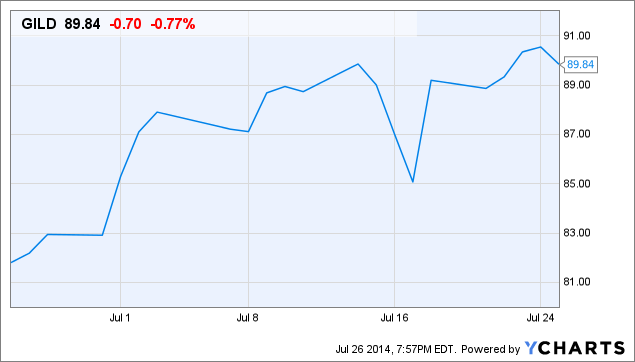 Many seemed disappointed due to the lack of significant follow through coming on the back of a stellar earnings blow out. The real action occurred in early July, once GILD broke through its previous high set in March before the vicious bioteches sell off as detailed here. As we can see from the chart below, GILD jumped 7% as the stellar quarterly numbers seemed assured. This is classic buy on the rumor sell on the news; however the long term investor should ignore this as noise and instead focus on the long term picture. The greater profits lie ahead as sales ramp up in 2015, I plan on remaining very long and allowing the story to play out. GILD is currently my fourth largest holding yet I wouldn't mind if it grew into my largest holding, I suspect most wouldn't either. I would like to thank you for reading and I look forward to your comments.
Disclosure: The author is long GILD. The author wrote this article themselves, and it expresses their own opinions. The author is not receiving compensation for it (other than from Seeking Alpha). The author has no business relationship with any company whose stock is mentioned in this article.
Additional disclosure: Investors are always reminded that before making any investment, you should do your own proper due diligence on any name directly or indirectly mentioned in this article. Investors should also consider seeking advice from a broker or financial adviser before making any investment decisions. Any material in this article should be considered general information, and not relied on as a formal investment recommendation.