Intel's Share Price Action
In the strong bull market that we've had since 2009, Intel Corp. (NASDAQ:INTC) is one of the companies that presented investors with a real value opportunity. In November 2013, despite being the world's dominant computer-chip maker, Intel's shares were trading close to $22. Investors had reason to be concerned with the company's exposure to a global PC market, which seemed to be in decline given the migration of consumers into mobile devices. Intel's lack of penetration into the mobile-device arena further compounded these fears.
This was noticeable in the numbers coming out of Intel in 2013. Revenues for its PC Client Group - Intel's main cash generating business - for the first three quarters had declined by more than 5% compared to the previous year. For the same period, operating income had also dropped by more than 23% year-over-year.
However, a different story has been playing out in 2014. Following a dip on the back of disappointing earnings for the last quarter of 2013, Intel's share price has been on the up since February. The share price responded well to the company's acquisition of BASIS Science in March - a step aimed at addressing its lack of penetration in the mobile-device space. This was followed in May by the announcement of a strategic agreement with Rockchip in order to broaden and accelerate Intel's entrance into the Android tablets space.
One of the most significant contributors to the sudden increase seen recently in the share price was the June 12 announcement by Intel that it was raising its second quarter, as well as full-year, revenue expectations. Shares closed the following day with a gain of almost 7%. This one-day jolt was bettered on July 16 following the release of the company's second-quarter results. With better than expected earnings-per-share and a large increase to the size of its share buyback program (from Q1's $550 million to $2 billion in Q2 and an expected $4 billion in Q3) Intel's shares finished the day up by more than 9%.
In all, so far Intel's share price has had a stupendous increase in 2014. From its lowest close recorded on February 5 ($23.52) to its highest close on July 22 ($34.79) the share price increased by a staggering 47.9% - this equates to an 84.1% annualized return.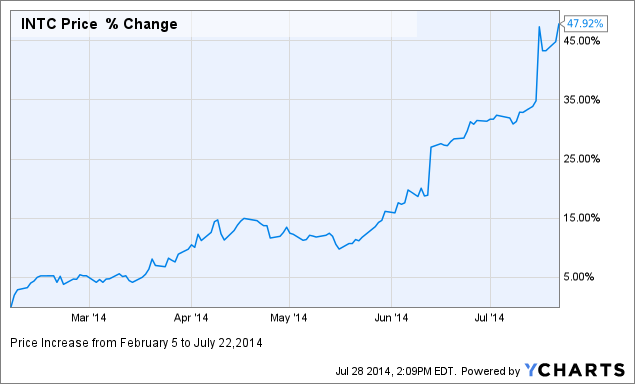 INTC data by YCharts
If Insiders Are Not Keeping Their Shares, Why Would I?
In a July 25 article, Barron's reported that five Intel insiders sold a total of 1,159,605 shares between July 16 and 21.
| Insider | Shares Sold | Remaining Holdings |
| --- | --- | --- |
| Stacy J. Smith - CFO | 614,432 | 186,320 |
| Thomas M. Kilroy - Exec. VP | 349,595 | 80,972 |
| Renee James - President | 101,580 | n/a |
| William M. Holt - Exec. VP | 73,998 | n/a |
| David B. Yoffie - Director | 20,000 | n/a |
The article further points out that these individuals now hold stakes of less than 1% in Intel.
Why I'm Taking Profits And Waiting For Better Levels To Buy Again
Intel is a solid company that I intend to own in my portfolio when it represents good value. With the changes made at the company's helm, the new management team under CEO Krzanich has been making several strategic decisions that will help Intel maintain its dominance in the computer-chip market. We've seen some of these decisions in the actions taken to address the company's less-than-ideal position in the mobile-device space.
Intel also has a strong balance sheet, generating (as of the end of 2013) enough free cash flow to cover dividends almost twice. In addition, management recently decided to return more cash to shareholders by increasing the size of its share buyback program by $20 billion.
Despite all of these bullish fundamentals, the recent price action suggests that caution might be due. Year-to-date returns are toward the upper band of what Intel's share price has been able to deliver since the start of the current bull market. Only during 2009 has the share price been able to deliver a greater increase (63.2%), when it rose from its $12.50 January low to the $20.40 December closing price. The chart below shows the price history since 2008.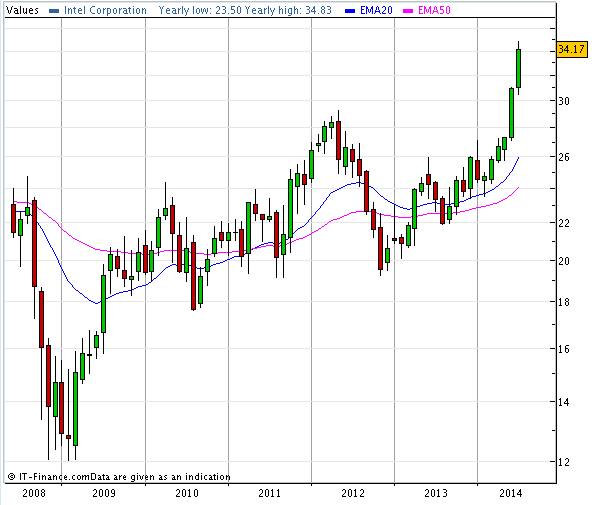 I have sold my shares in Intel following the earnings reported for Q2, and look forward to buying them back when correct lower. For now, a strategy of wait-and-see with regard to Intel suits my portfolio best.
Additional Disclosure
The content above only expresses my views and opinion about the company(ies) and subjects discussed. It should not be taken to represent in any way individual or collective investment advice. You should perform your own analysis and due diligence before making any decisions regarding your investments.
Disclosure: The author has no positions in any stocks mentioned, and no plans to initiate any positions within the next 72 hours. The author wrote this article themselves, and it expresses their own opinions. The author is not receiving compensation for it (other than from Seeking Alpha). The author has no business relationship with any company whose stock is mentioned in this article.