The following is a list of small-cap stocks, with market caps ranging between $100M and $300M. All of these stocks are in rally mode, trading above their 20-day, 50-day and 200-day moving averages.

With the Fed obviously trying to inflate the stock market, equity investors might be looking to take on more risk in the short term. Hopefully this list can be used as a starting point for those looking for small-cap ideas.

All data sourced from Finviz. Full analysis below.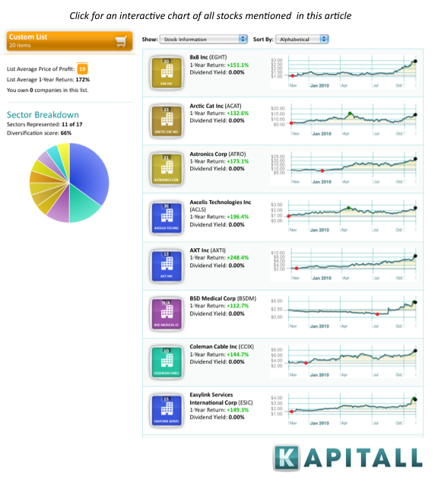 The list has been sorted by annual performance.

1. Global Ship Lease, Inc. (NYSE:GSL): Shipping Industry. Market cap of $290.18M. The stock is currently 47.57% above its 20-day MA, 76.81% above its 50-day MA, and 106.02% above its 200-day MA. Short float at 3.34%, which implies a short ratio of 2.75 days. The stock has gained 400% over the last year.

2. Uroplasty Inc. (NASDAQ:UPI): Medical Instruments & Supplies Industry. Market cap of $107.37M. The stock is currently 19.11% above its 20-day MA, 21.75% above its 50-day MA, and 44.52% above its 200-day MA. Short float at 0.55%, which implies a short ratio of 1.12 days. The stock has gained 339.5% over the last year.

3. Equal Energy Ltd. (NYSE:EQU): Oil & Gas Drilling & Exploration Industry. Market cap of $152.05M. The stock is currently 19.17% above its 20-day MA, 20.21% above its 50-day MA, and 39.% above its 200-day MA. Short float at 0.42%, which implies a short ratio of 2.32 days. The stock has gained 272% over the last year.

4. Park-Ohio Holdings Corp. (NASDAQ:PKOH): Metal Fabrication Industry. Market cap of $210.15M. The stock is currently 24.15% above its 20-day MA, 40.55% above its 50-day MA, and 53.98% above its 200-day MA. Short float at 3.51%, which implies a short ratio of 8.26 days. The stock has gained 253.06% over the last year.

5. AXT Inc. (NASDAQ:AXTI): Semiconductor Industry. Market cap of $258.4M. The stock is currently 21.08% above its 20-day MA, 31.65% above its 50-day MA, and 81.9% above its 200-day MA. Short float at 4.87%, which implies a short ratio of 2.71 days. The stock has gained 241.39% over the last year.

6. Vertro, Inc. (NASDAQ:VTRO): Internet Information Providers Industry. Market cap of $187.05M. The stock is currently 59.61% above its 20-day MA, 98.65% above its 50-day MA, and 122.07% above its 200-day MA. Short float at 0.22%, which implies a short ratio of 1.72 days. The stock has gained 222.42% over the last year.

7. Astronics Corp. (NASDAQ:ATRO): Aerospace/Defense Products & Services Industry. Market cap of $233.5M. The stock is currently 11.25% above its 20-day MA, 24.81% above its 50-day MA, and 55.4% above its 200-day MA. Short float at 4.02%, which implies a short ratio of 10.69 days. The stock has gained 162.77% over the last year.

8. Axcelis Technologies Inc. (NASDAQ:ACLS): Semiconductor Equipment & Materials Industry. Market cap of $222.9M. The stock is currently 18.42% above its 20-day MA, 34.98% above its 50-day MA, and 33.82% above its 200-day MA. Short float at 3%, which implies a short ratio of 4.65 days. The stock has gained 159.76% over the last year.

9. EasyLink Services International Corporation (NASDAQ:ESIC): Internet Service Providers Industry. Market cap of $113.2M. The stock is currently 15.11% above its 20-day MA, 35.12% above its 50-day MA, and 54.31% above its 200-day MA. Short float at 0.17%, which implies a short ratio of 0.56 days. The stock has gained 158% over the last year.

10. Virtus Investment Partners, Inc. (NASDAQ:VRTS): Asset Management Industry. Market cap of $228.4M. The stock is currently 10.82% above its 20-day MA, 24.78% above its 50-day MA, and 63.67% above its 200-day MA. Short float at 3.12%, which implies a short ratio of 8.79 days. The stock has gained 149.26% over the last year.

11. support.com, Inc. (NASDAQ:SPRT): Internet Software & Services Industry. Market cap of $274.19M. The stock is currently 19.42% above its 20-day MA, 28.42% above its 50-day MA, and 50.52% above its 200-day MA. Short float at 4.33%, which implies a short ratio of 8.6 days. The stock has gained 143.75% over the last year.

12. 8x8 Inc. (NASDAQ:EGHT): Communication Equipment Industry. Market cap of $177.59M. The stock is currently 15.17% above its 20-day MA, 39.25% above its 50-day MA, and 90.53% above its 200-day MA. Short float at 4.7%, which implies a short ratio of 4.24 days. The stock has gained 142.74% over the last year.

13. Coleman Cable, Inc. (NASDAQ:CCIX): Industrial Electrical Equipment Industry. Market cap of $134.39M. The stock is currently 16.8% above its 20-day MA, 26.47% above its 50-day MA, and 41.19% above its 200-day MA. Short float at 2.44%, which implies a short ratio of 5.67 days. The stock has gained 142.19% over the last year.

14. Twin Disc Inc. (NASDAQ:TWIN): Diversified Machinery Industry. Market cap of $245.88M. The stock is currently 25.39% above its 20-day MA, 50.89% above its 50-day MA, and 75.59% above its 200-day MA. Short float at 2.24%, which implies a short ratio of 3.4 days. The stock has gained 136.82% over the last year.

15. Arctic Cat Inc. (NASDAQ:ACAT): Recreational Vehicles Industry. Market cap of $261.68M. The stock is currently 12.5% above its 20-day MA, 38.64% above its 50-day MA, and 36.68% above its 200-day MA. Short float at 7.38%, which implies a short ratio of 12.77 days. The stock has gained 132.15% over the last year.

16. Zix Corp. (NASDAQ:ZIXI): Internet Software & Services Industry. Market cap of $256.92M. The stock is currently 20.75% above its 20-day MA, 34.37% above its 50-day MA, and 63.8% above its 200-day MA. Short float at 10.57%, which implies a short ratio of 8.91 days. The stock has gained 114.44% over the last year.

17. Motorcar Parts of America Inc. (NASDAQ:MPAA): Auto Parts Industry. Market cap of $133.15M. The stock is currently 16.79% above its 20-day MA, 29.98% above its 50-day MA, and 63.46% above its 200-day MA. Short float at 0.16%, which implies a short ratio of 0.35 days. The stock has gained 109.68% over the last year.

18. BSD Medical Corp. (BSDM): Medical Appliances & Equipment Industry. Market cap of $117.02M. The stock is currently 11.71% above its 20-day MA, 37.41% above its 50-day MA, and 128.32% above its 200-day MA. Short float at 13.42%, which implies a short ratio of 1.37 days. The stock has gained 106.94% over the last year.

19. UR-Energy Inc. (NYSEMKT:URG): Industrial Metals & Minerals Industry. Market cap of $166.24M. The stock is currently 27.07% above its 20-day MA, 55.4% above its 50-day MA, and 82.53% above its 200-day MA. Short float at 0.01%, which implies a short ratio of 0.04 days. The stock has gained 102.41% over the last year.

20. Geeknet, Inc. (NASDAQ:GKNT): Internet Software & Services Industry. Market cap of $135.23M. The stock is currently 11.92% above its 20-day MA, 26.51% above its 50-day MA, and 46.38% above its 200-day MA. Short float at 0.24%, which implies a short ratio of 0.45 days. The stock has gained 95.61% over the last year.

Disclosure: No positions