SodaStream International Ltd (NASDAQ:SODA) will announce its 2nd Quarter results for 2014 on July 30th. Shares of SodaStream have been under persistent selling pressure since it reported better than expected 1st Quarter results, but failed to increase sales meaningfully. Current analysts' estimates according to Capital IQ are anticipating SodaStream earning $.31 a share on $140.84mm. While revenues are expected to rise by just over 6% year-over-year, earnings are expected to be down roughly 50% from last year's Q2 earnings of $.60 a share.
Capital Ladder Advisory Group expects earnings to be pressured by several factors as noted below. These factors may not be all encompassing, but rather a compilation from portions of data and analysis we've collected and performed:
Machine and syrup prices down a few markets inclusive of the Americas region.
Gross margins expected to be roughly 51% for FY14 with Q2 2013 gross margin performance of 54.3%.
Inventory overhang in United States and France will likely result in lower sell-in machine units, thus reducing revenue and earnings potential for company.
Better product mix potential for Q2 2014 will likely not offset fewer machine sales in the quarter on a YOY basis.
Operational improvements taken to improve North America sales performance alongside additional costs for preparing Mexico market launch of SodaStream products.
Shekel continued to strengthen YOY against the $USD, reaching a 52 week-high against the $USD during the quarter.
With several downgrades of SODA shares and lowered estimates by various reporting analysts occurring during the last 90 days, SODA shares are currently down roughly 38% since its last reporting day on May 14th, 2014. Many reporting analysts have denoted weaker than expected sell-through for machine sales during the quarter and inventory overhang in the U.S. market as reasons for increasingly poor sentiment regarding SodaStream results for the fiscal year. Longbow's July survey results for SodaStream were negative including flattish Wal-Mart (NYSE:WMT) results. The firm said pricing trends have been stable since May but are down year-over-year. The analyst maintains its Neutral rating and is concerned deep discount Mega packs and other promotions will pressure profitability. Additionally, analysts have heightened concerns regarding revenue guidance for FY14. Given the relatively flat 1st Quarter performance and management's guidance of mid-single digit revenue growth for the 2nd Quarter, analysts believe 15% revenue growth for 2014 is too difficult to achieve.
While it is clear that current revenue guidance will take a herculean effort to achieve, it is not apparent as to what the possibly lower annual revenue achievement may produce in earnings per share results. SodaStream is exercising stricter cost controls this year while experiencing proposed lower stock based compensation expenses, which may offset the impact of slower than expected revenue growth. Additionally, SodaStream has new procurement contracts that are detailed in our full-scale Q2 2014 Quarterly Preview.
Negative Sentiment High
It is no surprise that while the overall market averages continue to seek and achieve all-time highs, shares of SODA continue to seek and achieve 52-week lows. While the main issue investors currently have with owning shares remains the revenue picture, additional variables have served to act as catalysts and/or confirmation for selling shares of SODA. Some of these variables surround Yonah Lloyd, former Investor Relations and Corporate Development Communications Officer, who is leaving the company to join Mobileye in a lateral position.
Another issue that has plagued SODA shares and weighed on investor minds has been the recent sale of stock from the company's CEO, Daniel Birnbaum. Mr. Birnbaum sold roughly 68,000 shares of stock in early June, which represents roughly 10% of his total holdings in shares of SODA. (Stock compensation is foreign issuance, disclosure via Bloomberg terminal on June 17, 2014.)
Moreover, there are many misperceptions about SodaStream and the category that the company has been developing for the last decade internationally and the last 4 years in North America. The company fails at achieving retail investor support in large part due to fears surrounding the product category and headquarters of operation in Israel. What is not well known or articulated in headlines is SodaStream's operations, which span 22 plants in over 7 countries. Additionally, the company's main CO2, assembly and production facility is located right outside an Israeli military base. This main facility is also labored by a majority Palestinian employee base that would make the facility an unlikely target by Palestinian extremist groups. If extremist desired to harm Israelis, they would likely not find many working at SodaStream's main facility.
As noted earlier, FY14 revenue guidance will continue to dissuade investment in shares of SODA until this issue is addressed. Given SodaStream's recent declines in net income and the company's issues related to Q4 2013, investors are not willing to wait for the company to discuss guidance. Analysts are of the opinion that investors might be better off selling shares before the quarterly release and as such have altered their rating on the company.
Future Looks Bright
As the leading home carbonation company in the category, with every new user entering the system, the company grows in kind. Cost of acquisition (cost associated with acquiring new users) is noticeably higher than in previous years due to consumer spending sentiment and habits, but SODA's existing user base is supporting the business during this phase of growth. SodaStream currently boasts over 9mm users and will likely increase this user base throughout the year according to company officials and sales tracking agencies such as NPD Group, Capital Ladder Advisory Group and IRI Group.
Analysts have adjusted their expectations for revenues to come in at 11.5% for the year, which is much more achievable and proves to show the value of the SodaStream user base. While the strength of the user base continues to support growth in revenues, the company will need to show a contribution from the user base to the bottom line over the coming quarters. SodaStream's philosophy is to show that as the user base grows, distribution grows to a point. That point arrives when the company and its user base are sufficient to support the move from mass market/department store sales to grocery retail sales in respective markets. In many markets, SodaStream has long since reached this point and entered into the grocery retail sales channel. In North America, SodaStream is on the cusp of entering the grocery channel and in Canada that time has come.
In the United States, SodaStream is currently in grocery retail locations that support a home goods department such as Kroger (NYSE:KR) and several of the company's subsidiaries like Ralph's, Kings Sooper and Frye's. SodaStream products can also be found in other grocery retailers like Wegman's, Topps Food and Drug, Rice Epicurem, certain Giant Foods and H-E-B locations and a number of other small grocery retail chains around the country. With this in mind, the company will be testing additional grocery retail outlets during the fiscal year for which we detail, already revealed partnerships, in our full-scale Quarterly Preview for investors' consideration.
SodaStream has openly stated that deeper grocery retail expansion in North America won't occur until 2015, but investors remain befuddled as to why the company is delaying such expansion. First and foremost, SodaStream understands the product line has to support shelf space allocation in the grocery channel before gaining such product placement. With that said, Capital Ladder Advisory Group (CLAG) does not expect SodaStream to be able to profitably support the appropriate rate of sale with its current product line at mainstream regional grocers until 2016. We believe SodaStream's management is of like sentiment, which is why they are developing a more grocery-specific product line to expand into the mainstream grocery channel. More details on this product line, designated for the grocery retail sector on a global scale will be detailed in our full-scale report. We are of the view that this product line can net between $.13 and $.27 in earnings per share depending on launch date in 2015.
SodaStream's Scott Guthrie, Americas General Manager, has noted the future of the company will be aided by transitioning from a small appliance company into a more diversified beverage company. New product lines will aid in this transitioning process.
2nd Quarter Operations
During the 2nd Quarter, and as outlined in CLAG's IHH Show Recap report, SodaStream expanded its product line, shelf space and brand in various regions. Wal-Mart was designated for an expanded shelf set, which began in late May and ran through July. The shelf set included the launch of the Play soda maker system alongside promotional pricing.
In the United States, SodaStream lowered its syrup prices by 10% at most retailers including Wal-Mart, Target (NYSE:TGT) and Bed Bath & Beyond (NASDAQ:BBBY). In addition to syrup pricing discounts, SodaStream discounted their soda makers through rebate programs that will remain in place until further notice and in the amount of $20 per soda maker unit. During the quarter, SodaStream also maintained an additional end cap space at Target stores, which were in a disadvantageous inventory position due to their declines in sales and foot traffic since the company experienced a data breach in the 4th quarter of 2013.
Operationally, SodaStream is continuing to move forward with the construction phase of its newly developing manufacturing and production facility in Nagev, Israel. This new facility will enable SodaStream to reduce its dependency on 3rd party manufacturing and has the potential to grow margins into the future. The factory will operate in Israel Proper, but this does not necessarily mean the company will eliminate all operations in its "West Bank" facility. The new plant is expected to be completed by Q1 2015, but has already commenced certain operations. For each stage of construction that is completed, SodaStream will likely ramp up its production within the new facility.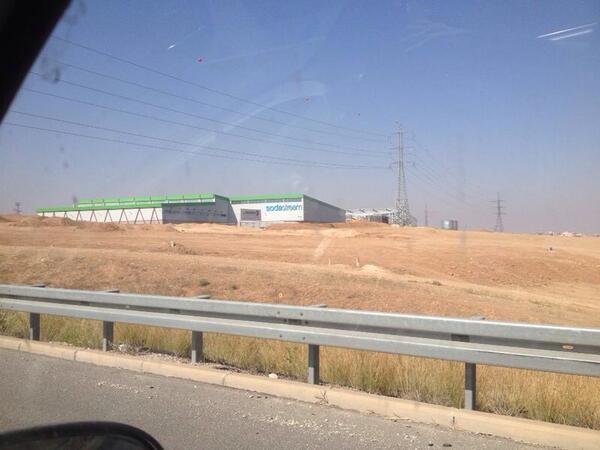 On the related topic of operations, SodaStream has noted in its most recent quarters that cost of materials have increased year-over-year. However, as SodaStream has begun to self-produce and assemble over the last several months, this has adversely affected its biggest partner and 3rd party manufacturer in the region of Israel, which is Rimoni Industries. SodaStream represents roughly 50% of Rimoni's total sales as the company's biggest customer. With SodaStream building greater self-reliance in manufacturing it has been using Rimoni Industries less and less which recently resulted in a dramatic revenue shortfall for Rimoni Industries.
SodaStream launched a variety of new flavor syrups in different markets during the quarter including V8, Stevia, Free and Eboost flavors in the United States. SodaStream Free has since gained distribution in a number of international markets including the U.K., Australia, Denmark, Brazil, Sweden, Norway and Canada to name a few. Additionally, SodaStream's Del-Monte cobranding relationship launched during the 2nd quarter in the United Kingdom and Italy.
In accordance with the greater advancement of the syrup product line, SodaStream secured additional CO2 distribution during the 2nd quarter through retailers in North America. In Germany, SodaStream has launched the entire line of C02 and CO2 exchange products through over 1,000 DM store locations. In Slovakia, SodaStream C02 spare and exchange has gained distribution through FaxCopy stores. In Chile, SodaStream expanded distribution for its complete line of products through Tottus and LaPolar retail stores along with Lider.com e-commerce in the region.
France Slowdown
During the Q1 2014 conference call, SodaStream recognized a slowdown in sales for the French region. France has witnessed extremely strong growth over the last two years in step with the growth seen in the U.S. market. Much of France's growth has come to the region through expanding distribution alongside an increasing user base, also much like the U.S. market. France has now reached close to 5% HPR with very little door expansion left in the region outside of the grocery retail channel. With France's SodaStream HPR of almost 5% vs. U.S. HPR just above 1.5%, the market operates profitably due to a high rate of growth for both syrups and CO2 products. Intermarche launched SodaStream products in the ready-to-drink aisle in the 2nd half of 2013, signaling a shift from department store sales to grocery channel sales was coming in greater quantities. Much like the U.S. market, France is now witnessing a more normalized rate of machine unit sales. Capital Ladder Advisory Group had the opportunity to speak with OPMax officials during the quarter to discuss their distributorship business with SodaStream products.
Conclusion
While Q2 sell-in should prove to provide the company with ample ability to meet and/or beat current analysts expectations, most of the investment community remains focused on the annual revenue picture. We do believe that SodaStream will outline a meaningful partnership related to the company's expansion plans for Mexico, which may not be recognized presently by the analyst community. The U.S. market will likely continue to show declines for both sell-in and sell-through machine unit sales, but syrup sales may show a different story and CO2 will likely continue to show record sales (France will possibly show a similar performance if discussed). The Asia-Pacific region has the potential to show YOY growth in revenues as the company has planned product placement for inventory held back since the 1st quarter and as SodaStream sells this inventory into the Japanese market. Asia-Pacific remains difficult to model due to the recent acquisition of the Japanese distributor rights and proposed deployment of ready-made inventory.
Our full scale Quarterly Preview can be accessed here. Within the full scale report are the highly relevant and important details surrounding the French market, which are material, and current headwinds in the market, details surrounding Rimoni Industries and SodaStream's amended agreements, the next SodaStream product cycle, SodaStream's competition and details surrounding launch dates for competing products, greater insight into specific retail expansion by region, Japan planned marketing efforts, CLAG's estimates for Q2 2014 and seven more pages of detailed information than presented in this publically published Quarterly Preview.
Disclosure: The author is long SODA. The author wrote this article themselves, and it expresses their own opinions. The author is not receiving compensation for it (other than from Seeking Alpha). The author has no business relationship with any company whose stock is mentioned in this article.