The following is a list of overbought stocks, as defined by the Relative Strength, or RSI(14), indicator. All of the stocks in our list have RSI(14) values above 70, which usually signal overbought conditions.

In addition, all of these stocks have seen institutional selling over the last three months.

The smart money seems to be using the recent spike as a selling opportunity. Does this present an opportunity for the shorts? Full analysis below.

RSI(14) values sourced from Finviz, institutional data sourced from Reuters.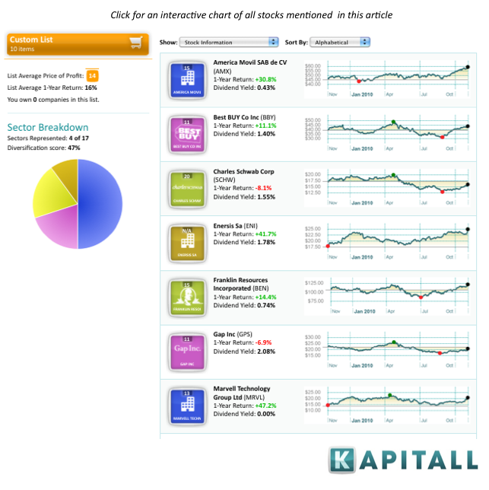 The list has been sorted by change in institutional ownership.

1. Enersis S.A. (ENI): Foreign Utilities Industry. Market cap of $15.78B. RSI(14) at 71.25. Institutional investors currently own 77,826,495 vs. 80,835,740 shares held three months ago (-3.72% change). Short float at 0.35%, which implies a short ratio of 2.14 days. The stock has gained 42.6% over the last year.

2. Research In Motion Limited (RIMM): Diversified Communication Services Industry. Market cap of $29.49B. RSI(14) at 74.24. Institutional investors currently own 347,819,037 vs. 358,704,761 shares held three months ago (-3.03% change). Short float at 6.93%, which implies a short ratio of 1.79 days. The stock has lost -5.69% over the last year.

3. Gap Inc. (NYSE:GPS): Apparel Stores Industry. Market cap of $11.92B. RSI(14) at 71.8. Institutional investors currently own 398,719,569 vs. 409,357,532 shares held three months ago (-2.6% change). Short float at 5.33%, which implies a short ratio of 2.4 days. The stock has lost -10.54% over the last year.

4. Best Buy Co. Inc. (NYSE:BBY): Electronics Stores Industry. Market cap of $17.01B. RSI(14) at 75.36. Institutional investors currently own 289,288,767 vs. 295,890,434 shares held three months ago (-2.23% change). Short float at 7.16%, which implies a short ratio of 3.94 days. The stock has gained 10.29% over the last year.

5. Charles Schwab Corp. (NYSE:SCHW): Investment Brokerage Industry. Market cap of $18.49B. RSI(14) at 74.23. Institutional investors currently own 829,822,387 vs. 845,813,604 shares held three months ago (-1.89% change). Short float at 4.34%, which implies a short ratio of 3.86 days. The stock has lost -8.88% over the last year.

6. Marvell Technology Group Ltd. (NASDAQ:MRVL): Semiconductor Industry. Market cap of $12.81B. RSI(14) at 80.05. Institutional investors currently own 478,021,791 vs. 486,935,236 shares held three months ago (-1.83% change). Short float at 2.77%, which implies a short ratio of 0.98 days. The stock has gained 41.25% over the last year.

7. Franklin Resources Inc. (NYSE:BEN): Asset Management Industry. Market cap of $26.78B. RSI(14) at 75.83. Institutional investors currently own 114,741,209 vs. 116,324,925 shares held three months ago (-1.36% change). Short float at 2.23%, which implies a short ratio of 3.1 days. The stock has gained 12.95% over the last year.

8. Nidec Corp. (NYSE:NJ): Industrial Electrical Equipment Industry. Market cap of $13.74B. RSI(14) at 72.49. Institutional investors currently own 8,634,778 vs. 8,742,617 shares held three months ago (-1.23% change). Short float at 0.02%, which implies a short ratio of 1.19 days. The stock has gained 17.15% over the last year.

9. Thermo Fisher Scientific, Inc. (NYSE:TMO): Medical Instruments & Supplies Industry. Market cap of $21.2B. RSI(14) at 74.48. Institutional investors currently own 372,371,522 vs. 377,001,668 shares held three months ago (-1.23% change). Short float at 0.9%, which implies a short ratio of 1.18 days. The stock has gained 17.58% over the last year.

10. America Movil S.A.B. de C.V. (NYSE:AMX): Wireless Communications Industry. Market cap of $93.61B. RSI(14) at 72.68. Institutional investors currently own 500,118,088 vs. 505,136,301 shares held three months ago (-0.99% change). Short float at 0.76%, which implies a short ratio of 2.52 days. The stock has gained 29.36% over the last year.

Disclosure: No positions