In the following article, I will provide three income stocks with both strong dividend yields and capital appreciation potential. For these stocks, I focus on EPS Growth, Cash Flow Growth, Earnings Growth, Revenue Growth, and the future outlook for the company. My recommendations would be:
Consolidated Communications Holdings (NASDAQ:CNSL)
Dividend Yield: 7.60%
Average Dividend Yield (5y): 8.60%
Profile: Consolidated Communications Holdings, Inc., together with its subsidiaries, provides a range of communications services to residential and business clients in Illinois, Texas, Pennsylvania, California, Kansas, and Missouri. It offers a range of telecommunications services, including local and long-distance, high-speed broadband Internet access, video, VOIP, custom calling features, private line, carrier grade access, directory publishing, and Competitive Local Exchange Carrier services, as well as network capacity services over its regional fiber optic networks.
Growth Rates:
The growth rates for this company look very strong. EPS increased 17.6% in the second quarter YTD. We have also seen a steady rise in EPS growth yoy, and this trend looks like it will continue in the future. Net operating cash flow increased 33.71% from the same quarter last year. Compare this growth to the industry average of 1.70%, and you will see how promising this stock looks.
Outlook:
With strong growth rates expected until 2017-2019, this stock should have no problem continuing to provide a stable and steady yield to its investors. With the impressive track record of EPS growth, strong rises in net income, and a strong cash flow, this stock should continue to higher price levels in the future, only adding to the income generated from the 7.6% dividend yield.
Technical Support: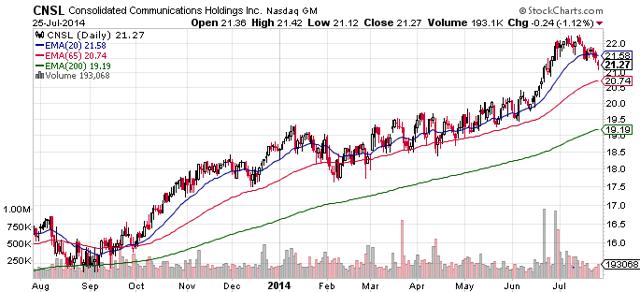 As you can see from the above graph, the stock price has been on a long-term upward trend. Looking at the 200 EMA, we see a strong upward slope. As well, looking at the positioning of all three EMA, we see that each EMA is trading above its longer-term counterpart, signaling strong bullish movement. Some investors have voiced concerns that this stock is overvalued, however, with the recent sell-off, I think it would be a good time to buy, as the trend is still very much up.
PetMed Express, Inc. (NASDAQ:PETS)
Dividend Yield: 4.9%
Average Dividend Yield (5y): 3.80%
Profile: PetMed Express, Inc. and its subsidiaries, doing business as 1-800-PetMeds, operates as a pet pharmacy in the United States. The company markets prescription and non-prescription pet medications, health products, and supplies for dogs and cats. Its non-prescription medications and supplies include flea and tick control products, bone and joint care products, vitamins, treats, nutritional supplements, hygiene products, and supplies.
Growth:

As you can see from the above, not only has PETS had very strong growth in the past, but they are also predicted to have strong growth rates in the future. Specifically, sales for this company grew approximately 2.5% due to over 597,00 new accounts being opened last year. As well, the average order value increased due to the company changing its product mix to higher-priced goods. These growth rates found in the chart above are pretty solid figures as the company continues to add new customers and experiences strong reorder volumes. Additionally, cash reserves continue to increase year-over-year, as they are up 1% from last year. However, one of the most attractive aspects about this company is the fact that it continues to operate with no debt, which provides a strong cash position.
Outlook:
I remain confident that this company will be able to expand its product portfolio, and continue to offer top line growth. The company has future plans to drive growth through a focus on advertising. This strategy should enable new orders and higher margin on its products. Specifically, PetMeds has shifted a great deal of its marketing efforts to the internet. As such, the company has seen a rising % of total orders being generated on its internet platform, and this trend looks to be ongoing. Lastly, PetMeds has taken measures to combat weak consumer spending by offering lower-priced items in its product mix. Overall, with these new efforts to drive business growth, PetMeds has a lot of growth potential as the company is able to reach lower-income customers through its use cheaper products and through its advertising efforts.
Technical Support: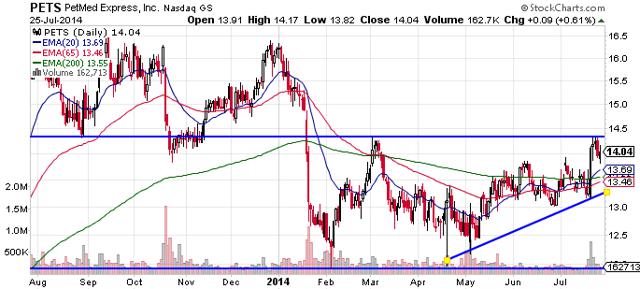 Looking at the above graph, we see that the shorter-term EMA (20) has broken above its longer-term moving average (200), with the intermediate EMA (65) looking poised to move above the 200-day EMA. This EMA breakout is a good sign that the price will be able to break out above its resistance level of around 14.3. As you can see, the price hit the 14.3 price level, but bounced back down. It appears that this stock has the ability to push past this resistance level as you can see that the support level has been gradually increasing, which is usually a tell that the price will be moving higher soon.
AT&T (NYSE:T)
Dividend Yield: 5.05%
Average Dividend Yield (5y): 5.50%
Profile: AT&T Inc. provides telecommunications services to consumers and businesses in the United States and internationally. Its Wireless segment offers various wireless voice, data, text, and other services, including local wireless communications services, long-distance services, and roaming services. This segment also sells various handsets, wirelessly enabled computers, and personal computer wireless data cards through its owned stores, agents, or third-party retail stores; and accessories comprising carrying cases, hands-free devices, batteries, battery chargers, and other items to consumers, as well as to agents and third-party distributors.
Growth Rates:

As T continues to strengthen its customer base through new pricing strategies and subscriber plans, it should have no problem hitting the growth targets shown above. AT&T continues to deliver strong financial performance despite the fact that competition is thick in the industry. As well, T continues to experience strong cash flows that should support healthy dividends in the years to come. As of late, T also continues their share repurchase agreement, which returned $159 million to shareholders in 2Q14. As this company continues to show strong growth rates and experiences a stable and appetizing dividend, this stock is a must-buy for any dividend investor.
Outlook:
Historically, AT&T has a strong history of increasing dividends -- 30 years in a row to be exact. Not only are future dividends attractive, but this company has historically grown by acquisitions, and as such, I think future expansions and synergies are on the horizon. As the DirectTV deal comes along, I think the bundled services that will now be offered to customers will pave the way for some strong synergies. By simply reinvesting dividends, taking advantage of the strong and stable yield, and sitting back as AT&T organically grows yoy, investors are poised to generate strong income and returns in the future.
Technical Support: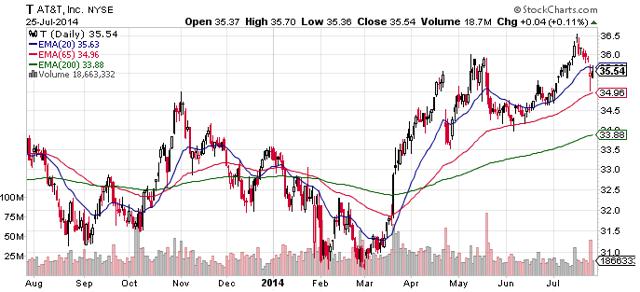 This stock has been a little choppy this past year. There hasn't been any clear long-term trend, as price has been moving in a volatile manner. However, recently, looking at the EMAs, we see that there is a strong bullish movement higher, with the EMA(20)>EMA(65)>EMA(200). Although this stock might experience a pullback in the months to come, it appears that it will continue to push higher as the company continues to grow and strengthen its financial position.
Disclosure: The author is long T. The author wrote this article themselves, and it expresses their own opinions. The author is not receiving compensation for it (other than from Seeking Alpha). The author has no business relationship with any company whose stock is mentioned in this article.