The following is a list of financial stocks that have outperformed over the last year. All of these stocks have a large number of open call option contracts relative to put option contracts, which suggests that options traders expect more upside from these names.

Will these rallies continue? Options traders seem to think so, what do you think? Full details below.

Options data sourced from Schaeffer's, short float and performance data sourced from Finviz.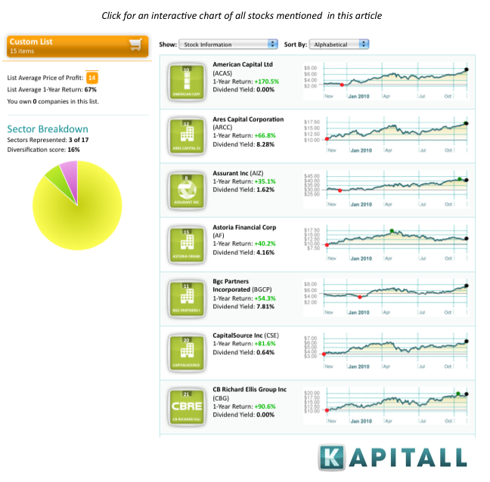 The list has been sorted by the Put/Call ratio.

1. CB Richard Ellis Group, Inc. (NYSE:CBG): Property Management Industry. Market cap of $6.08B. Call open interest at 22,639 contracts vs. put open interest at 2,577 contracts (Put/Call ratio at 0.11). Short float at 4.18%, which implies a short ratio of 3.72 days. The stock has gained 75.14% over the last year.

2. Astoria Financial Corporation (NYSE:AF): Savings & Loans Industry. Market cap of $1.22B. Call open interest at 1,643 contracts vs. put open interest at 279 contracts (Put/Call ratio at 0.17). Short float at 12.18%, which implies a short ratio of 9.63 days. The stock has gained 33.58% over the last year.

3. Assurant Inc. (NYSE:AIZ): Accident & Health Insurance Industry. Market cap of $4.21B. Call open interest at 5,034 contracts vs. put open interest at 1,062 contracts (Put/Call ratio at 0.21). Short float at 1.65%, which implies a short ratio of 1.62 days. The stock has gained 34.34% over the last year.

4. PennantPark Investment Corporation (NASDAQ:PNNT): Diversified Investments Industry. Market cap of $361.68M. Call open interest at 1,678 contracts vs. put open interest at 357 contracts (Put/Call ratio at 0.21). Short float at 5.18%, which implies a short ratio of 4.31 days. The stock has gained 60.28% over the last year.

5. First Cash Financial Services Inc. (NASDAQ:FCFS): Credit Services Industry. Market cap of $893.85M. Call open interest at 1,997 contracts vs. put open interest at 433 contracts (Put/Call ratio at 0.22). Short float at 5.25%, which implies a short ratio of 7.55 days. The stock has gained 68.38% over the last year.

6. Ares Capital Corporation (NASDAQ:ARCC): Diversified Investments Industry. Market cap of $3.25B. Call open interest at 19,064 contracts vs. put open interest at 4,312 contracts (Put/Call ratio at 0.23). Short float at 1.29%, which implies a short ratio of 2 days. The stock has gained 83.5% over the last year.

7. EZCORP Inc. (NASDAQ:EZPW): Credit Services Industry. Market cap of $1.09B. Call open interest at 7,465 contracts vs. put open interest at 1,784 contracts (Put/Call ratio at 0.24). Short float at 5.24%, which implies a short ratio of 8.65 days. The stock has gained 68.44% over the last year.

8. Susquehanna Bancshares, Inc. (NASDAQ:SUSQ): Regional Bank. Market cap of $1.02B. Call open interest at 446 contracts vs. put open interest at 115 contracts (Put/Call ratio at 0.26). Short float at 7.79%, which implies a short ratio of 10.64 days. The stock has gained 47.29% over the last year.

9. Safeguard Scientifics, Inc. (NYSE:SFE): Diversified Investments Industry. Market cap of $305.75M. Call open interest at 1,514 contracts vs. put open interest at 413 contracts (Put/Call ratio at 0.27). Short float at 4.06%, which implies a short ratio of 9.04 days. The stock has gained 56.02% over the last year.

10. BGC Partners, Inc. (NASDAQ:BGCP): Investment Brokerage Industry. Market cap of $651.32M. Call open interest at 637 contracts vs. put open interest at 190 contracts (Put/Call ratio at 0.30). Short float at 9.39%, which implies a short ratio of 12.56 days. The stock has gained 57.24% over the last year.

11. CapitalSource Inc. (NYSE:CSE): Credit Services Industry. Market cap of $2.02B. Call open interest at 15,511 contracts vs. put open interest at 4,631 contracts (Put/Call ratio at 0.30). Short float at 1.65%, which implies a short ratio of 2.48 days. The stock has gained 78.06% over the last year.

12. American Capital, Ltd. (NASDAQ:ACAS): Diversified Investments Industry. Market cap of $2.49B. Call open interest at 71,769 contracts vs. put open interest at 22,441 contracts (Put/Call ratio at 0.31). Short float at 5.67%, which implies a short ratio of 5.3 days. The stock has gained 169.37% over the last year.

13. PMI Group Inc. (PMI): Surety & Title Insurance Industry. Market cap of $518.94M. Call open interest at 85,848 contracts vs. put open interest at 26,884 contracts (Put/Call ratio at 0.31). Short float at 14.4%, which implies a short ratio of 3.14 days. The stock has gained 43.11% over the last year.

14. Compass Diversified Holdings (NYSE:CODI): Diversified Investments Industry. Market cap of $721.17M. Call open interest at 506 contracts vs. put open interest at 165 contracts (Put/Call ratio at 0.33). Short float at 4.11%, which implies a short ratio of 6.47 days. The stock has gained 89.65% over the last year.

15. First Financial Bancorp. (NASDAQ:FFBC): Regional Bank. Market cap of $1.01B. Call open interest at 346 contracts vs. put open interest at 113 contracts (Put/Call ratio at 0.33). Short float at 6.17%, which implies a short ratio of 12.38 days. The stock has gained 44.03% over the last year.

Disclosure: No positions