I have been long on BlackBerry (NASDAQ:BBRY) for a few months now and it has been a rocky ride. Initially, my investment was deep into red numbers. However, since the latest earnings report I have enjoyed a very healthy profit. So far, it's all on paper, as I have chosen to stick with my initial investment thesis. As of today, I remain convinced on the turnaround story. I even increased my position a few weeks ago as I took advantage of what I conceived as an ill advised dip on the news of the Apple-IBM agreement.
As an investor, I always try to keep my decisions as unbiased as possible but seldom succeed. A second best scenario for me is one in which I confront my biases and open up to the idea that I might be wrong. Lately, I have come to realize that BlackBerry's turnaround is one of those cases in which I could let my biases get the best of me. After all, any turnaround is a high precision challenge with a very real probability of failure.
So far, I like the new management as well as its road map. I even like the execution. However, BlackBerry still faces multiple risks. With much of its pipeline still ahead of the road - BES 12, new devices and the Internet of Things (IoT), among other initiatives - any investment on this stock still faces a high risk-reward ratio.
In this article, I explore what I think is the most important challenge ahead for BlackBerry. If John Chen and his crew succeed in the following months then I can rest assured that I've made the right call. However, if BlackBerry fails to timely address this issue, I'll be forced to rethink my investment thesis, regardless of my biases.
Declining SAF and BES Migration
If you have followed my most recent articles, you may have noticed that BlackBerry Enterprise Server or BES is one of my most recurring topics on this company. The reason for my insistence is that I'm convinced that BlackBerry's fortunes are tied to a successful migration to BES 10 and BES 12, which in turn depends on the strength of the company's relationships with enterprise customers.
In my opinion, the biggest challenge ahead for BlackBerry is to offset the steep decline of its "service access fee," or SAF, with additional value added products for corporate clients through the new versions of BES.
BlackBerry generates a significant portion of its service revenue from billing SAF to users of BB7 (and earlier) devices. The company charges the carriers, who in turn bill the end users. A substantial portion of the SAF revenue comes from its base of enterprise customers. These clients require a much higher level of security than the average consumer, which turns into significantly higher SAF per device, as stated in the latest annual information form.
The problem is that, as BlackBerry's customers migrate from BB7 to BB10, SAF will continue to decline. To offset this drop, BlackBerry depends on selling value-added products to its enterprise customers, such as the recently launched eBBM suite and BES 10.
The challenge cannot be understated. As of fiscal 3Q14, the Service segment is the largest source of revenue for this company.
I wouldn't bet the ranch on the Hardware segment picking up the slack. Even if in a previous article I offered what I thought was a conservative estimate of 3.7 million devices for the second half of fiscal 2015, this segment would need to show much stronger sales to offset the SAF decline.
Likewise, as much as I like BlackBerry's position on the IoT, QNX's revenue will account only for a small part of the pie for the next few years and won't be a viable lifeguard should the Service segment continue to decline steeply.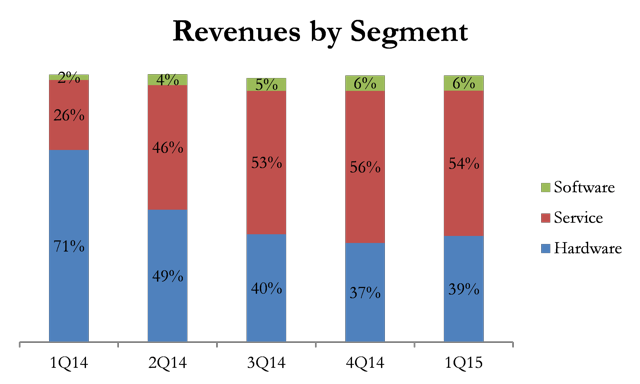 Source: BlackBerry's financials available at SEDAR.
I believe the current portfolio of products that are expected to offset SAF decline are the eBBM suite and BES 10/12.
The eBBM suite offers enterprises a highly encrypted messaging app. Since its official launch was a little more than a month ago, there is no indication of how successful this product has been so far. Nevertheless, on the latest earnings report, John Chen gave his guidance regarding BBM-related revenue. The company expects $100 million from BBM, which includes the eBBM suite and mobile payments.
As of the latest earnings report, BlackBerry had around 35,000 BES 10 servers installed, both in commercial and trial modes. However, as stated in its most recent MD&A, the company has not yet recognized material revenue from BES 10. Since BES 10 cannot manage BB7 devices, most of these customers should be using this product alongside earlier versions.
Exactly how big is the challenge? In fiscal 1Q15, the company reported $519 million in revenue from the "Service" segment. Going forward, analysts estimate 3.9 billion and 3.85 billion in revenues for fiscal 2015 and 2016, respectively.
Assume for the time being that SAF revenues will be halved in fiscal 2016. If we further assume, for the sake of the argument, that the Hardware and Software segment will retain a 46% share of total revenue in fiscal 2016, BBM and BES would have to come up with a little over 1 billion. If BBM's revenue is flat at 100 million, BES should account for 900 million in revenues.
How difficult should it be to come up with 900 million through an enterprise mobility management product? Let's take Mobile Iron (NASDAQ:MOBL) as a reference point. On its prospectus, this company disclosed 6,000 customers and $105 million of revenue for 2013, or $17,500 per customer a year. If BlackBerry's BES were to charge the same on a per customer basis, it would come up with 1.4 billion given its 80,000 customers as of fiscal 1Q15.
Risks and Limitations
BlackBerry's chances of offsetting the decline on SAF revenue through BES 10 and BES 12 hinges on at least two factors:
1. A significant portion of BlackBerry's existing 80,000 customers should agree to migrate to the upgraded versions of BES. Returning to my previous exercise, BlackBerry should see a migration rate of 64% or around 52,000 customers to come up with $900 million. Given that the company reported 35,000 BES 10 clients and 2,600 upgrades through the EZ Pass Program in its latest earnings release, this leaves us rooting for 14,400 additional customers by the end of fiscal 2015.
2. BlackBerry's BES pricing comes at a range of between $19.00 and $99.00 per device, depending mostly on the customer's need for additional security. Assuming 300 devices per customer, this would imply $58 per device, which is a little under the median of the pricing range. If for some reason BES sees its licenses priced below this number, the $900 million goal would seem difficult to achieve.
Conclusion
The days of high-margin "service access fee" revenue for BlackBerry is coming to an end with the transition from BB7 to BB10. BlackBerry faces the challenge of replacing half its revenue in the next couple of years if it wants to retain its current size.
As attractive as the IoT and the Passport device may sound, a long bet on this company must rest on the expectation that the migration to value-added services through its upgraded BES platform will be a success.
Disclosure: The author is long BBRY. The author wrote this article themselves, and it expresses their own opinions. The author is not receiving compensation for it (other than from Seeking Alpha). The author has no business relationship with any company whose stock is mentioned in this article.