This is the second part of my stock analysis of MDT as a long investment idea, see part one here.
2.3 Financial Health
Liquidity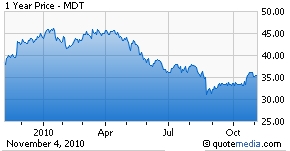 MDT's working capital management seems good, with a current ratio of 1.8x as of July 2010. This ratio is lower than in recent years, having come down from 2.4x a couple of years ago. With most of its current assets being very liquid (cash and receivalbels) I am not worried with MDT's current ratio and while I wouldn't want it to go too low I think it could come down to 1.5x and still be fine.
Turning to MDT's cash conversion cycle, it seems that the company needs to carry a large working capital as its days inventory are quite high at 140 days; receivable are also on the high end at 75 days. Against these, the company's days payables are only 38 days. While the company may need to keep high inventories due to availability issues for its critical products such as pacemakers, I wonder why receivables would need to be so high. This is not necessarily a problem for a new investor given that the cash conversion cycle has been stable over the last 10 years. If anything one can hope that working capital could be improved in turn improving free cash flow.
Debt
MDT carries some debt on its books, with about $3.5B in short term debt and $7.1B in long term debt for a total equal to about 2.8x free cash flow. While I view this level as acceptable, especially taking into account MDT's relative stability in FCF, I would not want to see that level increase above 3x.

Turning to pension, Medtronic's obligations are overall reasonably well funded with an under-funding of "only" $410M in total.

$ millions, except per share data

2006

2007

2008

2009

2010

TTM

Total Debt / Equity

0.8

0.6

0.6

0.6

0.7

0.7

ST % of Total Debt

31%

8%

17%

7%

27%

33%

Total Debt / FCF

8.2

2.7

2.4

2.2

2.7

2.8

Op. Income / Interest

16.3

14.3

12.0

16.1

15.5
Medtronic's Altman z-score of 3.6 reflects its good credit position. In addition Medtronic has a good Piotroski score of 7, missing a 'perfect score' of 9 due to a decrease current ratio (which is fine in my view) and a decrease in asset turnover from 0.61x in FY 2009 vs. 0.55x on trailing twelve months basis.
In conclusion, Medtronic is in a acceptable liquidity and credit positions. However since leverage is somewhat at the higher end of what I am usually comfortable with, I will adjust the equity value to reflect some of the difference between "excess cash", capitalized interest and total Debt. With the total difference between those figures being about $2Bn, I will decrease MDT's equity value by ~$1Bn in addition to the $400M of pension underfunding.
With this adjustment and my overall comfort in MDT's liquidity and credit strength, I will keep the margin of safety requirement at 35% and will use a cost of capital of 10% for our DCF valuation below.
2.4 Historic use of cash
Dividends, Buybacks and returns on retained earnings
Medtronic pays a good dividend, yielding about 2.5% for investors, on a payout ratio of 25%-30% in recent years. In addition, MDT has been buying back shares at a rate of about 2.2% p.a. rate over the last 5 years. Overall, I have very comfortable with the current policy on dividend and buybacks
Metronics use of retained earnings has been satisfactory as the company has been able to gain good returns on its retained earnings. On a 5-year basis, GD retained $8.29 per share and increased its EPS by $1.31 over the same period, a 15.8% return. On a 10-year basis the return has also been good, at 15.7%
$ millions, except per share data

Growth Rates

2006

2007

2008

2009

2010

TTM

3-yr

5-yr

10-yr

Dividends

465

504

565

843

907

924

27%

20%

16%

Dividends per Share

0.38

0.43

0.49

0.75

0.82

0.85

29%

23%

17%

Diluted EPS

2.09

2.41

1.95

1.93

2.79

3.20

20%

4%

13%

Payout Ratio

18%

18%

25%

39%

29%

27%

32%

28%

24%

Retained earnings per Share

1.71

1.98

1.46

1.18

1.97

2.35

16%

-2%

12%

Diluted Shares (NYSE:M)

1,217

1,162

1,142

1,124

1,109

1,090

-1.5%

-2.2%

-1.2%

Note: Growth rates calculated using log-normal regression and exclude LTM
3 Valuation 3.1 Expected intrinsic returns
In addition to a potential valuation benefit driven by the margin of safety (cf. below) returns for an investor will be driven by: dividends, growth and share buybacks / improvement in cash position.
Medtronic currently pays a 2.5% dividend yield using 27% of its TTM earnings (or $0.85 per diluted share). In addition, MDT will use about 30% of its earnings at 20% ROE to fund its estimated growth rate of 6%, leaving $1.39 of earnings for share buybacks/increase cash. At the current price of $33.3, MDT could buy back up to 4.2% of its shares back.
Adding these returns together leads us to a total intrinsic return of 12.7% which is quite attractive.
3.2 DCF
Follow the link to find the financial model that accompanies this analysis.
To evaluate the value of the company I am relying on a discounting cash flow calculation with the following assumptions:
- 2011 Free Cash Flow of $3,784M (equal to TTM FCF, cf. Profitability and Growth section above)
- Growth for next 5 years: 6% (cf. above), declining to 4.5% years 6-10 and then 3.0% years 11-20
- Cost of capital: 10%
- Terminal value in year 20 with no growth
This leads to a DCF value of $57.5Bn for the company, before adjusting for net debt and pensions. Using a 35% margin of safety on this valuation leads to a per share entry price of $34.3, to which I am subtracting MDT's pension deficit and $1Bn to compensate for a somewhat high debt position… leading to a price threshold for investment of $33.0.
I believe this evaluation of MDT value to be conservative, using a slightly "lower than trend" starting FCF as well as a lower than historical and analysts consensus growth rate and a 35% margin of safety, leaving potentially more than 50% upside if MDT's valuation was to correct to and come in line with my valuation above..
MDT is currently trading at $33, in line with the above entry point. Hence a value investor could find in MDT a good opportunity especially if Mr. Market was to give an even better deal due to volatility over the coming weeks/months.
Over the last 12 months, the company has traded $31 and $47.
4 Conclusion
Medtronic is a strong company with good business results, good historical and potential returns. The current trading price is in line above the calculated "entry point" valuation after applying a 35% margin of safety and deducting unfunded pension liabilities as well as a "debt buffer" making me more comfortable with MDT's leverage. It seems Mr. Market is providing the patient value investor with a good deal on Medtronic.
Disclosure: Long MDT