Myrexis (NASDAQ:MYRX) is relatively unknown in the investment community. They were spun-off from Myriad Genetics back in June 2009, under the name Myriad Pharmaceuticals (they have since changed their name to Myrexis). They are currently developing a promising HIV compound (MPC-4326) that is in a phase 2b trial, a product candidate for glioblastoma which is in a phase 2 trial (Azixa), and have multiple other compounds in earlier stages of development.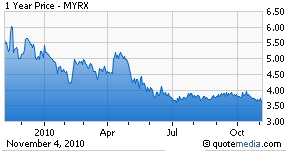 This November, Myrexis is hosting a conference call (Nov. 9) to discuss Phase 2b plans for Azixa in glioblastoma multiforme (GBM) & 1Q earnings, and (Nov. 19) are presenting updated phase 2 results for Azixa at the Society for Neuro-Oncology Meeting. Back in June 2010, Myrexis presented updated (as of that time) results from their phase 2 trial of Azixa at the annual ASCO meeting (those can be seen HERE).
The updated phase 2 results could bring some much needed attention to the stock, which has taken a beating in the last several months. Some investors are wary when it comes to investing in clinical trial catalyst stocks because of the high possibility of dilution shortly after data release (i.e., EXAS, ARIA, etc.).
However, Myrexis is not your typical clinical trial catalyst biotech stock – as of June 30, 2010, they were sitting on a balance of cash, cash equivalents, and marketable investment securities of ~$147.5M – something that significantly lowers the chance of a capital raise.
Another attracting aspect of Myrexis is the stock price — $3.58. This price gives Myrexis a current market cap of $90.36M – significantly lower than the ~$147.5M cash that Myrexis had on hand.
Myrexis presents a unique investment opportunity that you can't find with most biotechs. We are looking forward to both the conference call on Nov. 9 to discuss earnings and their Phase 2b plans for Azixa (and to find out their most current cash position), and the updated Phase 2 data for Azixa on Nov. 19.
Disclosure: Long MYRX (but position may change at any time).