The following is a list of highly shorted stocks that have seen institutional inflows over the last 3 months. All of the stocks in our list have short floats higher than 15%, with some stocks having short ratios as high as 19 days.

The smart money seems to think short seller pessimism is misplaced. What do you think? Full analysis below.

Short float data sourced from Finviz, institutional data sourced from Reuters.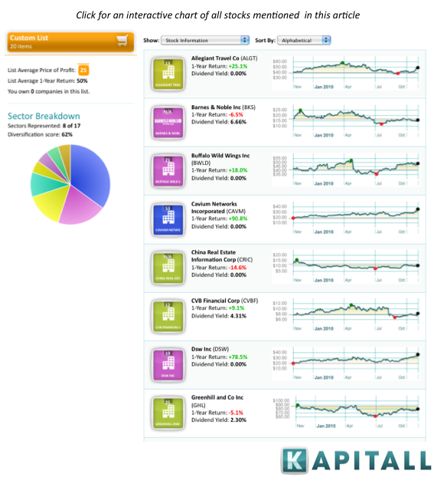 The list has been sorted by change in institutional ownership.

1. SuccessFactors, Inc. (NYSE:SFSF): Business Software & Services Industry. Market cap of $2.06B. Institutional investors currently own 88,471,357 vs. 77,492,583 shares held three months ago (+14.17% change). Short float at 16.71%, which implies a short ratio of 11.2 days. The stock has gained 87.28% over the last year.

2. KIT digital, Inc. (OTC:KITD): Entertainment Industry. Market cap of $325.45M. Institutional investors currently own 15,144,445 vs. 13,733,238 shares held three months ago (+10.28% change). Short float at 28.82%, which implies a short ratio of 19.34 days. The stock has gained 48.88% over the last year.

3. NetSuite Inc. (NYSE:N): Business Software & Services Industry. Market cap of $1.35B. Institutional investors currently own 19,731,263 vs. 18,070,183 shares held three months ago (+9.19% change). Short float at 19.95%, which implies a short ratio of 10.51 days. The stock has gained 51.68% over the last year.

4. SIGA Technologies, Inc. (NASDAQ:SIGA): Drug Manufacturer. Market cap of $589.59M. Institutional investors currently own 14,084,262 vs. 12,973,442 shares held three months ago (+8.56% change). Short float at 17.72%, which implies a short ratio of 10.04 days. The stock has gained 100.78% over the last year.

5. Rubicon Technology, Inc. (NASDAQ:RBCN): Semiconductor Industry. Market cap of $559.51M. Institutional investors currently own 29,995,355 vs. 27,984,785 shares held three months ago (+7.18% change). Short float at 78.64%, which implies a short ratio of 11.9 days. The stock has gained 69.02% over the last year.

6. Texas Industries Inc. (NYSE:TXI): Cement Industry. Market cap of $1.05B. Institutional investors currently own 23,160,054 vs. 21,681,811 shares held three months ago (+6.82% change). Short float at 22.94%, which implies a short ratio of 18.22 days. The stock has gained 13.15% over the last year.

7. DSW Inc. (NYSE:DSW): Apparel Stores Industry. Market cap of $1.53B. Institutional investors currently own 19,976,603 vs. 18,980,308 shares held three months ago (+5.25% change). Short float at 33.78%, which implies a short ratio of 12.48 days. The stock has gained 71.13% over the last year.

8. Harbin Electric, Inc. (NASDAQ:HRBN): Industrial Electrical Equipment Industry. Market cap of $673.91M. Institutional investors currently own 17,227,021 vs. 16,395,112 shares held three months ago (+5.07% change). Short float at 21.54%, which implies a short ratio of 8.75 days. The stock has gained 21.79% over the last year.

9. Silicon Laboratories, Inc. (NASDAQ:SLAB): Semiconductor Industry. Market cap of $1.79B. Institutional investors currently own 46,783,690 vs. 44,533,377 shares held three months ago (+5.05% change). Short float at 19%, which implies a short ratio of 8.89 days. The stock has lost -1.85% over the last year.

10. China Real Estate Information Corporation (NASDAQ:CRIC): Internet Information Providers Industry. Market cap of $1.43B. Institutional investors currently own 18,048,498 vs. 17,238,902 shares held three months ago (+4.7% change). Short float at 21.75%, which implies a short ratio of 13.04 days. The stock has lost -15.83% over the last year.

11. Buffalo Wild Wings Inc. (NASDAQ:BWLD): Restaurants Industry. Market cap of $888.4M. Institutional investors currently own 16,626,217 vs. 15,906,730 shares held three months ago (+4.52% change). Short float at 17.67%, which implies a short ratio of 8.84 days. The stock has gained 18.37% over the last year.

12. CVB Financial Corp. (NASDAQ:CVBF): Regional Bank. Market cap of $834.65M. Institutional investors currently own 67,475,481 vs. 64,889,102 shares held three months ago (+3.99% change). Short float at 25.1%, which implies a short ratio of 15.59 days. The stock has gained 3.82% over the last year.

13. Under Armour, Inc. (NYSE:UA): Apparel Clothing Industry. Market cap of $2.36B. Institutional investors currently own 30,153,813 vs. 29,022,749 shares held three months ago (+3.9% change). Short float at 18.05%, which implies a short ratio of 8.82 days. The stock has gained 69.82% over the last year.

14. Cavium Networks, Inc. (NASDAQ:CAVM): Semiconductor Industry. Market cap of $1.55B. Institutional investors currently own 48,723,552 vs. 47,095,839 shares held three months ago (+3.46% change). Short float at 30.48%, which implies a short ratio of 9.31 days. The stock has gained 86.56% over the last year.

15. Barnes & Noble, Inc. (NYSE:BKS): Specialty Retail, Other Industry. Market cap of $900.3M. Institutional investors currently own 30,233,704 vs. 29,262,001 shares held three months ago (+3.32% change). Short float at 34.66%, which implies a short ratio of 12.89 days. The stock has lost -5.48% over the last year.

16. Allegiant Travel Company (NASDAQ:ALGT): Regional Airlines Industry. Market cap of $960.08M. Institutional investors currently own 20,246,744 vs. 19,604,014 shares held three months ago (+3.28% change). Short float at 28.53%, which implies a short ratio of 17.48 days. The stock has gained 25.38% over the last year.

17. Greenhill & Co., Inc. (NYSE:GHL): Investment Brokerage Industry. Market cap of $2.32B. Institutional investors currently own 28,222,256 vs. 27,345,732 shares held three months ago (+3.21% change). Short float at 17.07%, which implies a short ratio of 17.32 days. The stock has lost -7.06% over the last year.

18. Group 1 Automotive Inc. (NYSE:GPI): Auto Dealerships Industry. Market cap of $862.29M. Institutional investors currently own 28,187,038 vs. 27,340,069 shares held three months ago (+3.1% change). Short float at 22.5%, which implies a short ratio of 12.17 days. The stock has gained 37.22% over the last year.

19. OpenTable, Inc. (NASDAQ:OPEN): Business Services Industry. Market cap of $1.55B. Institutional investors currently own 24,056,930 vs. 23,341,276 shares held three months ago (+3.07% change). Short float at 22.13%, which implies a short ratio of 8.06 days. The stock has gained 164.57% over the last year.

20. Lindsay Corporation (NYSE:LNN): Farm & Construction Machinery Industry. Market cap of $737.91M. Institutional investors currently own 11,029,603 vs. 10,709,430 shares held three months ago (+2.99% change). Short float at 18.09%, which implies a short ratio of 10.83 days. The stock has gained 72.55% over the last year.

Disclosure: No positions