For anybody interested in beverage companies, the close of the market Thursday was when the action really got started. With the Boston Beer Company (SAM), Hansen Natural (HANS), and Starbucks (SBUX) reporting earnings after the close, it was certainly a highly anticipated event that couldn't come soon enough. The focus of this article will be the Boston Beer Company, which had a good quarter to start the back half of the year (see earnings report here). Revenues for Q3 2010 were nearly $140 million, an increase of 14.4% compared to Q3 2009. Net income also edged up nicely, jumping to $15.4 million from $10.37 million in 2009; amazingly, SAM has reported 60% growth in net income through the first nine months of the year. On an EPS comparison, the growth will look even better; year to date, the company has repurchased 869,800 shares of Class A common stock for $51.9 million ($21.7 million in Q3), equal to an average per share cost of $59.67.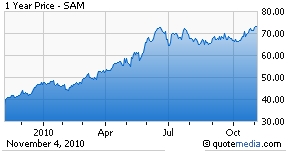 Depletions slowed during the quarter (7% growth, bringing YTD depletions up 11% YOY) due to tougher comps in Q3. As noted on the call by Boston Beer Company founder Jim Koch, the slowdown in depletions (granted, still growth) looks to continue for the remainder of the year, as management expects full year 2010 depletion growth to be in the 9-11% range. Looking ahead, CFO Bill Urich set expectations for mid to high single digit depletion growth in 2011. Effective operations and the seasonality of the quarter (breweries = high fixed cost) led to lower brewing and packaging costs at the recent renovated Pennsylvania brewery, driving gross margins up 2% to 56%. 2010 CapEx estimates of $12-18M will increase in 2011 to $15-25M, mostly due to increased investments in driving efficiency at company owned breweries, as well as purchasing more kegs. Mr. Urich noted that 2011 capacity requirements should be able to be met by the combination of company owned breweries and third party contracting; with that being said, if the company continues to see strong growth, be on the lookout for build outs (increased CapEx) in the coming years to pay for expansions, or possibly a brewery purchase to add to the three already owned by SAM (don't see a shift back to third party happening).
One special note is that the General & Administrative Expense increased in the quarter by $1.4 million compared to last year. On the call, management stated that the increase was due to increased salary and benefit costs, as well as legal expenses. While there is no verification for this, management has written in previous reports that they have been "considering pursuing a claim against the manufacturer of the glass bottles that were subject to a product recall in 2008". As noted in the 10-K for 2008, "As a result of the recall, the Company recorded charges that negatively impacted its 2008 operating results before tax by $22.7 million and its 2008 net income by $12.0 million in 2008." Any successful litigation in relation to the recall could materially affect the Boston Beer Company. With that being said, I want to add the disclaimer that the company is still dealing with issues at the High Falls brewery in New York, and the increased costs could be directly related to this situation as well.
The company also announced the beginning of the Freshest Beer Program, which they began testing with two wholesalers at the start of Q3 2010, the goal of which is to, in the words of founder Jim Koch, "improve the quality of the Sam Adams that a drinker gets". The results thus far have been impressive, cutting normal inventory holding periods of four weeks (on average) to two weeks. As noted in the 10-Q, "the Company is exploring what is required to support 50% of the Company's volume by the end of 2011 with this Freshest Beer Program." This is an initiative that allows the company to use their smaller size as an opportunity against big brewers by leveraging their brand and sticking to what they have built on in the past to differentiate from competitors. A word of caution: the impact of this program is not accounted for in current estimates of FY2011 CapEx and gross margins.
Looking into the competitive environment, managements view is pretty much in line with that of anybody who has been buying beer for the past year and has seen the way the shelf has evolved. As noted in the quarterly report, the company expects the current competitive pricing environment to continue to be challenging in 2011. CEO Martin Roper alluded to a couple things from competitors that could continue to increase the fight for craft share. He mentioned AB InBev's (BUD) intent to relaunch Blue Moon Seasonal and a stated commitment to push in the high end, as well as Molson Coors (TAP) announcement of dedicated division for craft beer. He summed up the increased competition by saying that it is a "much more crowded shelf, [and] everyone's paying more attention to it. It is the growth category within beer right now, and obviously that is exciting to us."
Towards the end of the call, Mr. Roper said, "We believe that what we are seeing is a continuation of a long term trend for drinkers to want to trade up and pay more for a beer, a good quality beer." Surprisingly (to me), he says this trend is continuing even through the recession; Jim Koch noted in an interview with Bloomberg today that "the recession really hasn't affected us." In all honestly, I am almost dumfounded by their results, and will note this as a lesson for future consideration: whether good times or bad, people looking for taste are willing to pay for good beer.


Disclosure: No position in any of the companies mentioned