We all know the bear case when it comes to Herbalife (NYSE:HLF).
It always had to do with the fact that one day, the company may be shut down by regulators due to its business practices. But those lines were gray and bulls had googly-eyes and beer goggles on when looking at Herbalife due to the company's extremely robust financials. We were looking at a major growth story trading at an extremely small multiple and a lot of bulls that I knew just couldn't look past the explosive growth.
On the bearish side, the financials were never much of a friend of ours. And those that have read me over the last couple of days know that my disgust with some bulls I met was growing, simply due to the fact that they would acknowledge that the company was deceptive, but they were enticed by the numbers story.
In other words, ignore the fact that the company is a "scumbag", as John Hempton put it, and focus solely on the major EPS and revenue growth. Sure, it's coming at the cost of people who make less than $5/day, but when it's lining our pockets, who cares?
There were very few of us expecting a miss today - myself included. I hedged this morning because the fundamentals collapsing was always a scenario I saw a couple years out. Instead, it's looking like the call may be coming from the inside now.
The company's press release stated:
Herbalife Ltd. today reported second-quarter net sales of $1.3 billion, reflecting an increase of 7 percent compared to the same time period in 2013 on volume point growth of 5 percent. Adjusted1 net income for the quarter of $141.4 million, or $1.55 per diluted share, compares to 2013 second-quarter adjusted net income of $150.7 million, or $1.41 per diluted share. On a reported basis, second-quarter 2014 net income of $119.5 million, or $1.31 per diluted share compares to $143.2 million, or $1.34 per diluted share for the same period in 2013.

"Herbalife has once again delivered strong results in sales and profitability while demonstrating our continued ability to enhance our earnings per share," said Michael Johnson, Herbalife's chairman and CEO. "Our performance is a testament to the enthusiasm our millions of consumers and members have for our products. Additionally, our independent members are successfully executing numerous growth strategies to further develop customer loyalty and encourage individuals across our network to lead healthier, nutritious lives. Our members are proud to be a part of a solution to global public health issues and we value the integral role they play in Herbalife's mission."

For the quarter ended June 30, 2014 the company generated cash flow from operations of $156.9 million; invested $39.6 million in capital expenditures; and repurchased $581.3 million in common shares outstanding under our share repurchase program.
And the company also released a breakdown of where its volume points growth/recession were. As you can see, China was the primary driver - Europe, the Middle East and Africa coming in a close second.
Herbalife is running out of countries.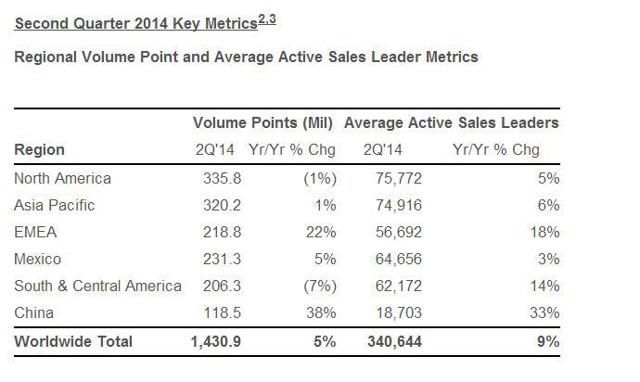 Looking at the company's volume points, you immediately notice two things:
1. No other listed company has any idea what "volume points" are.
2. Volume points for South & Central America and North America have begun to fall off year over year.
Yes, there was monster growth in China - but China was the country that today published a critical report of fellow MLM company Usana (NYSE:USNA), it was reported by Herb Greenberg. Everything is good and well in China, but what happens if they suddenly decide to pay attention to how the company is booking their revenue there?
These numbers could have been potentially affected by the company getting rid of its lead generation business, which is just now only starting to affect the numbers. What happens if nutrition clubs come next?
So let's take a look at these interesting facts:
At the current share price, Herbalife only has enough capital to buy back about 4 million shares. Then the bid would officially be the free market indication of what the price of a share of Herbalife is. And, it's going to get very interesting after this earnings report.
Lest we also forget the good point made by Herb Greenberg right after earnings posted, Herb suggested that because of buybacks, this miss was actually on a reduced number of shares. That's interesting.
With the numbers story no longer in play, what reason do fund managers have for holding this stock in their portfolio? What kind of an analyst looks at the regulatory risk here and the fact that the company isn't growing as fast as consensus estimates want and deduces that the risk/reward is worth $60/share?
And from the regulators point of view - the argument of shareholders and institutions making money off of this name just took a hard left. Herbalife never had to be retail's baby, but it was the market and institutions' baby. What's going to happen when the growth story starts to crumble?
And now we have a company that had just saddled itself up with debt in the form of convertibles to buy back stock - that can't make earnings.
Analysts, who have mostly been useless and lame thus far on Herbalife, might actually start to rework their thinking about this company if the numbers miss can jar something loose.
Also, at the end of the day, let's remember that this number was in Herbalife GAAP, which doesn't account for ongoing costs having to do with the investigation that's currently taking place. A little weird in and of itself.
It certainly doesn't look like there's much reason to hold Herbalife, even at the $59 it's trading at after hours.
The balance sheet now shows $2.4 billion in assets and $2.8 billion in liabilities. That puts the company with roughly -$400 million in shareholders' equity. Yuck.
And, the company appears to still be using the SICAD I exchange rate for its Venezuelan assets while the rest of the world has moved onto SICAD II. The company has "$152 million" in cash there that is more like $32 million when marked at the SICAD II rate. (thanks to @Canalungo for these figures).
For certain, Mr. Icahn now has his "excuse" for selling if he doesn't want to admit he was wrong on the business model. The Form 4 could come soon and Icahn's public statement could be that "although it's a legal company, the growth has slowed."
Herbalife's call is at 11AM EST tomorrow morning - should be interesting to hear the tone that Mr. Johnson and team take with investors.
Or, should we expect more material news in the morning?
Disclosure: The author is short HLF. The author wrote this article themselves, and it expresses their own opinions. The author is not receiving compensation for it (other than from Seeking Alpha). The author has no business relationship with any company whose stock is mentioned in this article.