Quick Background and then some performance numbers
With 14 industries and many indicators, it makes it a real challenge to get a good feel for how the entire industrial sector performs and operates. For those who are more passive investors, putting money into the industrial sector would probably lead to investing in the Industrial Select Sector SPDR ETF (NYSEARCA:XLI).
Roughly speaking, industrials do very well in the early stage of the business cycle, between the through and the peak. Some may call it the expansionary phase or early/mid part of the business cycle. I believe we are finally nearing the end of that cycle. Housing starts and leading economic indicators unexpectedly dropped earlier this month. The Economic cycle Research Institute has commented on sharp growth rates in housing prices, having peaked YOY growth last spring. Two of my favorite indicators, discussed later, may also be showing signs of growth slowing down.
The industrial sector SPDR has done fairly "average" over the last 3 years compared to the other 8 sector SPDRs. The one-year return for the Industrial Select SPDR ETF is currently 21.6%, falling into the number 5 spot. The 3-year return is also ranked 5th at an annually compounded rate of 24.8%. These numbers are still incredibly high from the average 10-yr return of 7.9%. Below is just a basic visual to help you see the returns of the sectors. The "new mean" is simply the average that excludes the nine highest high and lowest low.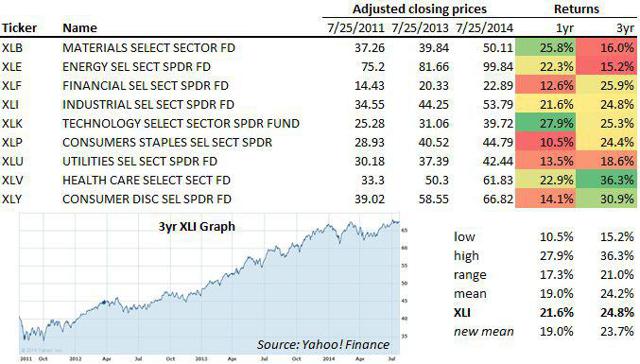 Why has it been doing so well?
Aside from the fact that the industrial companies are booming due to historically low interest rates, there are a couple of indicators that I use to help analyze the sector. The first would be the ISM Purchasing Managers Index, or PMI, which is a monthly survey consisting of 5 areas of interest: new orders, inventory levels, production, supplier delivers and employment conditions. Anything over a level of 50 suggests a growing economy. Last June we saw a reported number of 55.3%, down from 55.4% the prior month. This week we will find out if July has a +50 month. If it does it'll be the 14th consecutive growing month. Exports have been over 50% for 17 months and new orders for 13.
If you look at the graph, you will see that the PMI has been on a huge uptrend over the second half of 2013. This is much higher than the 2nd half of 2012. I believe this was caused by the Fed when businesses started to worry and speculate over when the tapering would begin. This caused many companies to do their capital spending and purchasing sooner.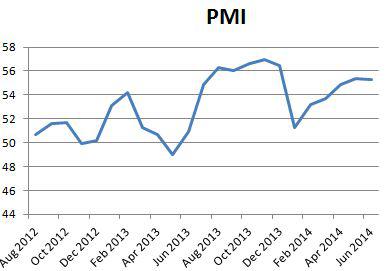 (Source: ISM Report)
Within the last 4 months we have seen a slight increase in the number of surveyed reporting worse conditions and less reporting better conditions for both production and new orders.

(Source: ISM Manufacturing Report - June 2014)
Now according to Capital IQ, The average length between the trough-to-peak period has on average been around 2 years, but has been as little as 6 months. The most recent trough was in January and this month will mark the 6th month. It's also noted that the index was over 50% for 39 straight months through October 2012 which was supported by high new orders and production numbers. It's a little worrisome to see the two items now on a 4 month (and maybe 5th) decline.
I also take a look at durable goods orders as well as total manufacturing orders. Durable goods are infrequent items that are usually kept for a while and not consumed immediately. These can be appliances, automobiles, machinery, consumer electronics and office equipment (not supplies). Total unfulfilled orders increased .8% from May to June. More information and breakdowns of the report can be found here.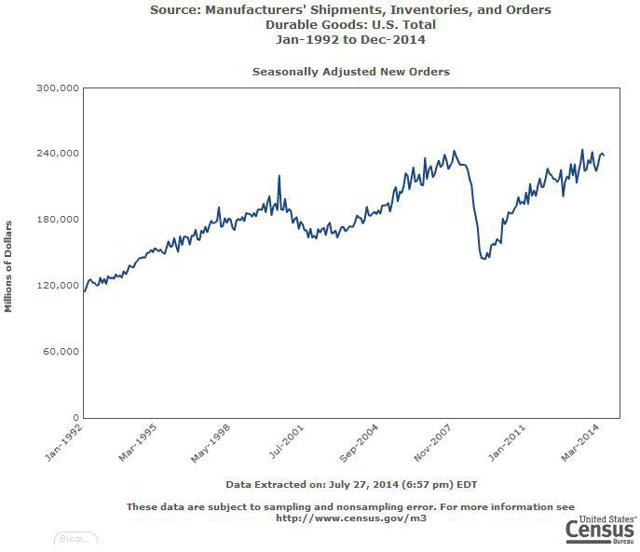 (Numbers extracted from the M3 Historical Data)
As you can see we have been on one very long cycle when looking at the larger picture. Note below is for total manufacturing new orders, which includes durables. The graph shows a moving average gain of about 4.8% over the last two and a half years.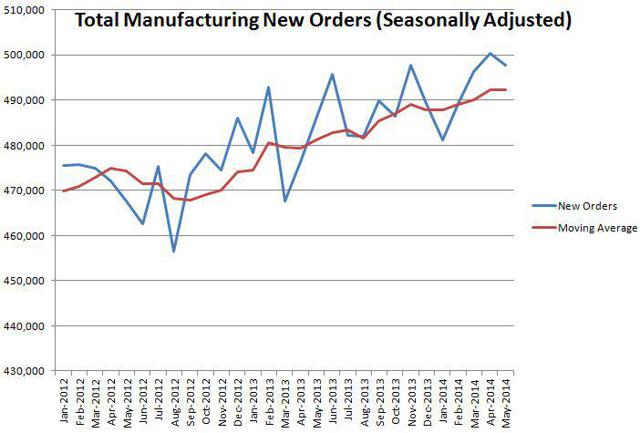 (Source: M3 Historical Data)
Of course, there are many other indexes and numbers you can look at like new housing, automotive sales, U.S. Defense budget (for aerospace & defense), GDP for overall economic activity as well as capacity utilization rates which measure how much potential output is actually being met.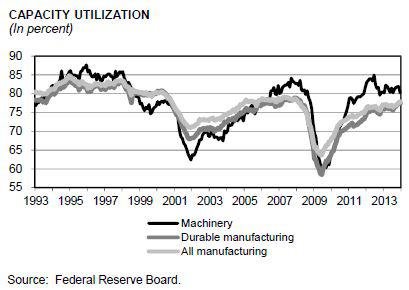 (Source Taken from Capital IQ)
Capacity utilization seems to be nearing its 20yr high, but has leveled quite a bit in 2013. Capital IQ researches say manufacturers will start incrementally add more equipment around the 80% mark, which we have seen for machinery since mid 2012.
Current state of the sector
I believe the entire sector as a whole is slightly over-valued and may be slowing down. The industrial indicators posted above are still showing signs of growth, but at a decreasing rate. We've also seen modest growth in new orders suggesting increased production and capital spending (which coincides with capacity utilization rates). Modest, not strong, growth in the sector has allowed many large companies to focus on increasing cost controls/capacity to grow margins and generate organic revenue growth. One of those happens to be 3M (NYSE:MMM). While 3M has had almost a neutral TTM revenue growth, gross margin has increased by 2.56% which may justify the increasingly high P/E.
According to Morningstar, the industrial sector is currently ranked 7th out of 11 for YTD return, down from the 5th spot in the 1yr return and 3rd in the 5yr return.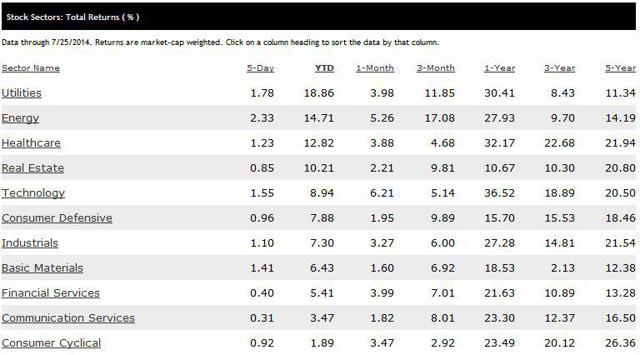 (Source: Morningstar)
In general when looking at the current P/E for some of the biggest companies, I've been seeing many trading higher now than in the last few years despite slowing or negative growth in 2013. Many of these are in the diversified industrials industry. In the XLI SPDR, 95% of the stocks are in the U.S. About 80% of the total portfolio consists of mega and large cap stocks. Many of the highest allocated companies are some of diversified industrials I'm talking about such as Caterpillar (NYSE:CAT), General Electric (NASDAQ:EA), 3M, and Siemens (OTCPK:SIEGY).
Summing this all up
The sector SPDR has seen some impressive and high growth over the last 3 years, but seems to be slowing up a bit compared to the other sectors over the YTD and 1yr returns. Economic indicators still show growth, but at a slower and slower rate. Finally, I'm finding many companies trading at their highest multiples while showing slower revenue growth. I do believe you'll still get value out of this SPDR, but no where near the upper end, as seen in the last few years.
Disclosure: The author has no positions in any stocks mentioned, and no plans to initiate any positions within the next 72 hours. The author wrote this article themselves, and it expresses their own opinions. The author is not receiving compensation for it (other than from Seeking Alpha). The author has no business relationship with any company whose stock is mentioned in this article.