Regency Energy Partners LP (NYSE:RGP) engages in the gathering, processing and transportation of natural gas and natural gas liquids. It has over 950 miles of pipeline through Louisiana, Oklahoma, Mississippi and Texas. It has storage and processing facilities in each of these states as well as in New Mexico. It has been and is a buyer of other pipelines and storage facilities and the recent growth of partnership is displayed in the table below: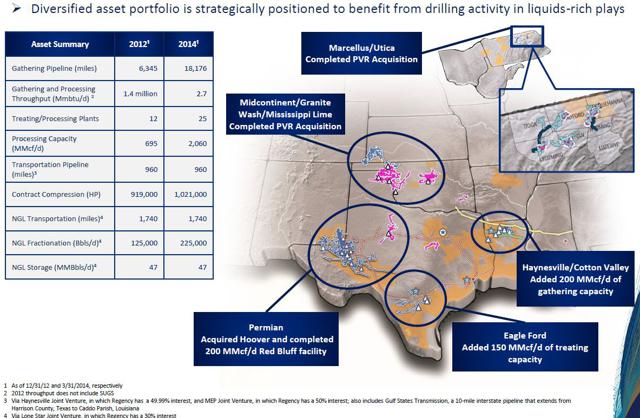 The above table is from a presentation offered in May of this year. Since that time, the partnership has acquired the midstream business of Eagle Rock Energy Partners LP. Mike Bradley, president and CEO stated at the close, "…we believe this acquisition will be accretive to our distributable cash flow per common unit, and continue to expect to recommend to our board of directors distribution increases representing a growth rate of 6-8% for 2014."
ETE or Energy Transfer Equity LP, the general partner of RGP and ETP, is in the process of consolidating the pipeline and storage industry. RGP is one leg of this effort to consolidate and grow the business. In order to finance this expansion, RGP has recently raised $400 million by offering new units in June and $700 million in senior notes in July. These offerings were used to pay down the revolving credit facility that was used to purchase PVR partners and Eagle Rock Energy Partners. Moody's rated these senior notes at Ba3.
RGP is currently selling for $31-$32 per share and offers a yield of 6%. On July 28, 2014 the partnership increased the quarterly distribution from $0.48 per share to $0.49. This is a 2% increase over the previous distribution. Over the past 5 years EPS has declined 30%, revenue has grown 7%, and the dividend has grown nearly 2%. The charts below taken from TD Ameritrade illustrate what is happening to revenue, net income and cash flows.


The last 2 charts show that the money for the merger and acquisition activity is coming from financing; that is either by borrowing money or issuing new units.
Below is a chart taken from Interactive Brokers that displays the price and dividend changes over the past year.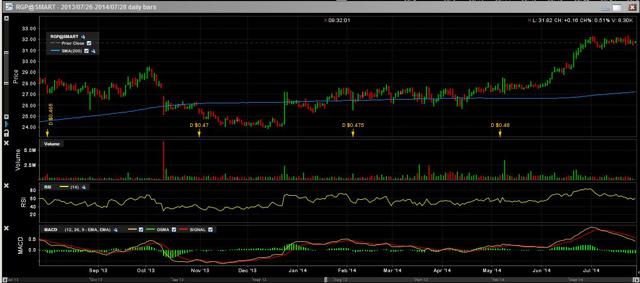 Independent rating agencies have different takes on RGP. Credit Suisse, The Street and S&P have buy or outperform on this issue while Zachs, Ford Equity Research and Research Team have a hold. Ford Equity Research and Research Team just moved RGP from sell to hold on 7/28/14. Credit Suisse maintains a target price of $32.00 on RGP on the basis that distributions will grow 6%-8% this year and should get better in 2015 and 2016. S&P has a 12 month target of $36.00 per share. Other companies such as Morgan Stanley have an underperform rating or sell, Merrill Lynch has a buy, Raymond James is neutral and Global Market Insight has a sell and also states that the company will substantially underperform the market. (These ratings were taken from the Fidelity web site where it puts out Company Research Highlights.)
Conclusion:
RGP is expanding rapidly, but earnings are not growing along with this expansion. While I understand that distributions are not based upon earnings with a partnership, the fact that earnings are not growing with this expansion is worrisome. The company is either paying too much for these acquisitions and/or it is not doing an adequate job of integrating these acquisitions into the company. While the cash flow is consistently growing as well as the dividend, if it were doing a good job the earnings of the company would be growing also. Since I have some concerns about how well the company is integrating these mergers and acquisitions into the fold, I am reluctant to buy the stock at the current price. I might have some interest in purchasing partnership shares if the price were to get below $30.00 and real interest if the price were to dip below $27.50. On the other hand, if I were to see real growth in earnings for 2 quarters, I might be willing to pay up for the issue. So my recommendation is to wait and watch for an opportunity to buy it at a better price and/or see increasing earnings over several quarters.
Disclosure: The author has no positions in any stocks mentioned, and no plans to initiate any positions within the next 72 hours. The author wrote this article themselves, and it expresses their own opinions. The author is not receiving compensation for it (other than from Seeking Alpha). The author has no business relationship with any company whose stock is mentioned in this article.