One item I track extensively on this site is short interest. Large short interest numbers can lead to short squeezes, which can be very profitable for investors. One name that investors have looked at for short squeeze potential in recent years is BlackBerry (NASDAQ:BBRY). While the company has struggled, a short squeeze was always possible on good news. Today, I'll provide a quick update on short interest, because a new yearly low was hit.
When I started tracking short interest for this name in April 2012, short interest was less than 54 million shares. It was just over a year ago, the end of June 2013 update, where short interest topped out above 184 million shares. But as you can see in the chart below, short interest has nearly been halved since then.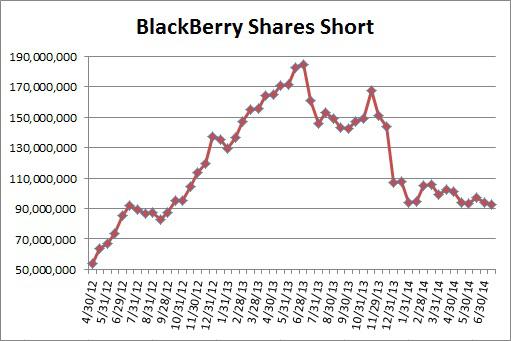 At the most recent update, for the middle of July, short interest was back under 93 million shares. This is the lowest number we've seen since September 2012. BlackBerry shares hit a multi-month high in early July, so it seems fairly logical that some shorts decided to cover. However, BlackBerry shares have dipped recently, as some are speculating the company could be a big loser from the recently formed IBM (NYSE:IBM) and Apple (NASDAQ:AAPL) partnership. It will be interesting to see how short interest fares at the end of July update. Right now, it's at a new 52-week low, and its lowest point in nearly two years.
For those that don't believe the IBM-Apple deal is a BlackBerry killer, the recent pullback might be a chance to buy. The company's turnaround is certainly progressing, and some believe that the IBM-Apple deal makes BlackBerry a takeover candidate. There are a number of larger tech firms out there flush with cash that could easily acquire BlackBerry, so that's another reason to be positive. Some might also appreciate the fact that short interest continues to decline. For now, I'm still cautiously positive on BlackBerry, so investors may want to look at buying the pullback.
Disclosure: The author has no positions in any stocks mentioned, and no plans to initiate any positions within the next 72 hours. The author wrote this article themselves, and it expresses their own opinions. The author is not receiving compensation for it (other than from Seeking Alpha). The author has no business relationship with any company whose stock is mentioned in this article.
Additional disclosure: Investors are always reminded that before making any investment, you should do your own proper due diligence on any name directly or indirectly mentioned in this article. Investors should also consider seeking advice from a broker or financial adviser before making any investment decisions. Any material in this article should be considered general information, and not relied on as a formal investment recommendation.