While Potash Corp. (NYSE:POT) reported better than expected earnings per share of $0.56 on July 24, investors should still be wondering when the negative year over year comparisons will end. Sales volumes and average price in two of the firm's three operating segments remain lower on a year over year basis while overall gross margins and net income are also down. The company beat their own conservative earnings guidance but the question is when will the business begin to grow again?
Potash
The 2.5 million metric tons sold during the quarter was fairly typical going back to 2011. The six month total of 4.84 million metric tons sold during the first six months of 2014 is the most since 2011 but falls short of the 5.3 million metric tons sold during the first six months of that year. However, the average selling price was considerably higher in 2011. Figure 1 illustrates potash sales volumes and average pricing over the last 14 quarters.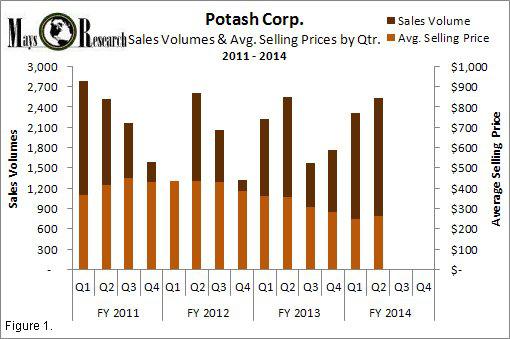 While higher margin tons sold in North America did rebound by 13 percent year over year, tons sold offshore, which represent just under two-thirds of the potash tons sold during the second quarter, were down by 7.5 percent. The average price of tons sold offshore is $229 per metric ton, nearly $92 per ton lower than in North America. While gross margins have begun to rebound during the second quarter, they are still below the average margin of 60 percent over the last 26 quarters. Figure 2 illustrates gross margins in the firms potash business over the last 14 quarters.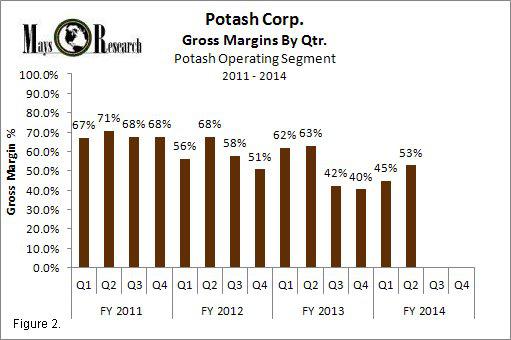 The perpetually optimistic company says its order book is the highest ever heading into last half of 2014. Investors should watch the situation as the quarter progresses. They are estimating potash tonnes shipped globally of between 56.5 and 58 million tons. This is not the first time the firm has uttered the 58 million ton target. When forecasting demand the company seems to extrapolate a constant growth rate out into the future as illustrated in figure 3 below, which is a chart released by the company in 2013.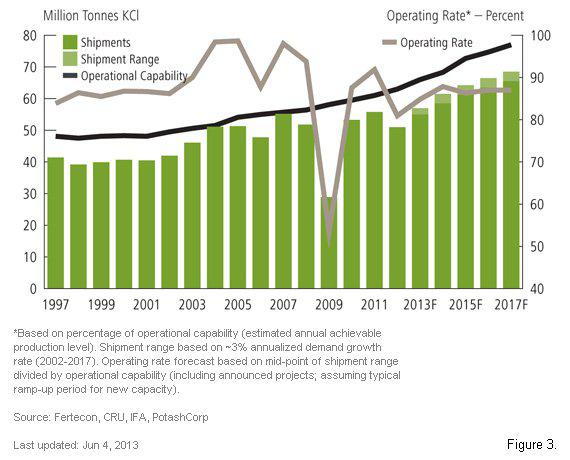 In my opinion, there are ways of forecasting customer demand using data analytics and domain knowledge that are more accurate given the enterprise data they have at their disposal. That said, given externalities like weather, crop and feed markets, etc. on top of their own pricing strategy, it is not an easy job. There were an estimated 56 million tons shipped globally in 2011, a year in which the company sold 9 million tons. The company is forecasting between 8.9 and 9.2 million tons of potash sold in 2014.
Phosphate
The average price received for phosphate tons sold dropped about 1.5 percent year over year for Potash Corp. However, on a sequential basis average prices have moved higher for three straight quarters. A real problem for the company is falling capacity use, which is now below its long run average of 82 percent over the last 26 quarters. The drop in capacity use combined with higher input costs for sulfuric acid and ammonia has really affected gross margins in the phosphate business as they have plunged to the single digits over the last 3 quarters. Figure 4 illustrates capacity use and gross margins for phosphate over the last 14 quarters.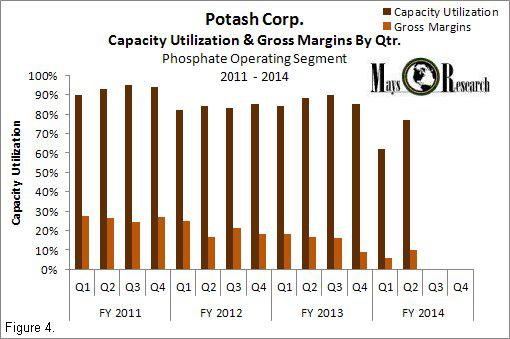 Prices for ammonia and sulfur, which are inputs into the phosphate production process, were 5.8% and 8.6% higher in the second quarter and up 6% and 10% year to date but have declined on an annual basis by 10% and 12% on average, respectively. These higher input costs contribute to higher costs per ton. When combined with lower prices lower margins are the result.
Nitrogen
The nitrogen business has been sturdy if not spectacular, its unfortunate that revenues from this segment make up only 30 percent of the total. Sales volumes of ammonium nitrate and ammonia have increased year over year while UREA sales have been fairly constant but have not shown the same sales growth. Figure 5 illustrates this.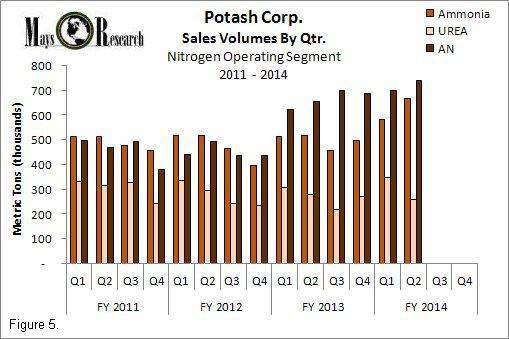 The growth in ammonia and ammonium nitrate sales volumes has allowed margins to stay firm to rising over the last 14 quarters. Even with the recent switch to soybeans (NYSOYB) for the current marketing year, an estimated 91.6 million acres of corn (NYCORN) planted this spring still ranks among the top 5 since 1976. The main risk to corn production is the ethanol mandate. There has been so much news released from both sides over the last year that its difficult to tell what the mandate will be. Absent that risk, 90-91 million acres of corn planted annually should offer plenty of demand for the various forms of nitrogen.
As I wrote recently in an article entitled, "Potash Corp. Continues Pricing Strategy And Enters Period Of Lower Growth", in my opinion the firm is entering a period of lower growth. This could be the last year over year decline in revenues and earnings for Potash Corp. as crop prices find their cyclical bottom. However, given my opinion that risk is above average in the broader market I have no recommendation at this time.
Disclosure: The author has no positions in any stocks mentioned, and no plans to initiate any positions within the next 72 hours. The author wrote this article themselves, and it expresses their own opinions. The author is not receiving compensation for it (other than from Seeking Alpha). The author has no business relationship with any company whose stock is mentioned in this article.