Under Armour (NYSE:UA) continues to impress Wall Street with its quarterly numbers. The company managed to deliver revenue that easily beat analyst estimates and guided full-year revenue higher. On the other hand, profits are under pressure as the company continues to invest aggressively in marketing and product innovation. While I believe that the growth story is exceptional, Under Armour investors will most certainly have medium-term returns that are going to be much lower than in the past couple of years due to Under Armour's inflated valuation.
Q2 highlights - exceptional revenue growth and raised full-year guidance
Under Armour had an outstanding quarter and first half of the year. Revenue growth in Q2 was 34.1%, slightly lower than Q1's 36%, but $37.5 million higher than analyst estimates. EPS was flat at $0.08 due to higher investments in marketing and product innovation. Investors cheered after the report came out and Under Armour's share price vaulted almost 15% higher. The stock is now up more than 50% since mid-May and up approximately 60% since the start of the year.
Revenue growth was high across all business categories. Apparel net revenues increased 35% to $420 million. Footwear net revenues increased 34% to $110 million led by new introductions in running. Accessories net revenues were up 18% to $60 million, while direct-to-consumer net revenues grew 38% year-over-year. International growth was 80% over Q2 2013 and the category now represents 8% of total net revenues.
Given the strong growth trends in the first half of the year, Under Armour management raised full-year revenue guidance to $2.98 billion to $3 billion from the previous range of $2.88 billion to $2.91 billion.
Valuation concerns
Although the Q2 report is great, the current valuation is not. A look at the P/S ratio and EV/EBITDA ratio charts reveals that Under Armour is trading near the top of its valuation range in the last 8 years. I believe that investors will find it hard to make meaningful gains on the long side in the next two or three years if they buy Under Armour now. When the valuation was this high back in 2007, it took almost five years for investors who bought at the top to break even. Given the current growth prospects and the overall situation in the economy, Under Armour might grow into its current valuation in the next two to three years, which is quite a long time.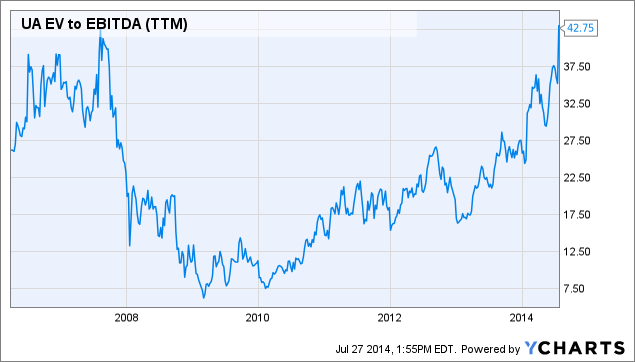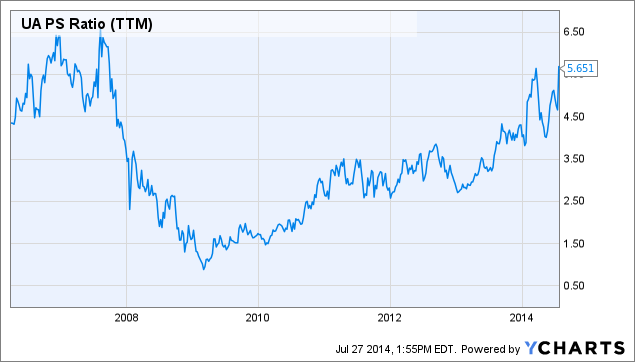 Source: YCharts.com
In order to keep the current valuation in the medium-term, the company would need to deliver revenue growth at least at current levels or higher, which I think is not sustainable in the next three to five years. Revenue growth north of 40% would enable Under Armour to grow into its valuation sooner and deliver robust gains for its shareholders. Additional upside is certainly possible and I would not want to go against the trend here. But I believe that it might be prudent to at least take some profits here and look for better opportunities elsewhere. The downside risks are anywhere between 20% and 30%, while the upside based on the current valuation is around 10%. These are not great odds for the bulls and a better entry point is likely to occur in the future and I would consider buying Under Armour in the low 50s. The power of momentum could drive the share price up 10%, 20% or more in the next couple of weeks or months, but the reward/risk is not favorable for the long-term oriented investors.
Catalysts
I see several factors that could drive Under Armour's share price higher going forward or keep the price at these elevated levels:
- The company continues to beat revenue and EPS estimates significantly and raises full-year guidance by $100 million to $300 million in Q3.
- International growth continues to pick up significantly.
- Expansion into wearables. Under Armour acquired MapMyFitness for $150 million in November 2013 and there are rumors about a potential partnership with Samsung. The wearables market is estimated to hit $6 billion by 2016, and Samsung is set to launch a wearable device in October. The potential partnership with Samsung would enable Under Armour to better compete against Nike (NYSE:NKE). The growth potential here is significant and could accelerate the adoption of Under Armour's products and fuel stronger revenue growth in coming quarters.
On the other hand, the main catalyst for a correction in Under Armour's share price is the valuation. Meaningful growth deceleration would have a severe impact on the share price. Analysts are expecting Q3 and Q4 revenue growth to slow down to 26.7% and 22.5% respectively, but the company has so far managed to beat revenue estimates significantly. I believe that the market will react in a very negative way if the company delivers in line or below expectations and we might see Under Armour trading 20% to 30% lower if revenue growth decelerates to 20% in the next couple of quarters.
Conclusion
Under Armour is certainly an exceptional growth story, but the price for the expected growth is pretty high right now. While I believe that the stock might benefit from strong momentum in the short-term, the longer term potential for gains is quite low given the current valuation. A 20% to 30% correction would bring Under Armour closer to fair valuation and investors would have a chance for more gains in the next two to three years.
Disclosure: The author has no positions in any stocks mentioned, and no plans to initiate any positions within the next 72 hours. The author wrote this article themselves, and it expresses their own opinions. The author is not receiving compensation for it (other than from Seeking Alpha). The author has no business relationship with any company whose stock is mentioned in this article.