By Sridharan Raman
Jim Murren became CEO of MGM Resorts International in 2008, in the midst of the financial crisis. Since then, he has engineered an amazing turnaround. Murren restructured the company's debt. MGM is now generating strong cash flow that he's using to retire additional debt.
Occupancy levels at MGM's hotels and resorts are on the rise, as are room rental rates. For some time now, Macau has been a large growth driver for most casino operators, but the strong convention traffic in Las Vegas seems likely to lift earnings at MGM. Based on the positive StarMine Predicted Surprise of more than 20%, it looks like the company will report earnings above the consensus when it reports results in early August.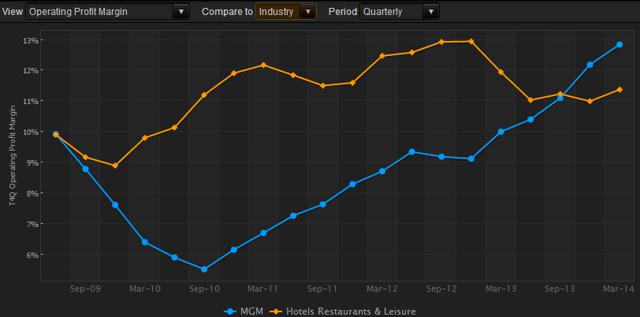 Click to enlarge
Source:Thomson Reuters Eikon/StarMine
Cards on the table
As you can see in the chart above, operating profit margin has been on the rise for the last four years, since Murren took the head job at MGM. In fact, after trailing the industry median, this measure in the last two quarters actually crept higher than the benchmark. That shows that this is a story about a corporate turnaround rather than an industry recovery. That's a good sign for MGM, as this is one of the components of return on net operating assets, a measure of operating efficiency, which has also been rising at MGM over the past four years.

Click to enlarge
Source:Thomson Reuters Eikon/StarMine
Holding a strong hand
The I/B/E/S consensus estimate is at 11 cents per share, but the SmartEstimate is 13 cents per share. There is even a Bold Estimate of 21 cents per share. This represents an estimate by a highly rated, historically-accurate analyst that is significantly different from the consensus. The upgrades are not just for this quarter -- analysts have raised earnings estimates by 53% for the year and by 14% for next year, a sign of continued positive sentiment.
One of Murren's first moves as CEO was to refinance debt and pay it off using free cash flow. That is likely to save MGM more than $200 million a year over the next few years. After seeing little or no expansion over the last three years (prioritizing fiscal prudence), MGM finally got approval to open a resort in Maryland. However, opening day is several years away. In the meantime, it looks like Las Vegas could drive growth at MGM, with strong convention growth and good traffic at the gaming tables. Given all these indicators, the odds of an MGM earnings beat might be good.
Disclosure: The author has no positions in any stocks mentioned, and no plans to initiate any positions within the next 72 hours.
Business relationship disclosure: Alpha Now at Thomson Reuters is a team of expert analysts that are constantly looking at the financial landscape in order to keep you up to date on the latest movements. This article was written by Sridharan Raman independent commentator and analyst. We did not receive compensation for this article, and we have no business relationship with any company whose stock is mentioned in this article.