Last week, Business Insider unveiled the "Most Important Charts in the World." If ever there was an outfit with a flair for the dramatic headline, that would be them… but there was one chart that caught our attention entitled, "Diversification Works." It was from none other than Josh Brown at Ritholtz Wealth Management.
Click to enlarge
(Disclaimer: Past performance is not necessarily indicative of future results)
Chart Courtesy: The Reformed Broker
Now if you asked a roomful of random investors what diversification in their portfolio meant to them, chances are all of them would have a slightly different answer. In this particular instance, Brown defines diversification as a portfolio including a 30% allocation to the S&P 500, 30% to foreign stocks, and 40% to bonds. We'll give you the bonds, but pairing foreign stocks with US stocks doesn't strike us as all that diversified. Foreign stocks (MSCI ex US) have a correlation of 0.89 with US stocks over the past 10 years, for example.
And being managed futures folks, we couldn't help but look at their chart and wonder… what if you had managed futures in the foreign stocks slot instead? Would diversification have "worked" then?
Here's our chart swapping the 30% foreign stocks allocation with 30% managed futures, per the Newedge CTA Index.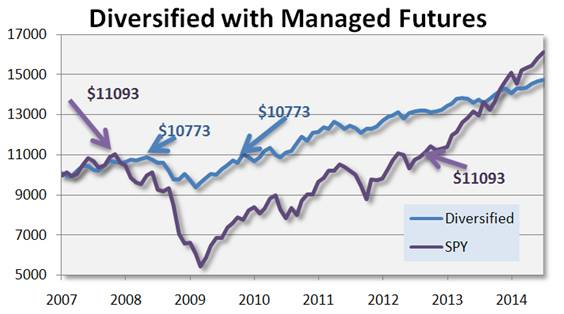 (Disclaimer: Past performance is not necessarily indicative of future results)
(Diversified = 40% Barclays Bond Aggregate Index, 30% Newedge CTA Index, and 30% SPY)
While Brown was bragging of the diversified portfolio regaining its peak 14 months before a stock-only portfolio, the portfolio containing managed futures regained its peak 35 months prior, or more than twice as fast! How? Because 30% of the portfolio was positive during the 2008 crisis as managed futures became negatively correlated to stocks during the crisis. Now that's some diversification.
Some may concentrate on the far right hand side of both of these charts, where the stock-only portfolio has, after 7 years, eclipsed the total return of the diversified portfolio (whether diversified in other stocks or managed futures), and discount diversification as unimportant or even costly. You would have made more money not being diversified, but that's not the point for those who want some protection.
The point, as Josh Brown points out, is to have shorter drawdowns. The point is to be able to regain a peak sooner. The point is to be able to not panic at the bottom. And, of course, the point (for us) is that diversification can "work" even better when you aren't diversifying with another form of stock market investment (foreign stocks), and instead gaining true diversification with different return drivers.
P.S. - Past Performance is Not Necessarily Indicative of Future Results. The chart should probably be titled - Diversification Worked (past tense), not works (present tense). We noticed a comment summing that up rather nicely, and ask the simple question: Will Simple Beat Complex in the Next 5 Years?"