Facebook (NASDAQ:FB) stock ticked up rapidly since the firm's recent earnings release beat expectations and showed heavy growth in various revenue streams. Although the stock has appreciated rapidly, there may still be room for growth. In order to determine whether Facebook is priced appropriately or is still a good investment we must look at the numbers that came along with the earnings release.
User Acquisition and Retention
Users are the lifeblood of Facebook's business model. Without users, the firm wouldn't be able to charge advertisers the (steadily rising) fees that it does. Facebook also needs to continually gather information about its users since the data represents a healthy source of income for the firm. Several charts published by the company itself help to illuminate the situation: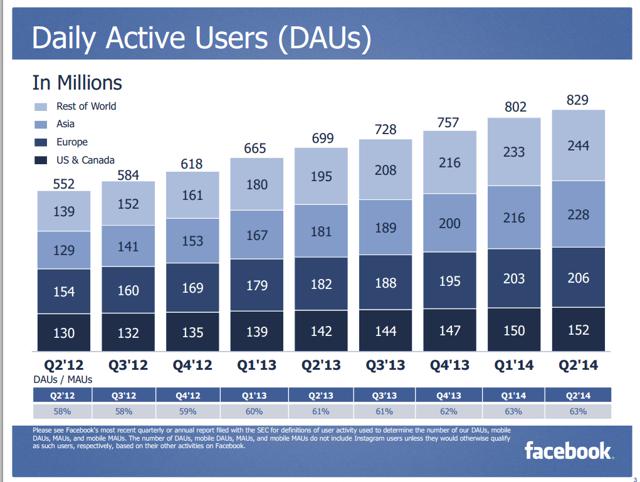 Source: Facebook
As can be seen from the chart above, a staggering 829 million people log on to Facebook daily.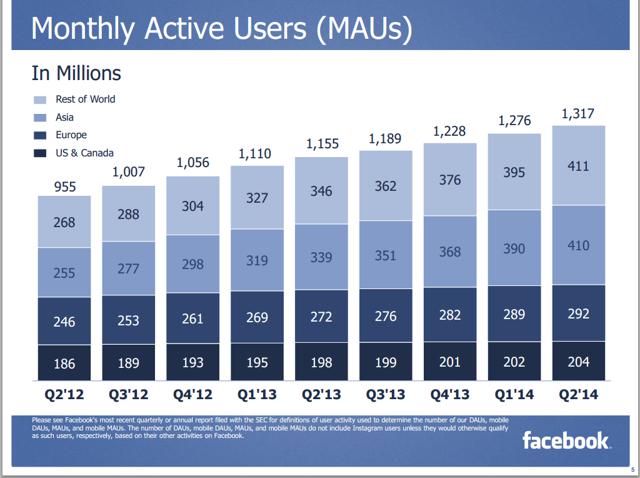 Source: Facebook
This is a very significant portion of the 1.3 billion users who log on monthly, the presence of which can be seen below. The two charts detailing user engagement indicate that user growth in the United States is stagnating, while remaining healthy across the world. This shouldn't be surprising, as Facebook was concocted inside of a Harvard dorm room.
Facebook CEO Mark Zuckerberg has previously made it clear to the investing public that he wants to promote user engagement on mobile devices. The data indicates that he has made good on his promise; Facebook engages over 1 billion users on mobile devices, with significant quarterly growth.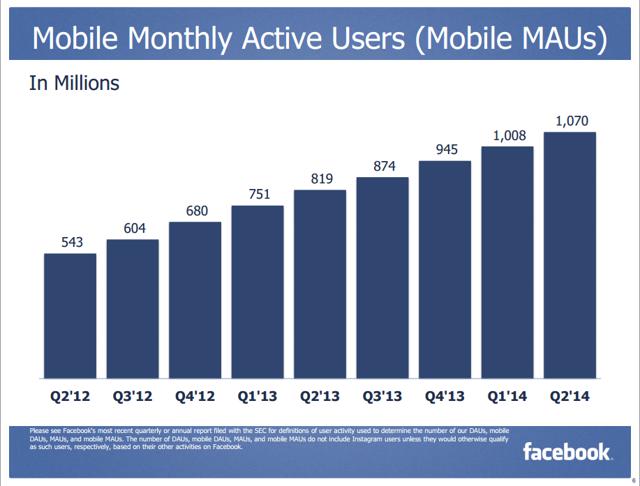 Source: Facebook
Also of note is the increasing amount of mobile-only users on Facebook. The surprisingly rapid growth of this demographic becomes evident from the chart below.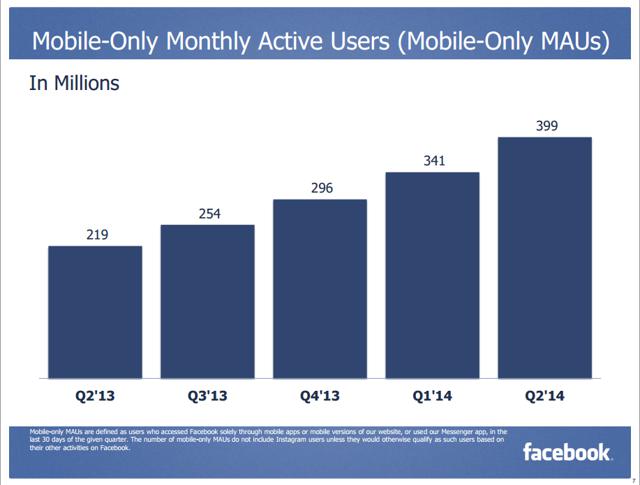 Source: Facebook
Clearly Facebook is doing well on the user front. Keep in mind that these numbers do not include sole users of Instagram, which is owned by Facebook and also has a massive user base. The only users included have significant enough log-on activity on the actual facebook.com website to be recorded within the statistics.
Fundamentals
Although a constantly increasing user base and a market capitalization of $195 billion is great, Facebook needs to monetize properly in order to please investors and supply its own growth. The firm released several charts detailing exactly to what degree it can profit off of its users. The first and foremost metric to look at is revenue; if a firm doesn't have growing revenue, it becomes hard to call it a 'growth' company. Facebook revenue took a slight dip in the previous quarter, but hit an all-time high this quarter, increasing revenue by a staggering $400 million from the last quarter.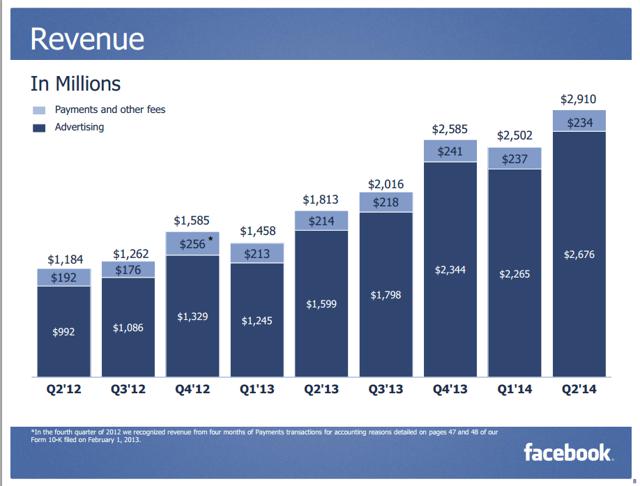 Source: Facebook
Since Facebook has slowing user acquisition here in the United States, it's essential to take a look at the geography associated with the firm's revenue. Clearly, Facebook still gets the bulk of its revenue from the United States. It's very worth noting, however, that the revenue spike in the previous quarter came from a diverse set of locales; it appears that revenue growth the world over helped propel Facebook to higher profitability. This kind of diversity should allow the firm to weather various competitors within the countries it operates in - although there aren't any remotely close to Facebook's size.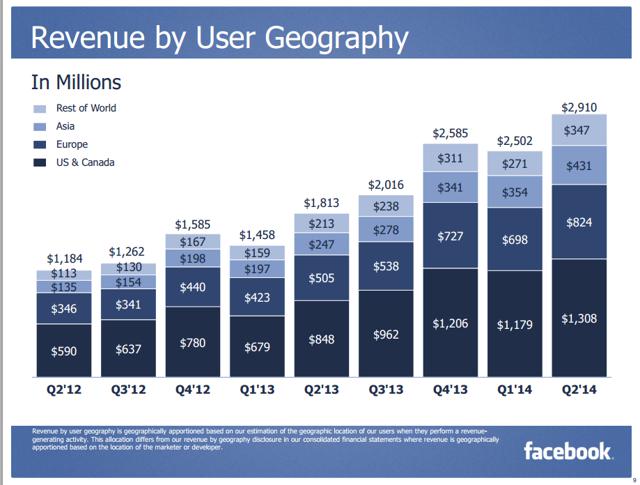 Source: Facebook
Facebook has consistently increased the amount of money that it makes from each user. The revenue disparities between differing geographies becomes apparent again from the graph below; average revenue per user is significantly higher in the United States than elsewhere. As with overall revenue from other parts of the world, however, the average revenue per user is increasing at a healthy rate.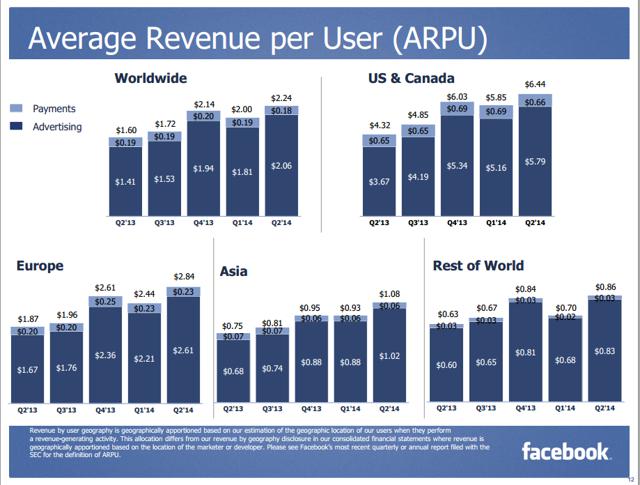 Source: Facebook
Facebook appears to be monetizing its user base better with each passing quarter.
Conclusion
It's evident from the data that Facebook is on an upward trajectory in several ways. The firm is receiving more users who are more actively engaged with the service, all the while making more money off of each of them than it has before. Facebook is also expanding aggressively outside of the United States and consistently diversifying its revenue streams. Facebook is a unique service and a true bellwether of the nascent social media space as a whole. All this combines to make Facebook a good value buy - get in while it's below $100.
Disclosure: The author is long FB. The author wrote this article themselves, and it expresses their own opinions. The author is not receiving compensation for it (other than from Seeking Alpha). The author has no business relationship with any company whose stock is mentioned in this article.