The stock market has had quite a bull run since the Great Recession lows of 2009:
(click to enlarge S&P 500 (SPY) chart)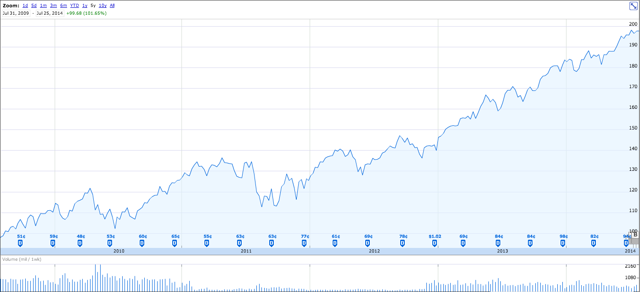 Has it gone too far, too fast? Is it time to get out?
Timing the broad market moves can be difficult. One indication we have is that the PE level of the S&P 500 is currently elevated over the historical mean - 19.62 vs 15.52: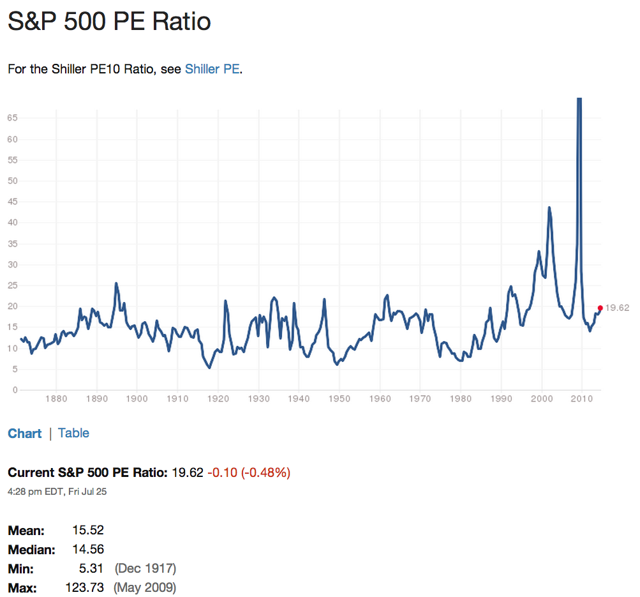 That's elevated by 26% over the past average. That's a little high, but not stratospheric.
As an asset class, and using history as a guide, stocks actually stack up quite well vs bonds.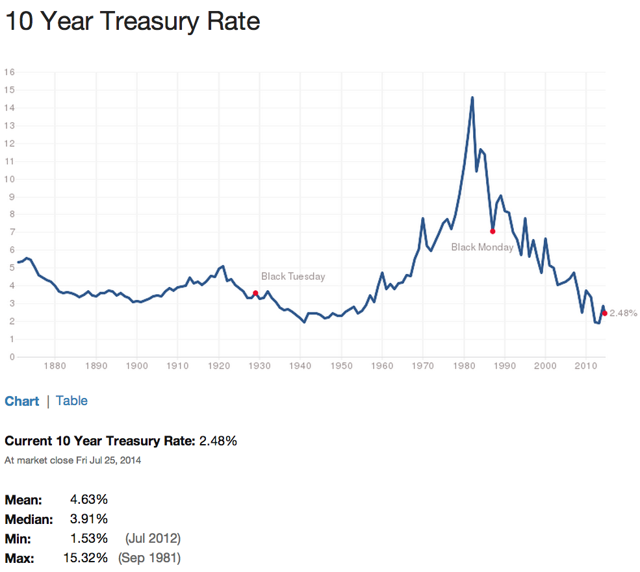 That current yield puts 10-year Treasuries 87% higher than the historical mean. Bonds actually make stocks seem undervalued.
Bottoms Up
Even though the stock market has had a good run, money has to go somewhere, and the market could keep running for another 5 years.
So what to do? Get out and risk falling behind? Stay in and risk a PE mean version?
As usual, it is a good time for a bottoms up approach: finding great investments at good prices, and not trying to fathom the broad market's next move.
Are there still great investments at good prices in this market?
Absolutely - and in many sectors. Here are 10 suggestions:
1) Booz Allen Hamilton (BAH)
Sector: Mid Cap - Government Services (Defense/IT Contractor)
Summary: Booz Allen is a federal government contractor, and federal government contractors have the best client in the world. The best contractors should continue to do very lucrative business for a long time, most especially in defense and information technology.
Booz Allen has been serving the US Defense Department for more than 70 years, and also has an excellent record returning cash to shareholders.
A trailing PE of 13.7, and a long history serving a client that literally prints money, not bad. Booz Allen probably trades cheaper than it should because of a lack of visibility in federal budgets, but with such a long track record it looks like a good risk to take. It also currently pays a 2.1% dividend.
Further Research: Get a recent update here, and read the fiscal 2014 Annual Report here.
2) Cloud Peak Energy (CLD)
Sector: Small Cap - Energy (Thermal Coal)
Summary: The bond market for coal miners is telling a story, and it is not a very happy one for most players. But Powder River Basin pure-play Cloud Peak Energy looks healthy. The PRB is something of a Saudi Arabia of "clean" coal, but other miners there are faltering as they have exposure to down-trodden metallurgical and Central Appalachian coal (amongst others).
Cloud Peak is profitable on a trailing basis, and looks to have the ability to borrow if it needed to or wanted to, possibly to acquire PRB assets of the troubled miners.
That may not sound too exciting, but Cloud Peak can be had today for around its IPO price of five years ago. Right now things are about as bad as they can get both politically and with competition from cheap natural gas, and Cloud Peak is getting by.
If fracking were to come under fire from the EPA, or if gas drillers were to hold out for higher prices, or if the Republicans win the White House in 2016, or if the weather really cooperates...
Cloud Peak could have a lot of upside for a long time.
Further Research: Have a look at the "telling a story" link to see what the debt market is saying, and read the Annual Report here.
3) Deere & Company (DE)
Sector: Large Cap - Industrial (Heavy Machinery)
Summary: There are a number of things to like about Deere. It trades at a discount to the S&P 500. It yields 2.79%. We saw that metallurgical coal miners are struggling, suggesting that steel should be reasonably priced going forward.
We even like the fact that the business model needs a good deal of capital to function - Deere loans its customers money to buy its products. We like this because this has long been the model, and going forward companies with great credit profiles should have easier access to capital than they have had historically.
But maybe the very best thing about Deere is that it has the very best thing that a brand can deliver - pricing power. Deere raises its prices every year.
Further Research: Read Jan Mazak's excellent 3-part research piece.
4) IBM (IBM)
Sector: Large Cap - Technology & Services
Summary: Speaking of being bullish on companies with great credit profiles that should be tapping the capital markets in the future - they don't come with much better credit than IBM.
IBM has had basically flat revenue for a long time, but they have been transitioning to higher margin businesses while improving operational efficiency, and doing so with aplomb. Gross margins for 2013 were nearly 50%, up from 36.5% a decade earlier.
After legion and continuing buybacks IBM trades at only 12.3 times its trailing earnings, and pays a 2.26% dividend.
That is very nice, but what about the future? Is IBM boring, with no upside? No indeed, IBM is exciting. It just formed a partnership with Apple for what Tim Cook calls a "new class of business apps."
This is based on Watson, which is no gimmick. IBM looks like the leader in data analytics, and the possibilities are awesome.
Further Research: Click the "Apple" and "Watson" links, artificial intelligence is here, and free with an IBM cash cow.
5) National Western Life (NWLI)
Sector: Small Cap - Financial (Life Insurance)
Summary: National Western is a conservative insurer with simple life insurance and annuity products. It has a long record of taking appropriate risks, having weathered all sorts of credit conditions and economic downturns.
Like many life insurers National Western trades at a discount to its book value, and a steep one at that - it currently trades at 62% of book. Life insurers have to own a lot of bonds to cover their liabilities, and being locked in to the low bond returns is keeping the life insurers under book value right now.
But this is a well managed and quite profitable company, it trades at just 9 times earnings. No dividend to speak of, and that is probably partly why it trades so cheaply.
Further Research: Read a good summary here, and check out the 2013 Annual Report here.
6) Reinsurance Group of America (RGA)
Sector: Mid Cap - Financials (Life & Health Reinsurance)
Summary: Life reinsurance is actually the business that trades more like life insurance than life insurance, and Reinsurance Group of America is the only pure-play, publicly traded life & health reinsurer.
Life insurance company values are generally heavily influenced by the future returns projected for their vast holdings (mostly bonds). It is actually the life reinsurers that most resemble the business model of collecting more in premium value vs expected payouts to policy holders.
It's a great, casino-like business, where the math is stacked in the reinsurer's favor. RGA even trades slightly below book value, has a PE ratio under 10, and yields 1.61%.
Further Research: Check out the 2014 investor day presentation.
7) Tonix Pharmaceuticals (TNXP)
Sector: Small Cap - Biotechnology
Summary: Early in the fourth quarter Tonix Pharmaceuticals will release results of its BESTFIT trial in fibromyalgia. This should be a pivotal event for the company.
The currently approved treatments for FM don't work very well. Cymbalta is the best selling product and it is just as likely to harm as help. Nevertheless, sales in FM for Cymbalta and Lyrica were both about half a billion a year in 2011 and growing at double digits compounded annually, with both on pace to hit $1 billion before 2020 (they come off patent so they will not get there).
Tonix' drug candidate TNX-102 SL is a very low dose of sublingual cyclobenzaprine to treat symptoms of FM gently by improving sleep quality. Some FM patients take oral CBP off-label now. More than half have tried it, and most rate it more helpful than the three approved drugs.
The problem with oral CBP is that it comes on and wears off very slowly. This makes a higher dose necessary for sleep benefits, and makes for next day grogginess in a disease that has fatigue as a main symptom.
In order to get approval Tonix must run two studies, BESTFIT which is wrapping up now, and another to follow which is virtually identical. The FDA generally requires 2 well controlled pivotal studies when approving a drug for a new indication. These are usually run at the same time by larger companies, seemingly as one phase 3 trial. Tonix has about $50 million in cash now, and likely would have run their trials simultaneously also if they were well capitalized in August when BESTFIT began.
With success in BESTFIT the final trial is all but de-risked, and Tonix should be valued as a company that is bringing $1 billion in peak sales to the market in 2017. That should value the company around $1 billion in market cap, or about seven times the current share price.
Puma Biotechnology (NYSE:PBYI) is a very recent example of what Tonix might expect on BESTFIT results. The Citigroup analyst that covers Puma now figures an 85% chance of approval in 2016, and has a price target of about twice projected peak sales.
After approval, biotech companies are selling or merging for about five times projected peak sales.
MAP Pharmaceuticals is a very good recent comparison for Tonix. MAP was bought by Allergan last year for more than $900 million. The buyout came after its only viable product, Levadex, had its final trial, but without FDA approval. Analysts projected peak sales of $250 - $500 million.
There is a lot of overlap with Tonix: Levadex was also a 505(b)(2) reformulated drug, also a Central Nervous System drug, also a pain treatment, and also focused in women's health.
Further Research: Did you say seven times in a few months? Have a look at this update, and the company's most recent presentation. Note the pipeline and pedigree of management and the board.
8) Vanguard Mid-Cap ETF (VO)
Sector: Mid Cap - Index Fund
Summary: There are many things we like about this fund:
Vanguard is very reputable
Very low .09% expense ratio
Being mid cap VO automatically sells winners above a certain market cap, whereas large-cap index funds overweight the stocks that have already outperformed
But beyond that we think we have found some structural alpha - increased return without increased risk. That alpha is related to the overwhelming and increasing popularity of large cap index funds.
On rebalancing, the numerous and mammoth large cap funds become trading partners with VO, which thus is virtually always selling in a seller's market and buying in a buyer's market.
Further Research: Read our full explanation here, including the few comments.
9) Wal-Mart Stores (WMT)
Sector: Large Cap - Retail
Summary: A darling of yester-century, Wal-Mart has suffered in Amazon's (NASDAQ:AMZN) shadow. Wal-Mart is up only 43% from 10 years ago, and now amidst scandals and poor results, has gotten a new US CEO.
We think that Greg Foran is coming in at an opportune time, as Amazon may slightly raise prices a little sooner than later. Last week when Amazon did not report meaningful earnings it took a 10% beating, even though it is growing revenues. If Amazon does in fact start to focus on the bottom line instead of the top line, it will likely come as a welcome relief for Wal-Mart.
In the meantime Wal-Mart trades at a discount to the S&P 500 with trailing earnings of 15.77. It yields 2.53%. It also has great credit and uses a lot of debt - it should enjoy an easier financing environment going forward than in the past. Finally, increased immigration may play to Wal-Mart's favor in both its workforce and customer base.
Further Research: Since our upside thesis is mostly about slightly decreased Amazon pressure, here is last week's Amazon conference call transcript.
10) Xerox (XRX)
Sector: Large Cap - Business Services
Summary: The future of the economy is services, and Xerox is a high quality business services provider.
On the low end Xerox should have 92 cents per share of earnings this year. With a share price of $13.15 that gives it a PE of 14.3. If you want to be charitable, adjusted for one-time charges the low end of earnings comes to $1.09. Next year's adjusted estimated earnings come in at $1.20, for a PE of 11.
Xerox is a cash cow, and slowly growing the right segments, including outsourcing for documents, business process, and information technology. It has a renewal rate on its contracts above 90%, and it has a long history and storied reputation.
In addition it is buying back share and paying a 1.9% dividend. Xerox is a sleep well at night stock.
Further Research: Read the 2013 Annual Report here.
Conclusion
It can be difficult to forecast the movements of the broad market, but it is always a good time to find great investments at good prices.
Disclosure: The author is long TNXP. The author wrote this article themselves, and it expresses their own opinions. The author is not receiving compensation for it. The author has no business relationship with any company whose stock is mentioned in this article.