Casinos have been growing in popularity recently because of their increased acceptance in society. Governments have been more willing to support the legalization of casinos in order to increase tax revenues, jobs, and tourism.
The casino industry is growing at an enormous pace which is hard for analysts to predict. In the chart below you can see a casino gambling ETF (NYSEARCA:BJK) compared to the S&P 500 showing the peaks and valleys the industry has gone through over the last year.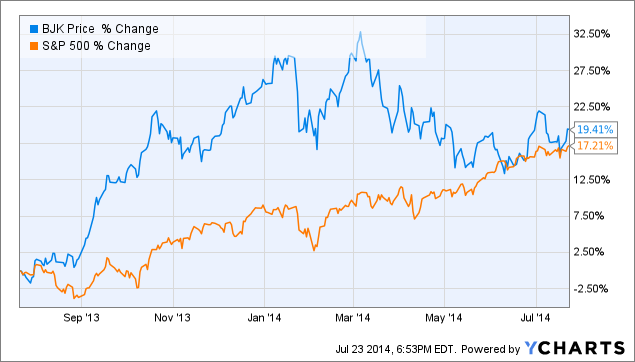 BJK data by YCharts
Looking at the Charts
Taking a look at the chart above, we can see that the casino industry has been trending positive and has returns greater than the S&P. The chart also shows large drops in the casino industry followed by a regain of those losses plus some. This is because they have been falling short on high analyst estimates. However, casinos like Las Vegas Sands (NYSE:LVS), who have increased their profits by 32%, are still seeing significant growth. In spite of their profit increase, Las Vegas Sands' stock still dropped by 11% after Q4 2013 earnings came out. After its initial drop the stock continued its climb, regaining more than the 11% drop. This is again happening today as Macau produces numbers that are below analyst estimates but still impressive compared to most other industries (the most recent figures show Macau revenues up 9.3% year over year, and mass market attendance was up over 30%).
These small dips and subsequent surges in casino stock price make it a good buy in the short term. Long term investment could also prove quite lucrative given potential growth potential throughout the next 6-8 years.
A long-term play that I recommend is Wynn Resorts (NASDAQ:WYNN). Fundamentally it is one of the strongest companies in the casino industry, and has potential for substantial growth. Wynn stock currently trades at a discount compared to most of the other gambling stocks with a price to earnings ratio of 27.2 compared to an industry average of 37.2. Wynn also pays the highest dividends among the big casino players with a 2.51% annual average.
Though Wynn is a strong choice in terms of valuation, I recommend it for its rapid growth potential especially in its existing locations: the United States (specifically Massachusetts), the Cotai Strip, and Japan.
Existing Locations
We see gaming revenues constantly increasing across the board because of the change in public perception of casinos. This revenue growth can be expected to continue with a new generation of casino goers who bring with them a new perception of casinos as a whole. In the past year, young adults (ages 21-35) had the highest casino visitation rate of any age group, with 90 percent expected return rate. This age group is also most likely to view gambling as acceptable, which indicates that casinos' reputation is on the rise. As this demographic ages and earns more money, their spending at casinos will go up. This increase in traffic and spend will allow casinos to grow their revenue per location.
Massachusetts and the United States
Massachusetts is the most recent state to offer casino gambling and allows for an opportunity for Wynn to expand its customer base. Wynn is currently in talks with the State of Massachusetts for a proposed casino in the town of Everett. If Wynn were to be able to get this casino license from the state they would be the only casino allowed to operate in the Boston area (the most densely populated area of Massachusetts). Although they are currently competing with a smaller regional casino, Mohegan Sun, Wynn seems to have the upper hand with its international presence and its iconic CEO, Steve Wynn.
Cotai Strip
Another location which Wynn is looking to expand is Macau's Cotai Strip. The Cotai Strip Hotel is already in production and is scheduled to be completed in early 2016. This will be Wynn's second casino in the world's largest gambling market and would further drive revenue for the company.
Japan
With the 2020 Tokyo Olympics fast approaching, Japan is looking to legalize casinos within the next six years in order to help finance the development of the Olympics, leverage the increase in tourists, and help provide hotel rooms for the spectators. Therefore, they are looking to have casinos legalized as soon as possible. What is holding casinos back is its slow moving government. The bill to legalize casinos is expected to be put up for debate in the fall. This bill is expected to pass as it is a bipartisan bill and has support from Japanese Prime Minister Shinzo Abe. In fact, Eiji Kinouchi, a senior strategist at Daiwa Securities Co, states that
The likelihood of passing the bill in the next session is extremely high ...

casinos "will have a great impact on tourism and Japan's economy as a whole."
With an estimated $40 billion in casino revenue in Japan, it is no surprise that all of the major casino players have stated their interest in Japan. With this estimation, it is expected to be the second largest casino market in the world after Macau. Assuming casinos are legalized and Wynn can capture the same market share it has in Macau, its revenues from Japan will be about $3.07 billion, which represents a 55% increase in revenues solely from Japan, which ignores all of the other potential for revenue increases.
The Other Side of the Coin
A decline in casino gambling in Macau during the month of June may be a cause for concern, but this decrease is a result of the World Cup and should not affect the prosperity of the casino business in the long run. We saw this happen in 2010 during the World Cup, after which Macau gambling revenues regained their healthy growth rate.
Another roadblock with the potential to cut the growth rate of casino revenue is the economy. Because gambling is closely tied to how well the economy is doing, a downturn could prove disastrous for casinos. This being said, if the economy is growing, as it currently is, casinos should see increasing profits.
The final potential roadblock is that none of the aforementioned opportunities, with the exception of the Cotai Strip, are currently in development. They rely on many different external factors in order to be approved and built. Because of this, it is very possible that Wynn is unable to open any new locations, keeping its growth modest. This is why investors are encouraged to diversify within, and outside, the industry. Las Vegas Sands is another great casino stock with better fundamentals than Wynn, but less long-term growth potential.
Conclusion
These combined factors will give Wynn as well as the casino industry the revenue growth it needs to please investors for the next 6-8 years and is an excellent long-term play in an industry that has enormous growth potential given the activity in Japan.
Please note that none of the above growth opportunities are guaranteed no matter how likely they may seem. Investors are encouraged to diversify in multiple stocks within and especially outside of the industry.
Disclosure: The author has no positions in any stocks mentioned, and no plans to initiate any positions within the next 72 hours. The author wrote this article themselves, and it expresses their own opinions. The author is not receiving compensation for it (other than from Seeking Alpha). The author has no business relationship with any company whose stock is mentioned in this article.