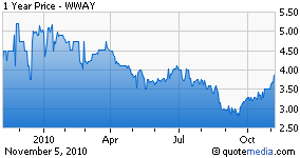 Click to enlargeThe choppy, trendless market coupled with a high degree of economic uncertainty has made stock picking a difficult vocation in 2010. There have been big returns for stock market favorites such as Netflix (NASDAQ:NFLX) and Apple (NASDAQ:AAPL), but these super-charged stocks look like they could have a lot of air underneath them should the market turn south. Rather, in this kind of environment, I think it prudent to focus on companies that offer stable earnings growth even if the overall economy is unstable. Westway Group (NASDAQ:WWAY) is one such company.
WWAY operates two business segments: they own and operate bulk liquid storage terminals for products such as vegetable oils and molasses. The terminal business generates 30% of company revenue but 70% of EBITDA. It is a steady, contract driven business and very profitable. The company also operates a liquid feed business, providing nutritional supplements for animal feeds. The feed business currently generates 70% of revenue and 30% of EBITDA. Both businesses have excellent growth opportunities.
From the description, you may gather that WWAY is something of an off-beat infrastructure play. The terminal business has the attractive, toll-like business model of mid-stream MLPs. The animal feed business is related to and influenced by the commodity cycle. Yet, the company doesn't fit neatly into any category. This probably contributes to its "orphan" status.
Despite the attractive business characteristics, WWAY's stock has languished. The company has stumbled several times after going public via a merger with a SPAC.
To summarize the issues, WWAY angered some investors by restructuring warrants of an owner, missed quarterly numbers in 2Q10, tendered for warrants at what man considered a low price, and has suffered management turnover. Though individually none of these issues were major, collectively they managed to frustrate the stocks few supporters and pressure the stock, causing it to drift lower over the last several months.
I believe WWAY is now at an important inflection point. The company has worked out the kinks associated with its former SPAC status, repurchased most warrants to limit dilution and solidified the management team. I expect the company to focus on delivering operating results and increasing visibility in the investment community. Over the next 6-12 months, I expect a number of factors to drive the stock price:
Compelling Valuation
With the stock at $3.50, the company currently trades at 0.75x book value and a P/E of 10x 2011 estimates. I consider the valuation attractive, particularly given the underleveraged balance sheet and strong growth prospects.
Prudent Growth and Margin Expansion
WWAY has a history internally financing growth. The conservative terminal focused expansion strategy is driving margin expansion business and has helped contribute to a strong balance sheet.
Upside Growth Potential
Both the terminal and animal feed business have upside growth potential that is not baked into current estimates. The terminal business could be driven by further internal expansion, high margin product add-ons, and potential bolt-on acquisitions. The animal feed business can grow through geographic expansion and new product development.
WWAY's valuation currently reflects the company's relatively unknown status in the investment community along with its legacy as a former SPAC. However, that will change over the next year. With its growing pains behind it, WWAY will now focus on operational execution, growth attracting a new investor base. As this occurs, the stock has the opportunity for significant appreciation, both through operational growth and multiple expansion.
The company has both stock and warrants outstanding. For in-depth information on the company, I would encourage investors to visit the website. In addition to the usual news, presentation and filings, the company posts analyst reports from a number of firms.
Disclosure: Author long WWAY